During the NHL All Star game  game, we saw an advertisement for Adam Kutner on the Zamboni. Its a classic law firm advertisement – in fact, it's not that bad – uncluttered, simple call to action (the website), clear branding "Adam S. Kutner" and the classic middle aged white guy in a dark suit. But it's not exceptional. It doesn't stand out. It doesn't make the captive viewing audience think anything other than, "oh, yet another dude chasing car accidents."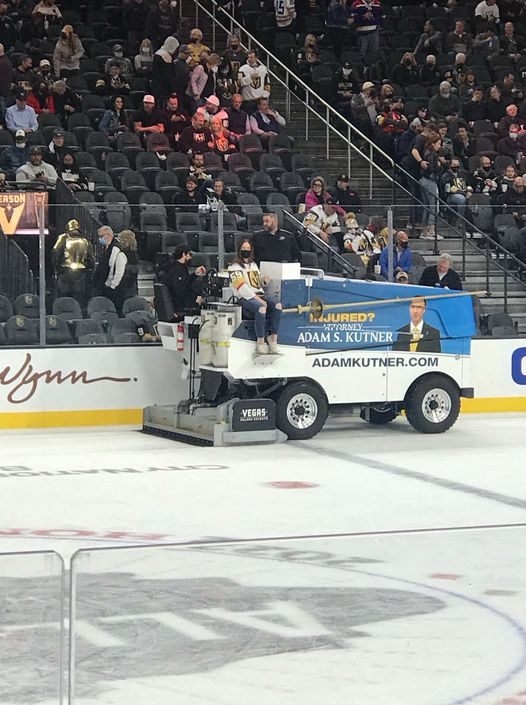 My overly aggressive right-brain asked, "why isn't this a slip and fall ad – playing off the ice theme"?
There's a fundamental difference between generating brand awareness (which this wrap of the Zamboni does as adequately as most other lawyer advertising) and creating a brand (or brand experience) that resonates and is memorable to your prospective audience. Put differently, there's nothing clever, unique or memorable that makes Adam stand out – his picture and name are synonymous with the expected lawyer motif. (And, let's ignore the fact that the Golden Knight's lance, cleverly affixed to the Zamboni, appears to perfectly skewer Adam's right temple.)
And I'm not picking on Adam specifically, I'm picking on the legal marketing industry that churns out banal, interchangeable imagery, "creative" and branding that does nothing to distinguish the lawyers that we serve. Lawyers are trained to be risk averse by nature and the easy, obvious approach to advertising generates a frankly unmemorable result of "last name and last name" + man (and increasingly woman) in suit. Branding and positioning standouts like Byron Brown, the anti-lawyer, lawyer or Luhrsen Goldberg, law powered by women or Hello Divorce, the DIY assist, are fewer and further between than you'd expect from an industry obsessed with marketing.
But back to Adam… yeah the guy is shelling out some coin to be tied to the Golden Knights. How do leverage that money to get the Las Vegas audience to demonstrate that he's genuinely and deeply involved in the community beyond buying a wrap for the Zamboni? If his agency were to put on the creative hat…
Publish a casual video interview with the guy behind the Golden Knight mascot – if you look carefully in the Zamboni picture, you'll see Mr. Golden Knight headed off to grab a beer between periods.
Rabid Fans – speaking of interviews, why not have a conversation with some rabid Golden Knights fans.
Ticket giveaway to support a charity – Adam is already involved in charity work, why not merge the two and include a charity ticket giveaway to GK games? (And for now, let's suspend the conversation about the tactical miss in having his charity work live on a distinct domain Adam Kutner Cares instead of supporting the firm's SEO efforts.)
Sit down with the GK Chief Legal Counsel, Chip Seigel to talk about what its like to be a lawyer in the NHL. (linkbait anyone?)
Go deep with the youth – get a final match for a local hockey tourney at the GK stadium sponsored by… Adam Kutner.
Get involved with any of the official and unofficial fan clubs – a simple web query reveals, Knights on Ice, Vegas Hockey Knight, VGK Ladies, and even Foley Johnson Wines who held a night for GK fans at their winery.
Video ads…. show huge checks by the GK defense with the question "Injured?" or "GK collisions brought to you by…."
I don't know Adam from, well, Adam; and perhaps he has no genuine interest in hockey and just views this as yet another marketing billboard, in which case, the ideas above are going to be much more difficult to pull off. But the campaign could be so much more effective if it went beyond the traditional, expected and unmemorable positioning and imbued his marketing with some cleverness and deeper community involvement.