Investment
Client
The firm has been in practice since 1995. Before engaging with Mockingbird, this firm had done very little in the way of digital marketing. Their domain rating* had plateaued at around 2.5. In comparison to their competitors, this firm's back link profile was weak, even in an noncompetitive market.
*Note: For those of you who are not familiar with digital marketing, domain rating (DR) is a metric used by Ahrefs that shows the strength of a target website's total back link profile (in terms of its size and quality).
Project
Directory Development
Over the years, Mockingbird has developed a list of quality directories in which to list firms. In order to build industry-relevant back links, the firm's information was submitted manually to each of these directories. This task required consistent follow-up with website admins over the course of a month to ensure that the listings were published with consistent name, address, and phone number.
Result
Ahrefs
The firm's referring domains nearly doubled, and the domain rating increased from 2.5 to 13.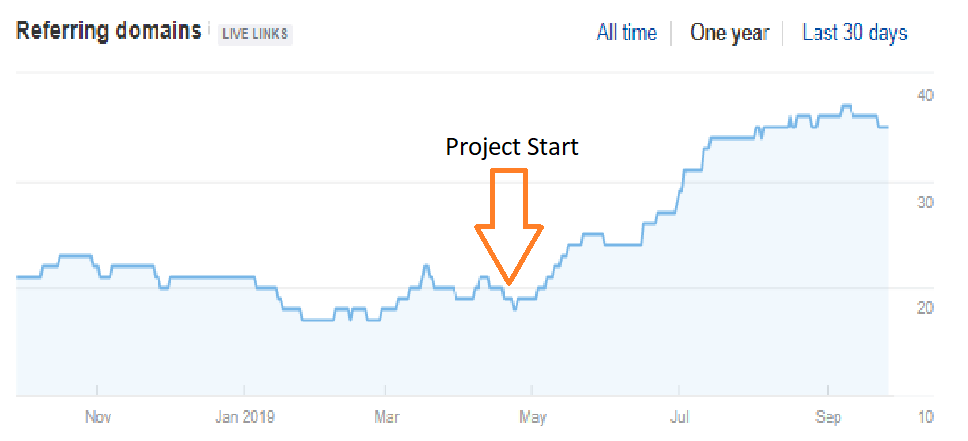 Google Analytics
Within the following 3 months, organic website traffic increased by 11.72% over the previous period.

Conclusion
Through this project and many others like it, Mockingbird has witnessed that directory development offers a positive return in domain authority and website visits. Though directory back links are just one element of an overall digital marketing strategy, in this case, it was shown to have a direct and immediate effect on traffic.
Unfortunately, due to its time consuming and creative nature, backlink development is often avoided by marketing agencies and law firms. We hope this study has proven that this arduous task is worthwhile.