Like the pathetic, desperate dude at the singles bar 5 minutes before closing time, most legal internet marketing agencies believe they are a good fit for any and every law firm. But it turns out, there are a lot of law firms with myriad business objectives, competitive landscapes, ambitions and priorities. Mockingbird isn't a great fit for most of them.
So, here's a quick primer on who we work with best:
Business Centric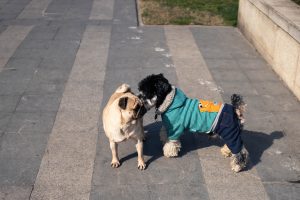 Mockingbird's clients view their law firm as a business and make business-centric decisions. Expect conversations around revenue targets, appropriate ROAS (return on ad spend), the lifetime value of a client etc. We work with our clients to develop an Annual Marketing Plan to define specific SMART Goals (like revenue, # of new matters signed or an increase in consultations) and evaluate progress towards those business goals quarterly. While we internally obsess over SEO ranking reports and the vagaries of efficient code, our client conversations focus on what matters: Consultations and Clients. Every three months we show each client how they stack up against our client list on over 200 different key metrics (like phone call answer rate) in our Quarterly Benchmark Report to expose and prioritize key weaknesses.
Controlling
Being business-centric, Mockingbird clients understand the strategic importance of controlling their marketing. They demand admin control of their advertising and data accounts, refuse to get handcuffed by proprietary website platforms, avoid being tied down by onerous multi-year contracts, and can't fathom entrusting their marketing data to an agency that also works with the competitor across the street.
In a Big Fight
Most of our clients fight for prospects in the zero-sum-game of Internet Marketing – facing underhanded competitors, rising advertising price pressures and legal behemoths with gargantuan offline branding campaigns. These battles require all elements of online marketing and client intake to run as a well oiled machine. This doesn't mean our clients are necessarily big; we love the Davids who creatively and eagerly out-maneuver, out-position and out-perform their Goliath competitors.
Tech Centric
Our clients leverage technology to deliver an exceptional and efficient law firm experience. We deploy various inter-linked third party technical tools – CRM, dynamic call tracking, data visualization and a smattering of proprietary software to ensure firms run efficiently and build data around marketing channel and intake performance. Our tech stack, centered around advanced CRM, evaluates each marketing channel's ability to generate Consultations and Clients. Many of our clients come to us specifically to establish the technical stack needed to build a comprehensive and accurate assessment of their marketing channels' performance.
Aggressively Ambitious
Mockingbird clients are perpetually dissatisfied with their status quo – looking to build their business. We've grown a 3 lawyer partnership into 21 cities; helped a firm expand from the suburbs into the center of a major city and secured nationwide online dominance for multiple heavily niched firms. Yeah, we play in the viciously competitive Personal Injury wars, but we also love those clients in lesser competitive practice areas where Mockingbird's skills and experience are overkill for the market. Want to be the biggest divorce firm in Omaha? Grow your New England immigration practice to 20 lawyers? Become the de facto employment lawyer in Texas? Our clients bring a gun to the knife fight. Put differently, if your ambition taps out at "5-10% more than last year", we are overqualified, overkill and overpriced. Speaking of money…
Pricing
In order to service our clients the way we want to, Mockingbird employs a much higher level of staff than most agencies. While big box agency account reps each juggle 80-100 accounts, we deploy two primary points of contact to each client – a Customer Success Manager and a Digital Strategist. Yeah, it costs us (a lot) more, but it's what our clients need. On top of personnel costs, the overhead of our comprehensive tech stack often exceeds the advertising budget of complacent, satisfied firms. Overall marketing budgets for our growth minded-clientele typically range from 8-20% of their overall revenue.
Technology and Reporting Engine $899-$1699
Bespoke Websites $15-$30K
SEO Engagements $2K minimum, with most engagements in the $4-$8K range and a $15K minimum for PI in major cities
Minimum Advertising Spend: $2,500
Tech Stack Setup: $7K