Backlink Explosion (How to Monitor the Quality of Your SEO "Experts" Link-building Work)
Wondering what your SEO company is doing to generate all those backlinks (despite the fact it's not moving the needle AT ALL for inbound traffic, calls or business)? I just got off the phone with a firm questioning their current agency's reports that were assuring the client they were generating hundreds of backlinks a month. This was delivered along with a thick slice of "SEO is a long term game, you just need to be patient" cake.
So we dug in a bit deeper to see just what was going on. Apparently, they'd gotten 93,000 new links over a roughly 6 months period.
Hmm…
From a total of 11 referring domains.
Double Hmm…
Here's what the backlink profile looks like according to aHrefs (and btw, yes Google can algorithmically ID these patterns).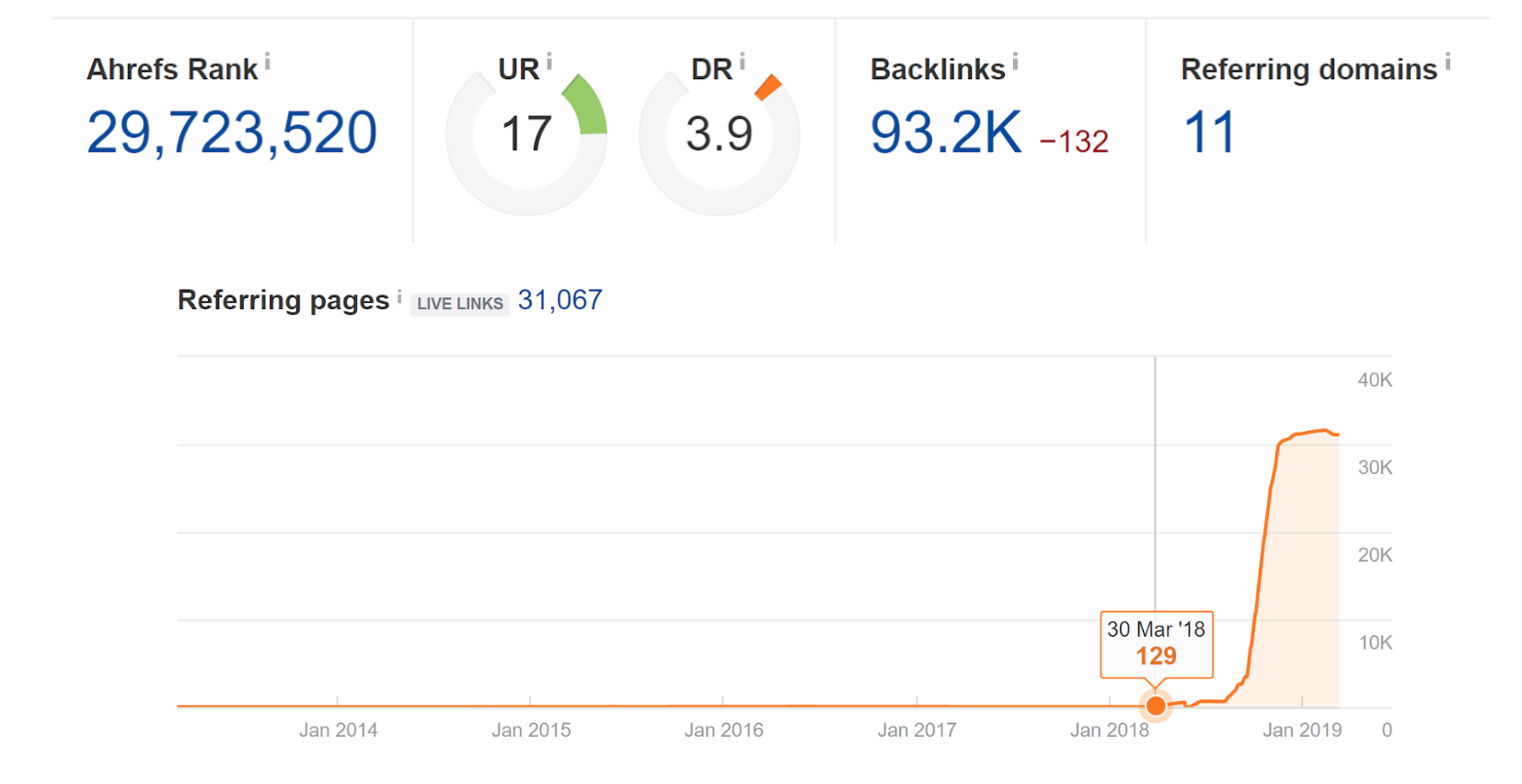 This is clearly spam (i.e. unnatural, non-editorial links that at best, won't help your site perform). So you can do this type of monitoring yourself of the link-building efforts of your own SEO…here are the red flags I'm seeing:
A massive influx of links at a certain time.
93,000 links coming from just 11 domains… which is not indicative of someone organically linking to interesting content.
This is reflected in the DR (Domain Rank) score put out by the aHrefs tool. Note that these scores are always bad estimations of Google's perspective of a site's overall authority, but they are directionally useful. For context, for a client like this (criminal defense in a mid-sized city), Domain Rank scores should be in the 35-45 minimum range.
If you want to go even deeper – the aHrefs tool shows exactly which domains the links are coming from (in our example, 99.9% of the site's 93,000 backlinks came from 2 of those domains… not coincidentally owned by the same company).
Note that this is an extreme example which I selected to illustrate the point.  Overall the reporting is going to be much more nuanced… but still worth watching especially when your agency tells you they are busy building backlinks but won't show you the results.