Social media is a medium that can't be neglected when building an online business profile. It provides an opportunity to interact with your community and control your online persona. According to a study, social media can also help build your page ranking.
In the study, which looked at results on branded searches, social media profiles and pages ranked page one in a high percentage of searches. One site that stood out for branded searches was LinkedIn, which was the most commonly appearing website in the study.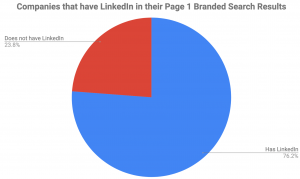 Facebook was the second most common website, showing up for 246 out of 500 companies. 
So what does this tell us? 
For one thing, it tells us that having a social media presence is vital for online reputation management. You have full control over your LinkedIn and Facebook profiles, you have less control over your reviews (but you still have some). When a potential client hears about your firm, the first thing they will do is look you up. By having multiple sites you control on Google page one you are crafting your image.
So how can we take advantage of this?
Well, you can build out your profiles. If you don't have a Facebook or a LinkedIn business page you should build them. If you already have them, update them. Post regularly and maintain your presence.
Will Mockingbird help me make a Facebook?
While the team here at Mockingbird will help with online reviews and social media advertising, we do not maintain our clients' profiles. That's something you'll have to figure out.