There are thousands of legal directories out on the web and more popping up each day. Some are awesome and some are atrocious. In this post we'll focus on what Mockingbird has deemed as the best free legal directories from 2015.  Why best?  Because they deliver … clients, or search authority that delivers clients.  But mostly… clients.
First, let's review 4 compelling reasons every lawyer should be actively creating listings on these sites.
Clients – As with any marketing effort, your end goal is to gain more clients at a lower cost. It doesn't get easier or more cost-efficient than acquiring a new client through a free listing on a third party website.
Citations – When Google sees citations for your business showing up consistently across the web (same name, address, and phone number), the more inclined Google will be to serve up your business in localized search results.
Links – It's all about the links baby! Linkbuilding is one of the most daunting tasks we face as SEOs. Directory listings are the lowest hanging fruit in terms of legitimate linkbuilding. (Be careful though, low quality links can do my harm than good.)
Directory sites dominate – More often than not, legal directories command much of the real estate in SERPs (search engine results pages). The screenshot below shows results for the search query "Nashville Divorce Lawyer" – notice how 4 of the 7 results show are for directory sites rather than individual firms? If you don't have a listing on the sites that are consistently dominating search results, then you are missing out on a lot of eyeballs and potential clients.  We've been saying for years that this is going to change… and we've been wrong year after year. So play the directory game, because they are already winning.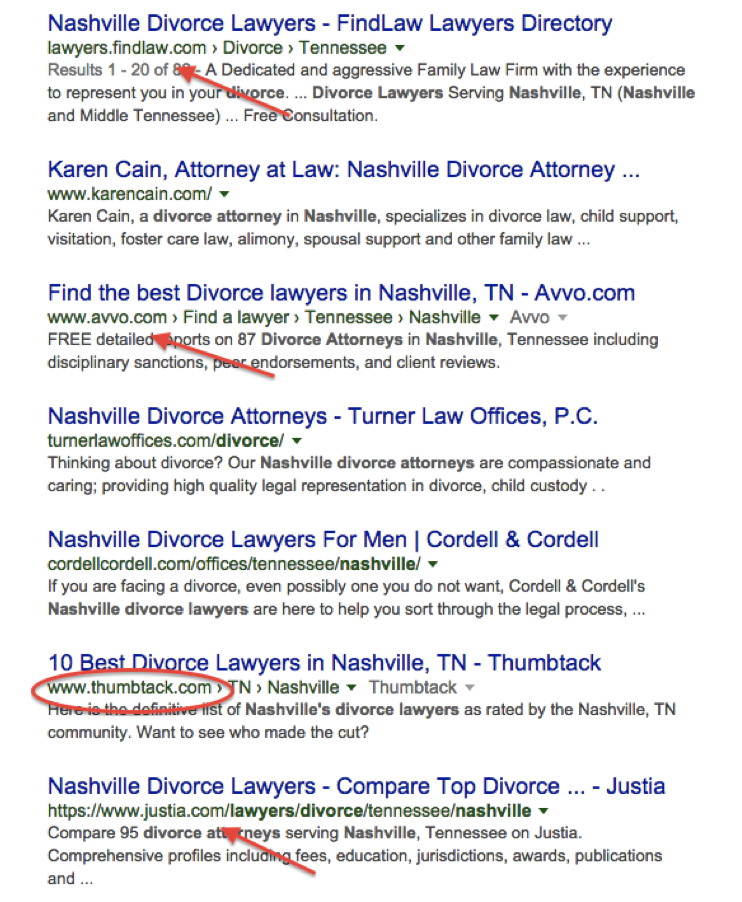 Best Free Legal Directories – Ranked by Mockingbird
Below are Mockingbird's favorite free sites ranked by our (incredibly official) Birdie Rating that accounts for things like: ease of use, whether or not the link is followed, competitiveness, and search presence.


Link: No follow
Why we like it: Industry leader; attorney endorsements; continually does well in the search results.  Unfortunately Avvo's removed the follow link on your profile a few years ago; but you can still drive business with a robust profile and/or aggressive engagement in their Q&A section. (Oh – and Conrad used to run their marketing back in the day when it was just the speck of an idea.)


Link: Followed
Why we like it: ROT (return on time) is maximized – along with a link from Justia, you also get a listing in the Oyez directory and in Cornell directory.  We also love their founder, Tim Stanley, who is mad-scientist-smart about all things legal marketing and the original founder of ehmmmm… FindLaw.


Link: Followed
Why we like it: Ties to NORML and NCDD so it's especially great for DUI lawyers


Link: Followed
Why we like it: Strong link; non-competitive; we love the founder Brint Crockett who has done more than his share to expose legal marketing chicanery.


Link: No followed
Why we like it: User friendly


Link: Followed
Why we like it: High authority site offering a strong link (listing bonus includes free calls from commission-driven sales people in perpetuity)


Link: No link – citation only
Why we like it: Uses birth date as safeguard against manipulation and spammy tactics; strong domain that consistently performs well in legal search queries
Popular Membership-Based Legal Directories
Listed below are niche practice area sites that require paid memberships and/or an application for acceptance into the directory. 
Bankruptcy:
nacba.org
Consumer Advocates:
naca.net
Criminal/DUI:
ncdd.com
aapda.org
norml.org
nacdl.org
Elder Law:
nelf.org
naela.org
Employment:
nela.org
Family Law:
nacchildlaw.org
aaml.org
General:
nlg.org
bestlawyers.com
superlawyers.com
Immigration:
aila.org
Mediation:
attorney-mediators.org
Trial:
thenationaltriallawyers.org
nlg-npap.org
Trust & Estate:
actec.org
naepc.org
Looking Ahead
It's a new year; do yourself a favor and take a few hours out of your weekend to create listings in the above directories.
If you would like to see the slide deck from Mockingbird's webinar, view the recording, or just say hi, please feel free to email me directly.