Citations – Overlooked Boon for Legal Industry
What is a citation?
Citations are a key determinate of your firm's success in local search engine optimization.
Definition – mention of your business name, address, and (ideally) your phone number on webpages across the Internet. The distinguishing factor of a citation: a link to your website is not required.
Citations come in different forms. It could be a mention of your business name all by itself; a mention of your name and phone number; name, phone number and physical address; or name, phone number, physical address and website link.
The two main types of citations are structured and unstructured.
Unstructured citations are exactly how they sound – they are less formal and may only mention one of the NAP (name, address, phone number) components for your business. You will see this type of citation on blogs, in job descriptions, online news articles, etc.
Structured citations are what you see most commonly on the web. These are listings found in directories like Yelp, Citysearch, Manta, etc. We spend a lot of time at Mockingbird ensuring structured citations are listed consistently. They are the most complete representation of your business and, for the most part, the easiest to update (with some noted headaches).
Why citations are vital to your firm's local SEO
The legal industry is arguably one of the most competitive verticals on the web. Lawyers need to utilize every tactic available, and acquiring citations is seldom done correctly if at all.
Citations are a critical component to major search engine ranking algorithms. Moz explains the different ranking components in their 2014 Local Search Ranking Factors study. Screen shot from this study below.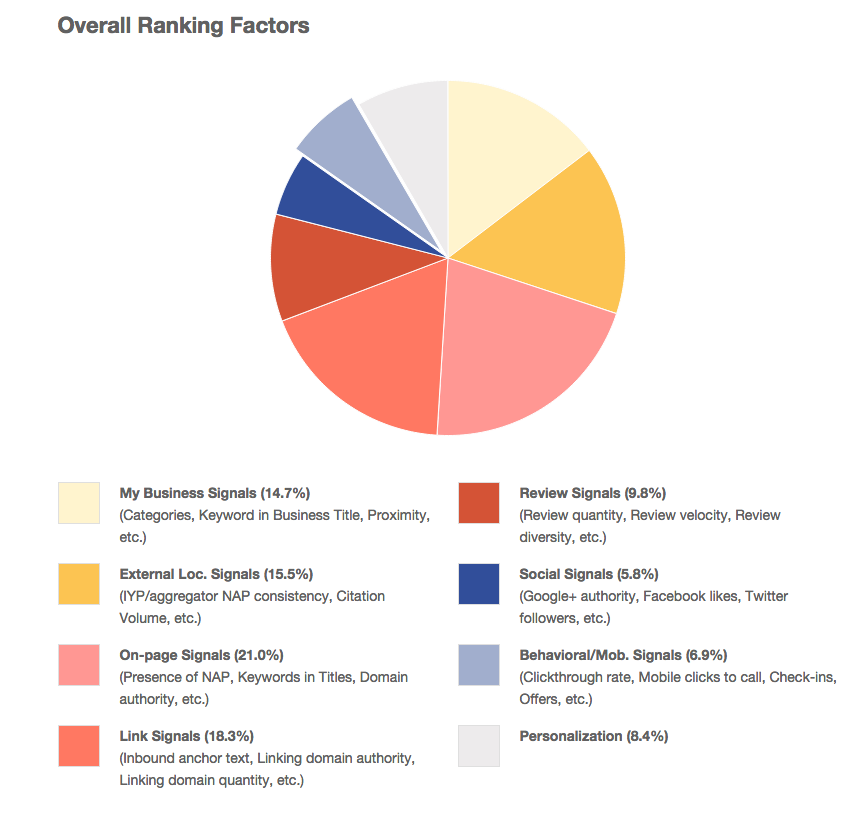 In English: search engines pull basic business information from your website and a multitude of directories across the web in order to integrate that information into a single listing to show users. Google and Bing only want to present results that they trust are accurate. Why? Their success depends on it – sending a user to an incorrect address is the easiest way for a search engine to lose trust with that user.
So how can you build trust that your physical location is actually where you say it is? Consistent citations.
Google will trust that you are in fact a local business if your basic information, also known as NAP (name, address, phone number), is exactly the same across multiple authoritative sites and directories (think Yelp, Yellowpages, Avvo…). This helps separate the real businesses from the fake, spammy ones trying to game the system.
Let's talk about something we all know; lawyers long for the coveted number one spot in the local pack. We can't blame them. If you're unfamiliar with the term local pack, it's the group of local business listings that appears directly above the actual search results.
For example the local pack for the search term "Seattle marketing firm" looks like this:
Moz explains in their local search ranking report that external location signals (or citations) are the third most important factor used to rank businesses. If you're wondering, the first two are on-page and link signals. Your name, address, and phone number should show up exactly the same across the web if you hope to show in local searches.
It's an important task and something that every law firm must do.
Where to start
Starting is hard. It's long, tedious, and frustrating work. Trust me I deal with this dirt every day.
Your first step is to choose a name, an address, and a single phone number that represents your business. Then find and edit every inaccurate listing out on the web. Tip: Keep an excel file that documents all of this information as you go. You can use this simple template we've created. Here are the top-tier directories and data aggregators you need to get right:
Acxiom
Factual – can't edit
Infogroup
Localeze (Neustar)
Google trusts these sources because they are not easily polluted. Learn more about updating these main data aggregators, and the level of difficulty for each.
Top tier directories/citation opportunities
D&B
Bing Places for Business
Facebook
Foursquare
Google+ Local
LinkedIn
Yelp for Business
Google and people alike trust these sources and actually use them.
Low-hanging fruit (not included in Moz Local or Yext subscriptions)
Thumbtack
Yellow Pages
Manta
Angies List
Yellowbook
Kudzu
BBB.org
InsiderPages
Not the SEO savior you are searching for…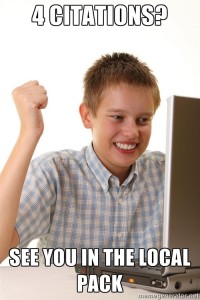 Citations are not the be-all and end-all SEO solution that everyone is searching for (in case your hopes were rising). However, they could be your demise. Solid NAP consistency may be taken for granted if you have it, but if you don't have it, you may never find yourself in that local pack.
Obligatory lawyer example
You are a personal injury attorney in NYC. Competition is cutthroat because of your practice area and geographic location.
Here's the case. While crossing the street, an unfortunate New Yorker is struck by a taxi. Upon release from the hospital, the victim takes the obvious next step and searches for an experienced PI lawyer. He searches for "New York Personal Injury Attorney" and lands on your law firm's listing in Google's local pack. BOOM. All your hard work to improve your local visibility has paid off. All you have to do is pick up the phone and turn that lead into a lucrative client.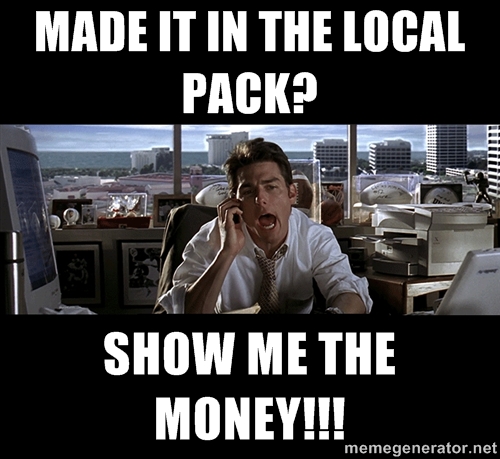 But that doesn't happen. Instead of getting your firm's front desk, the disgruntled New Yorker has called your old number, which is now the local UPS office. I highly doubt the victim wants legal representation from the men in brown. This is annoying, but only a slight inconvenience for him because he calls another listing from the local pack. Now your qualified lead is a client for your most loathed competitor, Joe-from-down-the-block. Don't send clients to your competitors. That's not good business.
The Facts
Citations help your local SEO.
You need proactively monitor citations for consistency.
There's a partial citation, and a complete citation – aim for the complete.
It's not easy work but it pays off.
Parting notes:
Evaluate the situation – https://moz.com/local/overview is a great place to start.
Start with your Google+ profile – fixing this is easy and will have the maximum ROI (or really ROTI).
Consistency over quantity – get it right before you run wild with building citations.
Go forth and take citations into your own hands. Or call us for help… that works too.