Earlier this week, screenshots of a new Google offering began to make its way around the SEO world.  The Google Guaranteed (or Google Screened for the legal industry) has been getting tested in select locations. Google is promoting this shiny new badge as an upgrade to your Google my business profile and a way to to "stand out".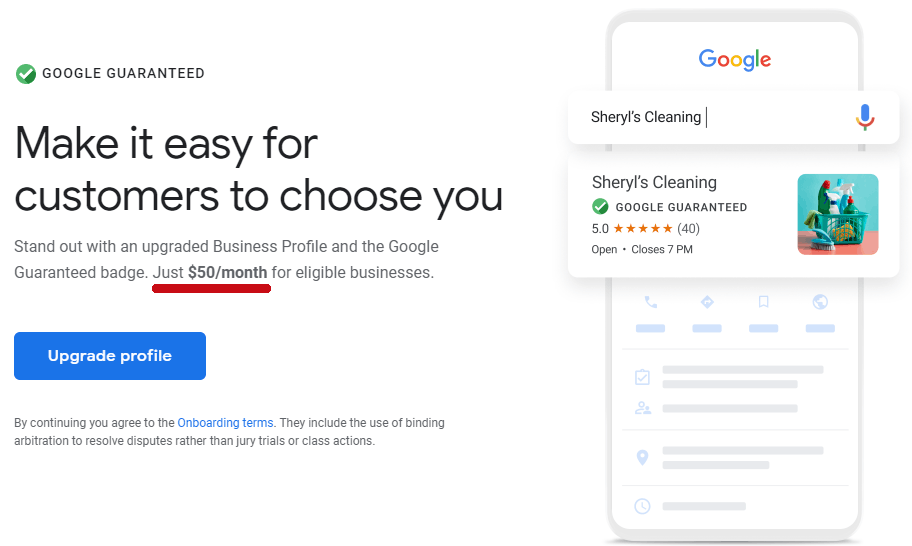 But you guessed it, there's a catch. The badge is going to cost $50 a month* for eligible businesses. I know, I know I can hear you throw my computer. "This is just another money grab by Google". That's how the entire SEO industry feels about it too. Just take a look at twitter.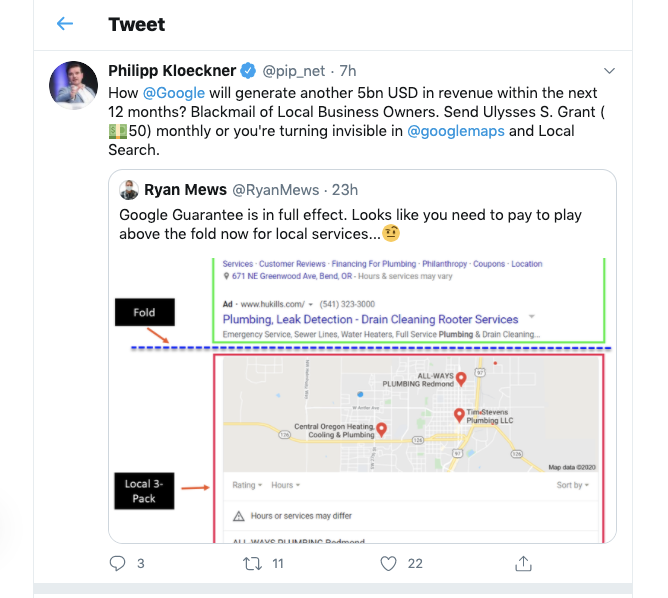 Here's a spin zone for you (I promise I'm not a Google lackey). This is going to help clean up the map of spam. I have written about the spam problem in the past, and how your leads may be getting stolen. Spam has been a constant battle of whack a mole. Isn't $50 a month a great investment to make sure your leads don't get stolen?
Also, take a look at your competitors. How many of them break the Google guidelines and throw keywords into their GMB business name. "Smith & Smith DUI Lawyers Denver". The good news is, they won't qualify for the badge until they remove the added keywords.
I am also quite optimistic that now that Google has a way to profit off of this tool, they are going to allocate more resources to improving and expanding Local search.
*As of writing this the program is still not officially announced by Google. Pricing is based on screenshots of Google testing the feature. Pricing may be different for the legal industry.
What is Google Screened exactly?
"Google Screened helps professional service firms build a trusted reputation online.
Businesses with this badge go through extensive background and license checks and must have at least a 3.0 rating.
On Local Service listings, you will see the Google Screened icon next to these businesses."
What Practice Areas Qualify?
As of now, the practice area's that are included on the requirements page are:
Bankruptcy lawyer
Business lawyer
Contract lawyer
Criminal lawyer
Disability lawyer
DUI lawyer
Estate lawyer
Family lawyer
Immigration law
IP lawyer
Labor lawyer
Litigation lawyer
Malpractice lawyer
Personal injury lawyer
Real estate lawyer
Tax lawyer
Traffic lawyer
You can read about the individual requirements for each practice area here.
Why this matters
Google Screened is the first step that a law firm must take before qualifying for the new ads variation that Google is slowly begging to roll out: Local Service Ads (LSA). This ad type is very atypical in comparison to the more traditional version of the ad approach that Google has typically adopted. Instead of a Pay per Click model (PPC) these ads will be a pay per lead, and you will only be charged when a client actually calls you directly through the ad.
What now?
To learn more about what the "Google Screened" badge and how to apply for Local Service Ads, reach out to our team. We will happily walk you through the process and get your firm on your way to getting "screened" and eligible for LSA's.