The Value of Google My Business Posts
One question we always ask ourselves here at Mockingbird is not only what moves the needle for our client's marketing, but what moves the needle with the greatest impact, at the lowest cost to our clients. This leads us to constantly debate and discuss tactics on how best to grow our clients business and market share.
One internal debate we have is, "What is the value of Google My Business Posts?" This debate, up until recently, has been largely focused around theory and gut feelings on Google's intention for the future of GMB posts. But now, after posting weekly for a few clients we have data to back our opinions.
Local SEO Context
Before diving into the results from our tests, I should probably explain some information for those who are new to Local Search, GMB and other key topics highlighted in this post.
If you are well versed in Local SEO, skip down to the next section.
Local Search: The facet of Search Engine Marketing that focuses on targeting the geography of a user. The GPS proximity of the searcher to the business and location keywords in the search query are key examples.
SERPs: Search Engine Results Pages
Google My Business: Also referred to as GMB, this is the knowledge panel that accompanies the search results on the right-hand side of the SERPs. This is where you can create and update your business's name, address, phone number, website, hours of operation, and many other business details.
GMB Posts: The focus of this post. These are social media-esque posts on the GMB account. They "expire" after 7 days but still show in "View previous posts" section.
The Data on GMB Posts
Below we have compiled 6 months of data coming from one of our clients, Tiftickjian Law Firm. The data is broken into four graphs representing Search Exposure, Costumer Actions, GMB Listing Views and Post Views.
Beginning on November 19th, we started posting on a weekly basis. As the data clearly shows, there has been a massive upward growth across all four of the tracked metrics.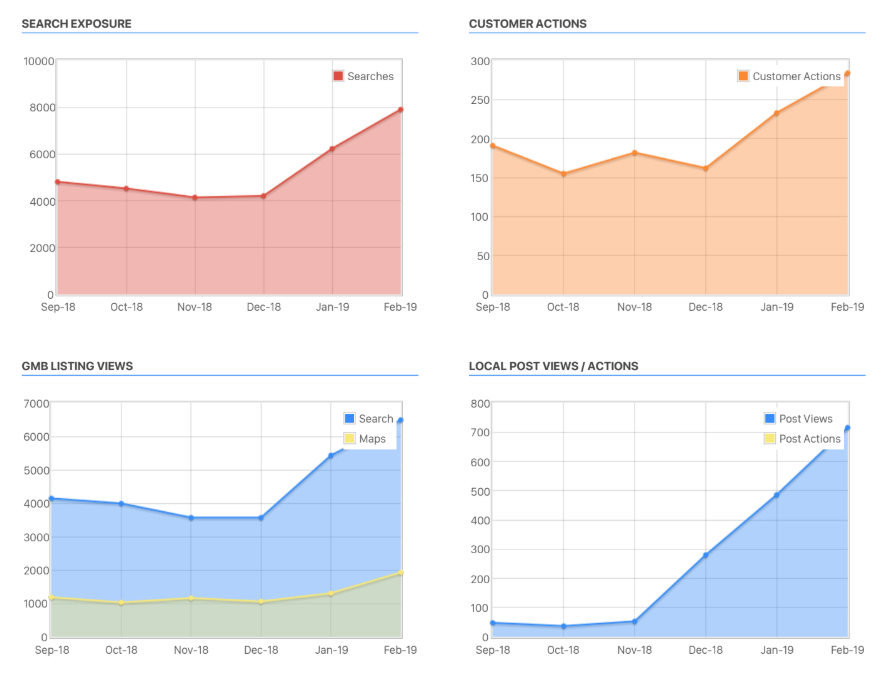 These results are not limited to just one client. We ran the exact same test for Ross Scalise Law Group, and the results are almost identical.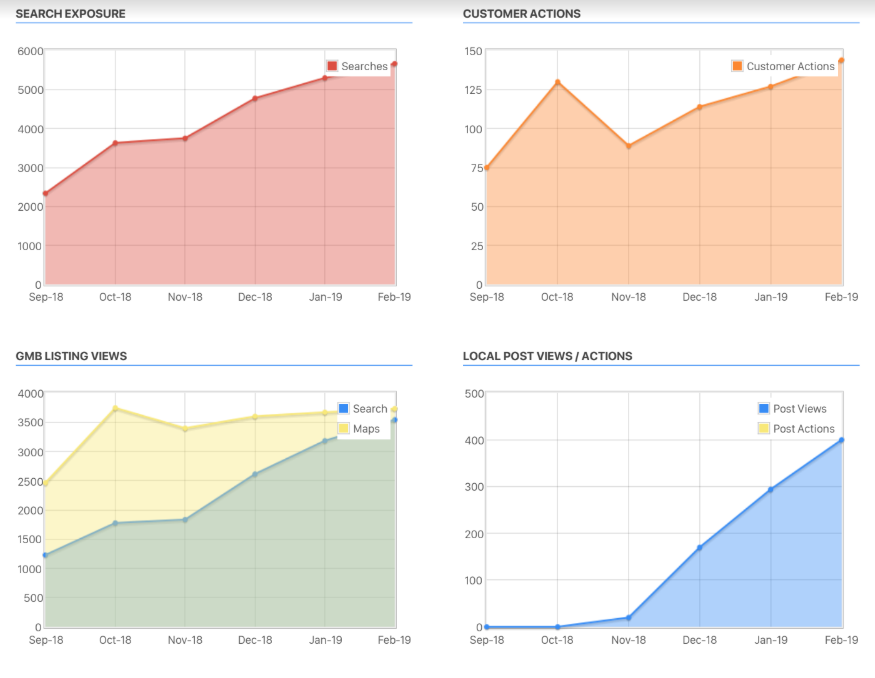 Posts in the Map Pack
Additionally, back in February, an interesting discussion took place on the Local Search Forum after Dave DiGregorio noticed that GMB posts are showing up in the Local Finder and Joy Hawkins found them in the 3-pack as well. This looks to have been an initial test by Google, but my assumption is that we will continue to see GMB posts influencing and showing up in the search results.
Summary
To wrap everything up into one final conclusion, I believe that making weekly GMB posts is valuable. They require minimal effort, and as the data shows, they have had a substantial impact on search exposure and engagement.