Google's Knowledge Panels and Featured Snippets have led to an increase in what is known as "no-click" search results: consumers will search something, then find an answer without having to click a single link. This benefits the searcher and Google but impedes click-through rates for those producing content. While this is worrying for those in SEO, it doesn't look like Knowledge Panels or Featured Snippets are going away anytime soon.
A survey conducted by Path Interactive, which covered multiple countries and age ranges from 13->70, found that Knowledge Panels and Featured Snippets are growing in popularity among younger users.  When asked what they do when faced with a featured snippet, 40% of responders between the ages of 13 and 18 said that they considered their search done. Less than 15% of those over the age of 70 answered similarly. Of the almost 2,500 responders, 36.8% said that they considered their questions answered when given a Knowledge Panel.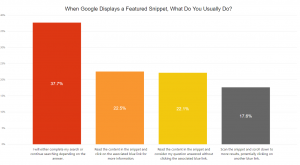 These numbers are scary for those whose jobs rely on click-through rates, but they provide an interesting opportunity for those who work in SEO: designing content that Google likes enough to be featured. Those featured in Knowledge Panels or Featured Snippets get an almost doubled click-through rate than those not featured. 
The type of content appearing in the Snippets also influences click-through rates. Searches with simple answers tend to have lower click-through rates. 30.6% of consumers concluded their searches on features such as weather forecasts when given a Snippet, while only 13.6% of consumers said they consistently relied on features regarding job searches, local events, or more complicated results.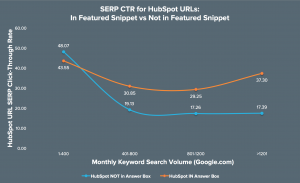 Google is adapting to better respond to user experience, often at the expense of those desperately trying to increase organic traffic. According to the survey, 93% of respondents said that Google had maintained or improved its user experience over the years. If improved user experience goes hand in hand with increasing challenges on SEO, I don't think we can expect Google to ease up on those in SEO.