Breadcrumbs Just got an Upgrade
Breadcrumbs have been helping users navigate websites for well over a decade now, and as technology has gotten better, managing the breadcrumbs have gotten easier. A recent announcement by Google has revealed that website managers will now have access to structured data reports of their breadcrumbs and will receive a notification in the case of malfunctions. This will allow website managers to more efficiently identify and fix issues, decreasing any impact they might have on user experiences.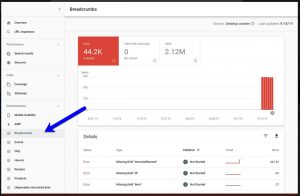 Google announced the new feature through a tweet with this photo attached
With all the competing website-building companies and their desire to make SEO more accessible, building breadcrumbs has never been easier. Hierarchy-, history-, and attribute-based breadcrumbs have made website navigation easier for consumers and are controlled by the website administrators. Well designed breadcrumbs even make it to Google search results, making it easier for consumers to navigate the site before they even click through. 
Google's announcement has made the use of breadcrumbs even more essential for SEO than before.  The increased access to technology means that those who ignore it will be left in the dust.