The language of marketing has always been designed to isolate clients. Marketers use technical jargon to upsell and confuse prospective clients; an unethical power play. Well, here at Mockingbird we're trying to tear down those walls. By providing definitions, we're opening doors to the tough questions. We'll start by talking about the Marketing Funnel.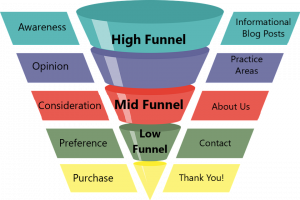 What is the Marketing Funnel?
The marketing funnel is the funnel being referred to when marketers talk about "high funnel" or "low funnel" tactics. The term was coined long before the internet and covers the broad stages of converting a consumer to a client. The stages are:
Awareness

Opinion 

Consideration

Preference

Purchase
In layman's terms, these might be:
Becoming aware of the brand/problem

Doing research about the brand/problem, finding the solution (the product)

Doing research on other solutions, or products

Deciding which product they prefer

Buying (converting)
What is High Funnel Marketing?
High funnel marketing is in reference to strategies that target brand awareness over direct conversions. This might mean promoting blog posts, coordinating scholarships, or sponsoring events. It's about getting your name out there, meeting your clients where they live.
What is Mid Funnel Marketing?
Mid funnel marketing is catching consumers who you know are aware of your business but might not have become clients yet. This is often in the form of remarketing, or advertising to people you know have visited your website. This reminds them of your brand and of the problem they're looking to solve. Mid funnel isn't as common of a term, but it has its place.
What is Low Funnel Marketing?
Low funnel marketing is targeting people you know are about to become clients. It's the people who might have something in their cart but haven't proceeded to check-out in the past week. It can also be advertising to people directly searching for the problems you cover. If you're an LGBTQ+ friendly family lawyer specializing in child custody in the North Platte, Nebraska area and someone types "same-sex child custody lawyer Lincoln, NE," you should target them specifically. 
Is High Funnel or Low Funnel Better?
It depends on your goals. If you are trying to increase traffic to your site and broaden your market then high funnel is probably good for you. If you are just trying to get clients, low funnel is preferable. Of course, the best option is a balance of both. You can't have a business without brand awareness, but you also can't have a business if no one is buying anything.
How Do I Keep People Moving Down the Funnel?
Remarketing is a good way to keep people moving and in the funnel. Previously mentioned about mid-funnel marketing, remarketing mainly just reminds consumers that if they haven't found a solution for their problem yet, there's a brand that has solutions. You've seen remarketing in action when you look at a product then see ads for that exact product everywhere for the next three days. It's considered a highly effective strategy.
Where Does this Blog Post Fit in the Funnel?
This blog post would be considered high funnel, as it's targeted at a more general audience than our specific market. Since it's informational rather than opinion-based it's designed to be picked up by search engines and answer people's general questions on marketing funnels. If you start seeing ads for Mockingbird or decide to look at what services we offer, you'll have entered the middle of the funnel. If you eventually become a client, congrats on two accounts! First for making it all the way through the funnel, second for getting a great marketing team for your law firm.