Client
The client is a mid-sized family law firm located in Colorado. Their engagement with Mockingbird began in May of 2019 after the firm experienced a sharp drop in domain rating (DR). It is likely that the firm's initially high DR was inflated due to backlinks placed by bots. When these links were lost, the firm's domain authority dropped.
Note: Domain rating (DR) is a metric used by Ahrefs that shows the strength of a target website's total back link profile (in terms of the number and quality of links).
Project
Mockingbird provided PR and link building services to the client for more than a year. The goal of this engagement was to regain and exceed the firm's initial DR through ethical link building practices. Strategy included article placements, attorney interviews, community link building, and historic backlink development. This case study reviews the results of these practices over the past year.
Result
The firm's DR increased from 19 to 31 in one year.
Details
2019 to 2020 Comparison
The number of overall links have decreased, but the number of referring domains have increased. In terms of domain authority, it is better to have a few backlinks per domain rather than many back links from a few domains.
| | | |
| --- | --- | --- |
| | November 2019 | November 2020 |
| Domain Rank | 19 | 31 |
| Backlinks | 4390 | 2140 |
| Referring Domains | 119 | 183 |
| Links Per Domain | 36.89 | 11.69 |
Referring Domains Over Time

Competitor Domain Ratings
The firm's DR is now higher than those of comparable family law firms in Colorado.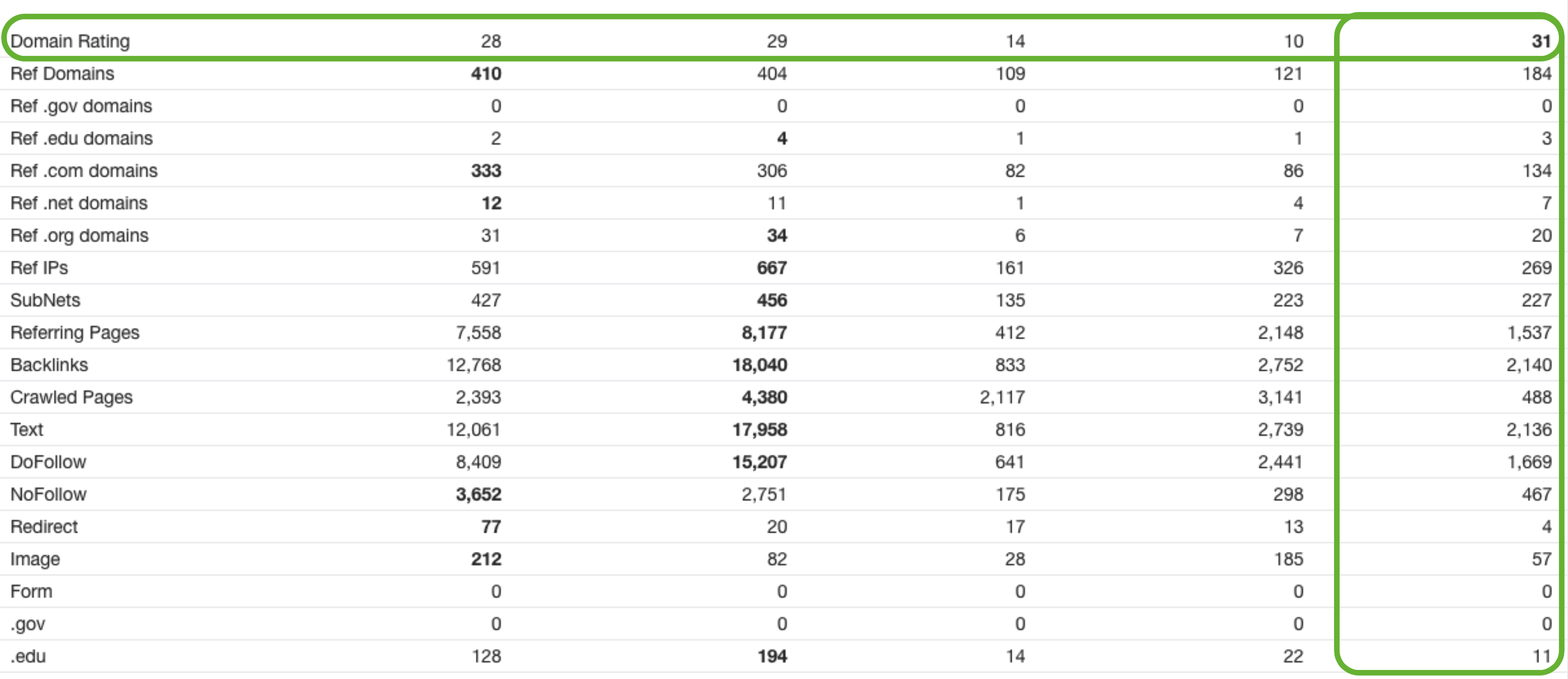 Ahrefs Ranks Over Time
The firm has recently seen an increase in their Ahrefs rank. In October the firm's rank was in the six million range, and it is now in the three millions. Ahrefs Rank shows the strength of a target website's backlink profile compared to the others in the Ahrefs database, with rank #1 being the strongest. For example, Google.com has a rank of six.