SEO Disaster: "This Site May Be Hacked"
Oh….. its so bad when a site gets hacked.  Check out what people looking on Google for attorney Steve Boyd see: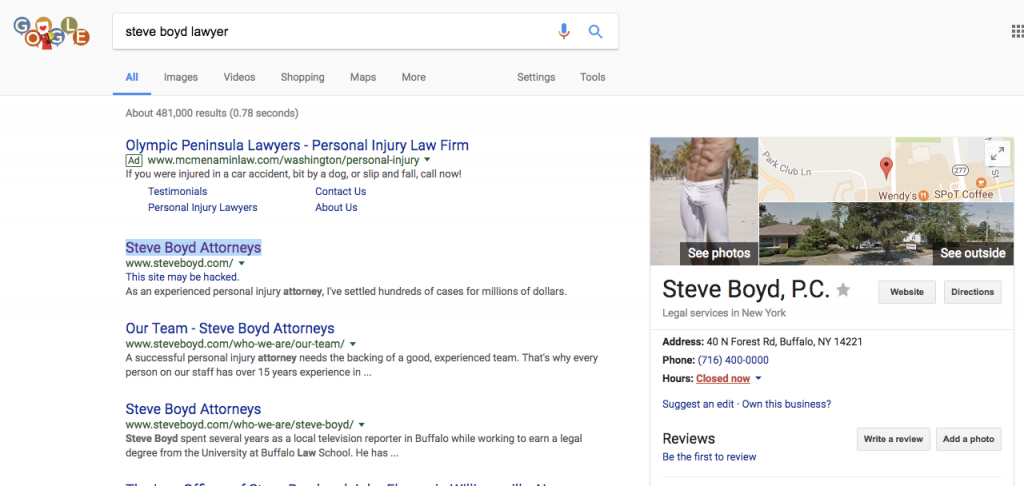 Note that under the listing for the website there's a Google warning:  "This site may be hacked." This is Google's attempt to protect users from sites that may unwittingly download malware or aren't what they really purport to be.  WordPress is a notoriously common target for hacks due to its ubiquity.  Here's a close up of that Google warning: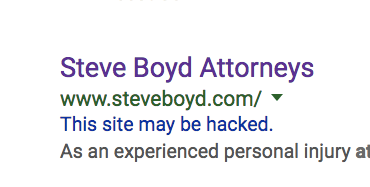 Further – it's highly unlikely that Google will send anyone to any other pages on the site…. most likely, the only results you will get are for that flagrant brand queries.  And this is because the site has over 12,000 indexed pages, mostly in Japanese, peddling everything from Nike sneakers to Patagonia jackets.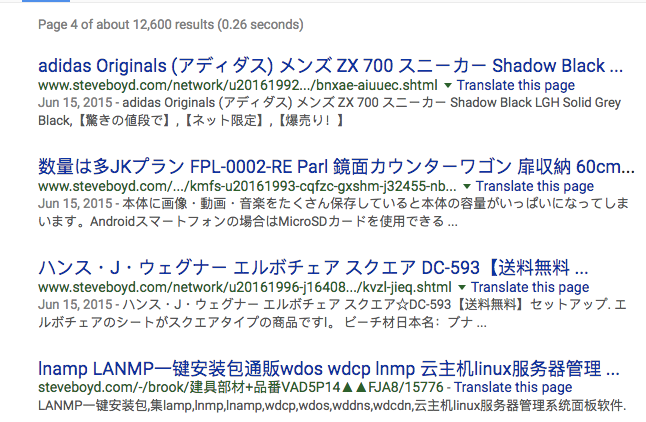 But wait – there's more! Go back to that original result and let your eyes land on the pictures to the right in the Knowledge Graph….. looks like not only Steve's site was hacked, but someone also took the time to upload some new pictures for his office.  Either that, or Steve really likes galavanting in one-size-too-small football pants after taking a dip in the ocean and completing his morning's 1,000th sit-up.
What to Do?
First off – don't let this scare you away from WordPress – it is still the one and only website platform you should use.  But…
Update it regularly.
Host it on a Managed WordPress provider.  We recommend WPEngine – read more: Our Love Affair with WPEngine.
Check results for brand searches regularly.
Claim your Google My Business result.
Monitor your site in Google Search Console.
And Steve – if you are reading this…. my apologies (or admiration if that is really you).