Why It Takes 5 Years for Email to Generate 1 Law Firm Client
Fortunately, lawyers haven't stumbled all over themselves in a rush to adopt email marketing in the same way they have social media . . . BUT I still see email marketing being pitched as a primary client development tool.  And rarely does the email newsletter pan out.  The reality is, there are many many steps in the law firm email sales funnel – and every step can torpedo this channel. Here's the simple math you need to consider when investing in an email marketing campaign:
Now, let's make some optimistic assumptions about law firm marketing:
Small to medium sized law firms get roughly 300-800 visits monthly.  Let's round up and call it  1,000 and very optimistically assume one out of every twenty five visitors signs up for your newsletter (resulting in 40 addresses a month).
Visitors to law firm websites call at a rate between roughly 2 and 5% depending on the quality of the site's marketing.  We'll use 5%.
Of phone calls to law firms, roughly one in four is from a qualified prospect – i.e. a potential good client.
Law firms close half  of the business they want.
That's a sales funnel with a daunting eight steps.  Here's what it looks over a year if we deploy a monthly email campaign: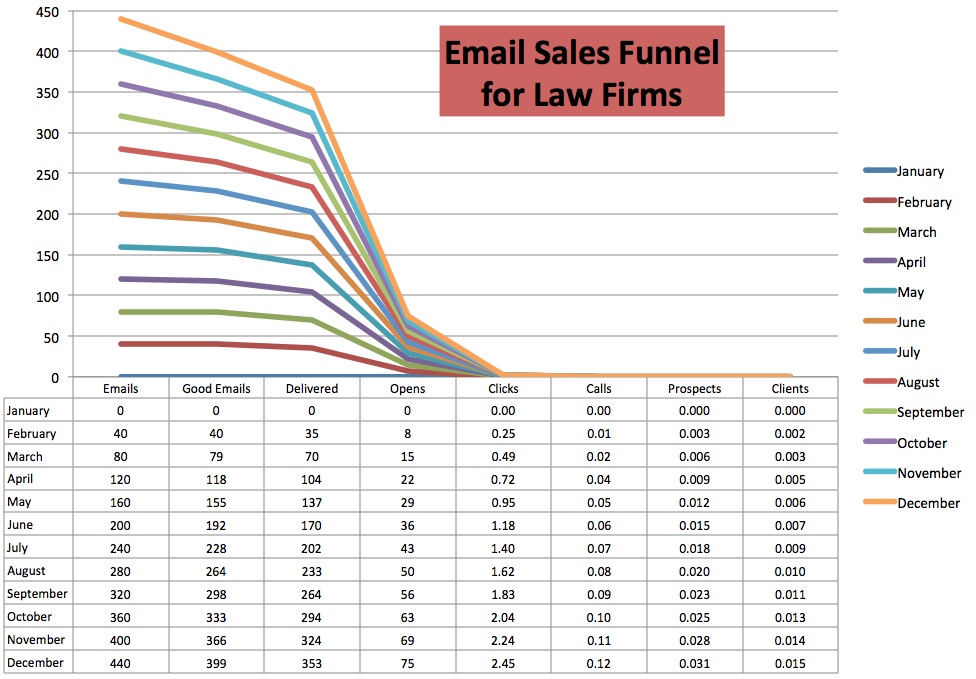 So after a year, based on these assumptions (and feel free to come up with your own conversion assumptions and play this out for yourself), that's 0.015 clients – – – – put more simply, even with these optimistic growth rates, on average it will take four and a half years to generate one client.  Some more back of the napkin math: between content development, CAN SPAM compliance, unsubscribes, email capture, we spend 2 hours developing each email at $100 an hour – that's a cost per client of $10,800.
The Exception
By all means use email (even automated campaigns) to proactively communicate with vetted prospects.
But harbor no illusions that this channel is the answer for filling the top of your sales funnel.  The reality is, email requires a very large volume of recently sourced addresses to make an impact.  Still hopeful? Consider the last time you easily gave up your email address online – and then look at the "Promotions" or "SPAM" tab/folder on your email provider and consider the last time you opened one of them, let alone clicked through.
Most law firms, simply can't generate enough addresses in the top of the email marketing funnel for anything to come out of the bottom.