Should law firms have a blog?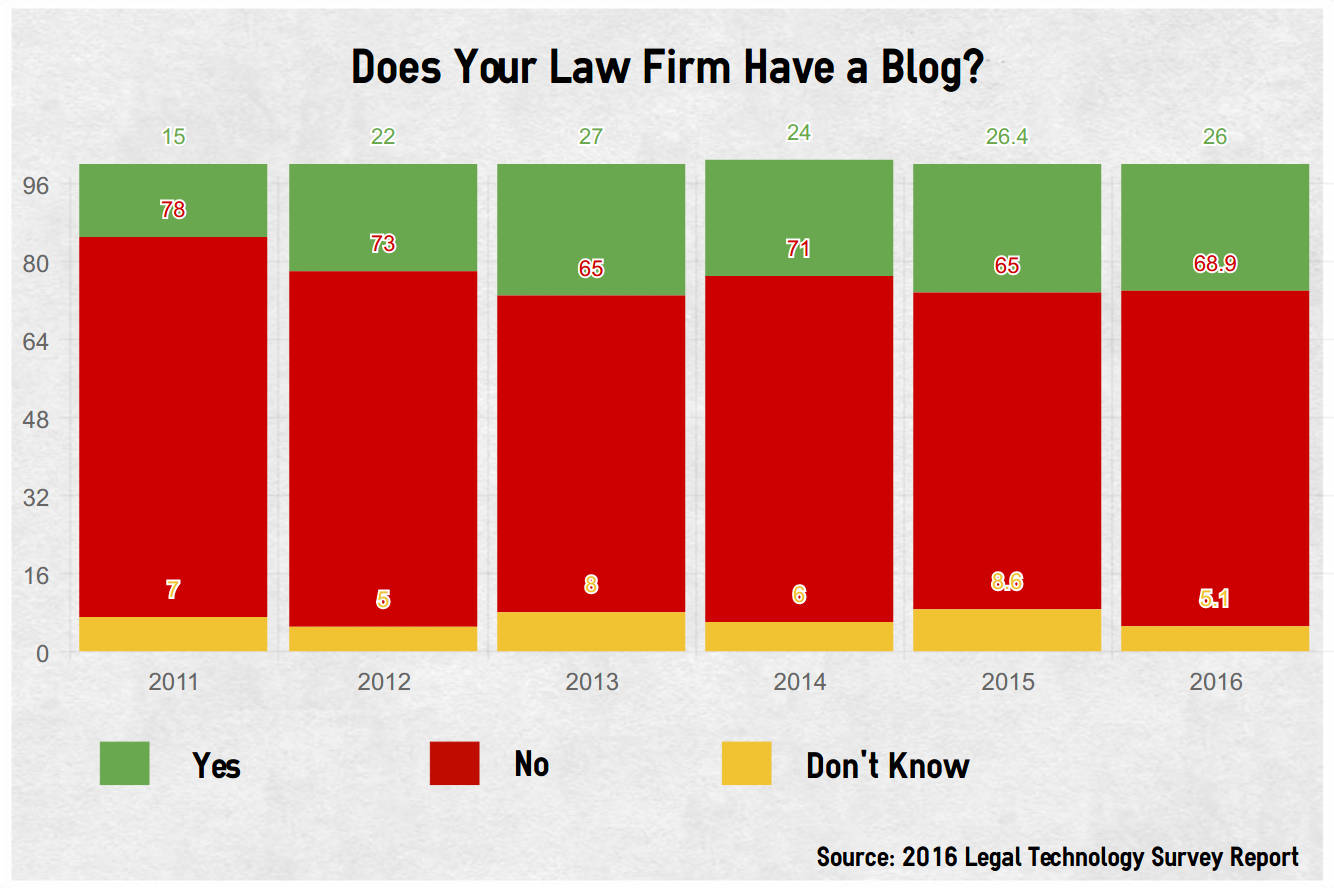 The number of firms with blogs has been holding steady at about 26 percent. Still, the fact that only one in four law firms has a blog doesn't stop the common misperception that it's a marketing necessity. Like most things related to marketing, the question of whether you or your firm should have a blog has an unsatisfyingly vague answer: it depends.
The reality is, blogging can be an extremely effective tool for building a brand, differentiating your business, and driving inquiries. On the flip side, it can also be a huge time suck that detracts from other easier opportunities that would yield greater results.
A post from Above the Law on the value of lawyers having a blog makes the point nicely, stating:
"The thing about blogging, despite whatever anyone says, is that it's work. It takes time and effort to regularly sit down in front of a blank screen and churn out 1,000 words. You have to enjoy writing or you're not going to do it… blogging is a pie-eating contest, and the prize is more pie."
What does that mean for you? Should your firm bother with having a blog?
Before you decide, answer the following questions.
Do you like writing?
Do you have a distinct voice or something interesting to say?
Will you be consistent in your efforts?
Is this the best use of your time?
If the answer to any of those questions is "no" then you have a pretty clear answer as to whether your firm should have a blog. As tempting as it is to follow the (perceived) norm, there's a reason 75-percent of law firms aren't making blogging a part of their marketing strategy. I can guarantee you it's not because 3 out of 4 firms are too lazy to blog consistently (although some most certainly are) but rather because they've decided other efforts will yield better results.
You don't need to blog to be successful
Anyone who tells you blogging is an essential part of your marketing strategy is being misleading at best and dishonest at worst. A great blog is a fantastic way to market yourself and your firm, but it's also only one possible component of a successful marketing mix. There's no one-size-fits-all solution for being successful, and authenticity matters. If you're not a natural writer, don't have an interest in publishing content regularly, or have a laundry list of other items that need to be addressed, you should scrap the idea of blogging all together.
The only thing sadder than a "blog" page on your site with a list of articles that hasn't been updated since 2015 is having an external blog that's costing you a couple hundred dollars each month to be a "thought leader" no one knows about.
Be honest with yourself and set your firm up for success by only taking on a blog if you're committed to making it work. You can't dip a toe in and expect anything. You have to genuinely enjoy it, and even then, it's hard work finding an audience. However, if time is money, think long and hard about what you're giving up in order to write another post that gets 4 or 5 visits and 0 comments.