Pitch Mockingbird for Just $250
Want to Sell Us Something?
As our agency continues to grow, we've been getting hit up by an increasing number of vendors with "can't miss demos" and offerings sure to help us "take our clients to the next level." Normally we're kind of aloof and take a "we'll find you" approach to identifying potential partners. However, a savvy move from SharpSpring that consisted of an unsolicited maze (pictured below) and a generous offer to buy lunch for our team may have changed our entire philosophy.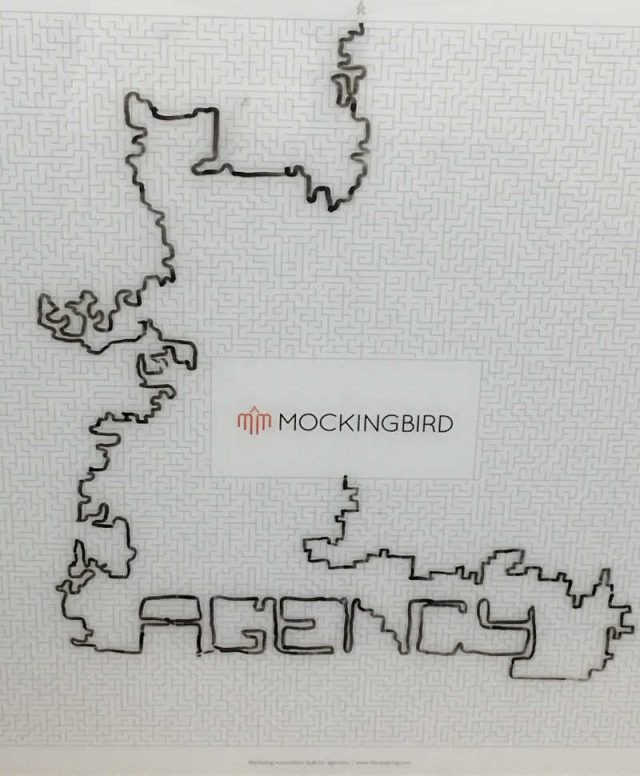 Every Friday our team meets to discuss the latest tactics, solutions, and opportunities for our clients. We share notes (and a few beers) during the weekly "Thinking & Drinking" meeting, and up to this point all it's been lacking is consistent catering.
That's where you come in!
We Can Be Bought…
If you buy us lunch, we'll be your captive audience for 30 minutes while you run through all the reasons we should buy/use/recommend your company's tools/products/services. We're not even going to be that picky about what you're shilling…only what we're eating.
Give us $250 for lunch and we'll give you 30 minutes of our time.
As a savvy marketer you're probably already doing the math on this and realizing it's too good an opportunity to pass up. But, to sweeten the pot we'll also give you the following:
Hypercritical feedback on your presentation skills
A brutally honest assessment of your product or service
A blog post from one of our team members about your company's pitch
The unlikely chance at legitimately selling us on something we didn't know we needed
At worst, you get a bit of free coverage on our blog and the chance to write-off $250 as a "marketing expense." At best, you've gained the once in a lifetime chance to pitch a market leading agency for the cost of several pizzas and a couple cases of beer.
Fill out the contact form or call to schedule your pitch. Slots are going to fill up fast, so don't delay. We look forward to hearing what you do and why we should care.