The Pigeon Mess . . .
Last Thursday, Google quietly released a new algo update targeting improved search results that had a local component (i.e. almost all legal related searches).  Note that Pigeon impacts both local and natural searches – so the reach for law firms is very significant.  The early results are in to Pigeon and they aren't pretty.
Here's why:
Pigeon Favors Directories Over Law Firms
Like the most recent Panda algo update, Pigeon seems to have favored directories over the actual businesses in these directories.  There is widespread agreement among local search geeks – Mihm, Blumenthal, Shotland and more that directories have indeed benefited.  Andrew Shotland noted a 5-10% traffic increase for some of the directories he works with following Pigeon. Counterpoint: I pinged the guys at Avvo who didn't acknowledge anything dramatic.
I should note that this direction continues to surprise me.  Cutt's has often made comments to the contrary so I see the possibility of a  large reversal in the horizon (although I've been envisioning it unsuccessfully it for a while.)  It is highly possible that Google's focus on "brands" and the rewarding of brands in search results is to explain – i.e. the Avvo's and FindLaw's of the world have established brands while branding for law firms, especially small law firms is essentially impossible – especially as a computer would view a "brand."
There's also an argument (and I think a good one) that this update is a hastily rolled out response to Yelp's recent sniveling about anti-trust . . . Pigeon, which rolled out just two weeks after the leaked TechCrunch article  has very directly benefited Yelp.
Shake-up of Local Results in a Bad Way
In many cases, mapped results have changed almost completely.  We've also seen the reduction of the frequency and sized of mapped results – i.e. some formerly mapped results don't deliver at all and some seven packs have been replaced  by three packs.  I had one attorney call me insisting that his claimed Google profiles were no longer appearing and yet some unclaimed satellite offices had suddenly shown up in the mapped results.
Remergence of SPAM Results in Local Pack
Michael Ehline at the Circle of Legal Trust noted that Avvo was now showing up as a local personal injury law firm in Los Angeles.  I dug in and found what looks to be an old spam tactic – piggybacking a local company to the strength of a large, relevant domain to win in local results.  This is more widspread than this example – the travel site, Expedia is now a small hotel on Madison Avenue in New York  . . . . at least according to Google maps.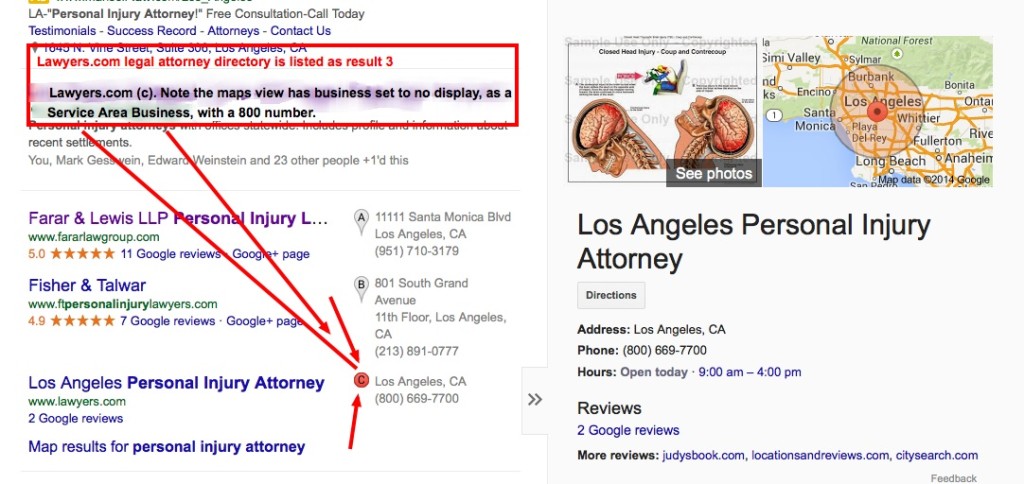 I looked further into the los angeles PI example and found the following result.  Note that both Avvo and Lawyers.com are listed as a mapped business for the "los angeles personal injury attorney" query.  Also note that neither of them have a physical address and both of them have the identical phone number (which incidentally, you may not be shocked to learn, does NOT in fact ring to my old friends in Seattle.)  Also note both of them (and Farar & Lewis) are keyword stacked with "Personal Injury Lawyer" in the name of the business . . . . another rudimentary local search no no.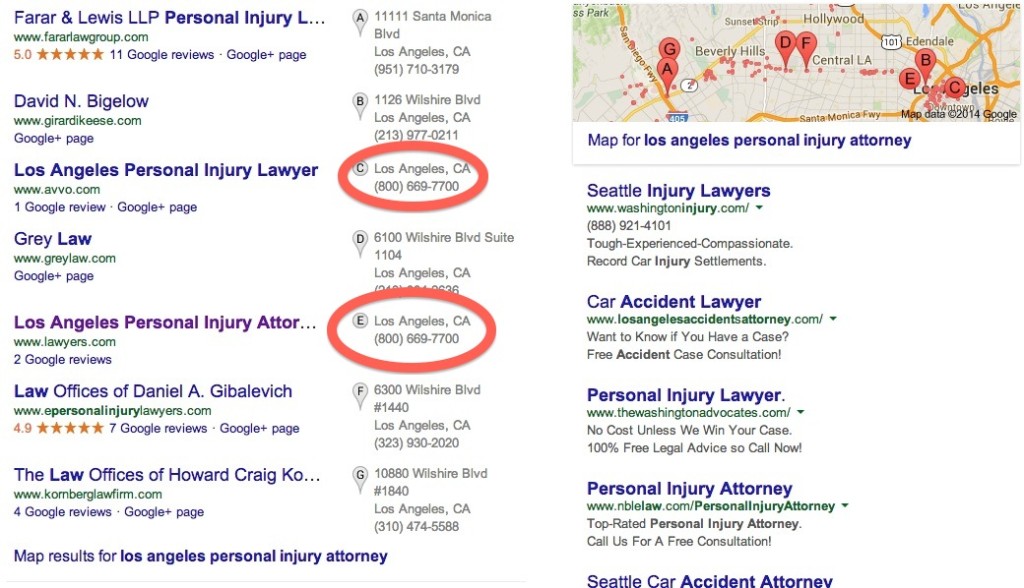 You'd think that Google local results, with the focus on things like NAP consistency might be able to algorithmically detect that two different business within the same result have the exact same phone number.  Apparently not. Ehline insists that this result didn't exist before Pigeon – and I tend to believe him.  The only thing he fears more than the Government removing his AR-15 is the Google removing his rankings.  While clicks go through to the appropriate directory, the phone number doesn't – a quick search on that number brought me to an instagram (yuk) account that was associated with  . . . . a los angeles motorcycle accident attorney: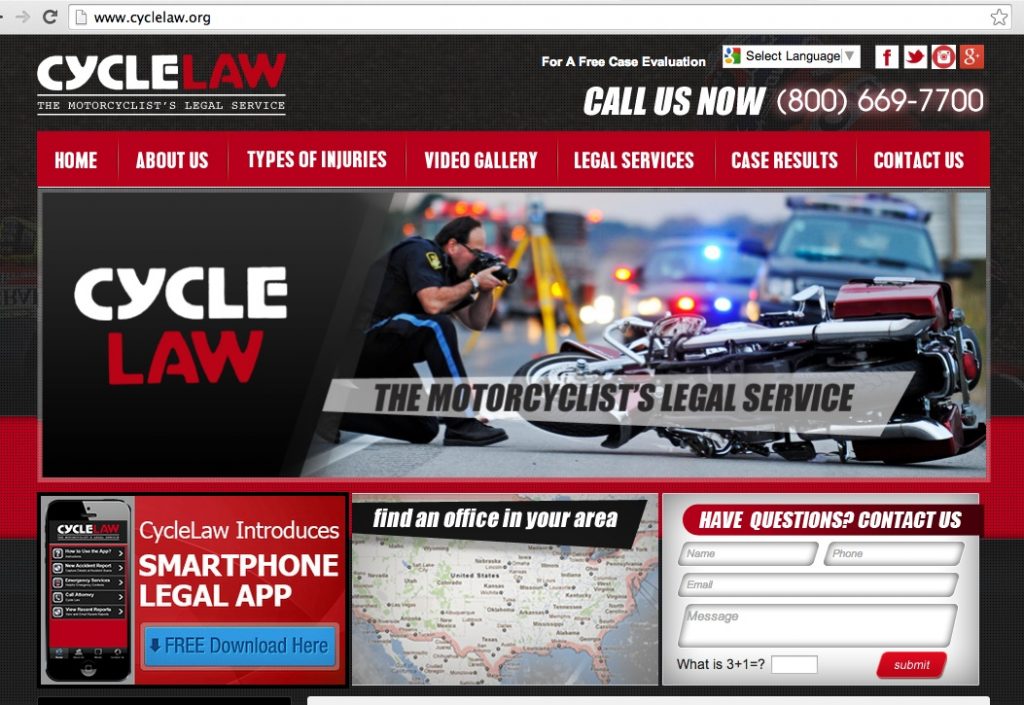 Hope you are proud of yourself, Attorney Robert Brenner – but don't expect this flood of new business to last, after which it may well dry up forever. This is an old spam technique (and I won't encourage it by telling you how) that Google's quality update (read: Pigeon) re-enabled. Good job MountainView. This is why I believe Pigeon to be a hastily launched response to Yelp's whinings and I would expect more turmoil as they work to (hastily) improve upon it.