Online Reputation Management: Dealing with Bad Reviews
We previously wrote about how to build up good reviews for your firm or practice. If you're on this page and you haven't read that post, take a moment to do so. It sets the backdrop for the information here.
Unhappy customers are a part every practice area, and you can get negative reviews even if you do everything you can to keep your clients successful and happy. But negative reviews can hurt. It only takes one client in a particularly foul mood to rank you 1/5 on Yelp, tanking your rating and likely hurting the success of your firm.
There are a lot of tools and tactics at your disposal for dealing with reviews that cast you in a bad light, but you need to be familiar with them so you don't inadvertantly hurt your business further.
Building a Safety Net
One of the most important ways to combat the effects of a bad review is to build up a safety net of positive reviews. Smart consumers also know that you can't please everyone all of the time and psychologically, one negative mark lends legitimacy to the positive reviews.
The most direct part of creating your safety net is building up a strong review base, which you can read about in the previous article "How to Do Reviews". A larger number of reviews means your average rating is more resistant to big outliers. Let's look at an example. If you have a 5-star rating, but it's only from one reviewer, just one 1-star rating can cut that almost in half.

That's looks awful. You just went from looking like the top of the pack all the way down to looking mediocre. Now let's compare this to a 5-star average from three reviews, or from seven.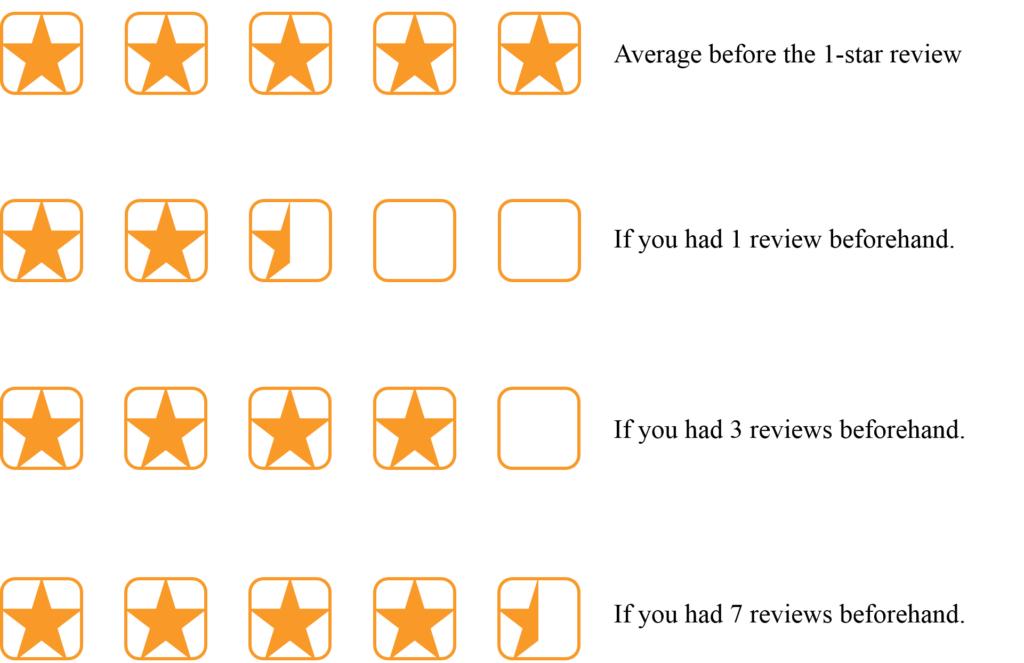 As we can see, there is a marked improvement that comes from having a large number of reviews. If you're curious, you can see the same pattern for a 4-star average.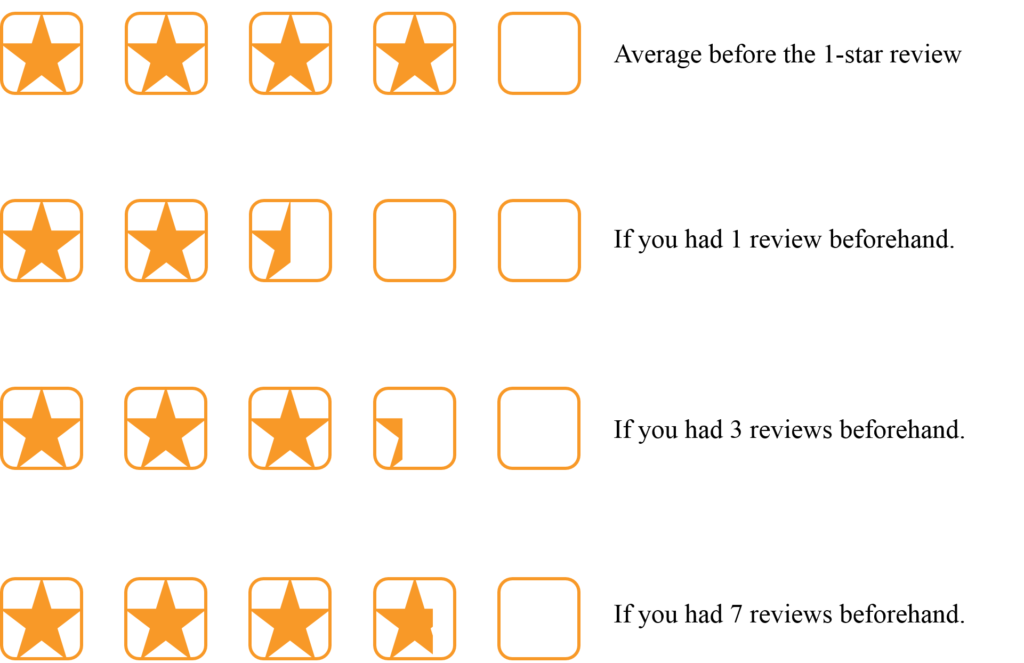 Bear in mind that these are averages are determined using conventional wisdom for reviews – add up the total number of stars and divide it by the number of reviewers to get your average. Most sites, including Avvo and Yelp, round your rating to the nearest half. However there are exceptions like Google+, which uses an algorithm to estimate your true rating and could lead to a result slightly lower or higher than the average shown here.
Also worth mentioning is the spread of your reviews. We've talked before about not putting all your eggs in one basket, but it also tends to look suspicious if multiple sites have significantly different averages. If your reviews are stellar on Google+ but much worse on Yelp, it will look like you're doing something artificial to boost your ratings. For this reason, you need to make sure you look good in many places. That will take a lot of work, but it's worth it.
In addition, your safety net should also involve making sure your website ranks highly for branded searches. If you are "Jane Doe, Attorney at Law", anyone googling that phrase should see your website ranked first, before review sites or online profiles. Having a strong search engine presence means bad reviews that grow legs (more on that later) won't rank higher than pages you control. On a similar note, you should make sure you have control over your profiles on the 3rd-party review sites around the web. Make sure that you have access to your social media profiles (Facebook, Twitter, etc.), your Yelp page, Avvo profile, and so on.
The third component of your safety net is good customer service that follows your clients and keeps them happy… or as happy as is feasible.  By providing clients the opportunity – even encouraging them – to rant at you, in your office, on the phone anywhere other than online, you both provide much greater customer service and avoid a negative review.
Bad Safety Nets
Building up a large base of reviews that reflect positively on your brand takes significant time and effort. You might be tempted to turn to the dark side of SEO in order to ensure your ratings stay high, but stay strong in your resolve. Unethical practices won't guarantee your rankings, and they can backfire spectacularly.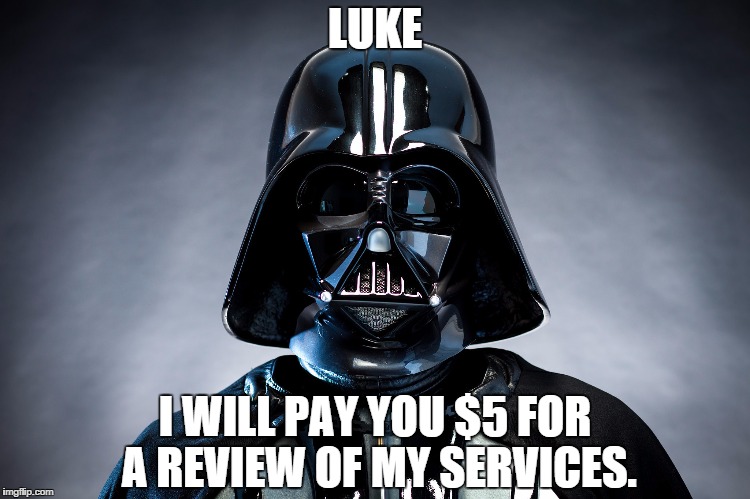 Writing fake reviews to pad out your popularity is dangerous and has serious ethical implications. In addition, threatening action against people who have written (or might write) bad reviews is also bad form. At best you will temporarily, quietly cover up a problem that's arising somewhere else along the pipeline without addressing it. At worst, you could face public outrage and get stuck on the wrong end of a lawsuit.
Monitoring Your Web Presence
In order to manage bad publicity, you will need to be aware of it. This means monitoring new reviews wherever they come in, and keeping an eye out for uncontrolled pages that rank in searches for your brand. Even news that isn't necessarily related to you is something you might want to watch out for.
Instead of going by hand through every review website, you can use certain automated review management software to stay apprised. ReviewTrackers is an online review monitoring service that has a specialized section for lawyers – tracking the major legal specific directories that offer reviews. To keep updated on potential news that ranks in a search for your brand, consider using Google Alerts. Google Alerts allows you to input a search query (such as your brand) and gives you updates when that page is mentioned online.
Responding to Reviews
Now that you've built your safety net and you have a process in place for monitoring reviews as they occur, the next line of defense is actually dealing with bad reviews themselves. The most common way to handle reviews is by responding to them. Any online review site worth its salt will let owners issue both public and private responses to reviews from their clients, which is an opportunity to correct obvious inaccuracies and make a good impression.
A public response can have a greater impact on your business, because the audience changes from one unsatisfied client to any potential client who reads your response. This makes it vital that you are professional and polite in your response. In a public response, make sure to own up to the issue and explain how it won't happen for future clients. A public response is more for prospective customers than anyone else, so you should show that your customer service is on point.
Your response to a negative review should showcase your professionalism, caring and commitment to customer service to all of the other people who read the review.  It's important to NOT get involved in a factual tit-for-tat with the reviewer and NEVER call them out as lying, irrational, crazy, or stupid. Nasty responses will make you look worse than if you hadn't said anything in the first place.
Remember to use common sense. Every time you look over a response draft, consider what it looks like to a potential client with no outside information. Would that potential client be more motivated to pick up the phone and call? If not, you have some work to do.
But the best to get glowing customer reviews? Deliver exceptional customer service.