Local Spam: The Solo with 60 Offices
Let me start by saying that I'm calling out a single lawyer here, simply as an example. There are thousands of law firms engaging in these spammy tactics either in-house or through their "agency" or marketing "expert".  And let me also reiterate the point of my latest post:
Faking office locations is NOT marketing – its stealing.
Its stealing from clients who want to hire (and think they are hiring) a law firm who is just down the road.  Remember 43% of people make their lawyer hiring decision based on proximity – so faking an office location when you are really 100 miles away is lying about the most important hiring factor to prospective clients.
Its stealing from other lawyers – well positioned in their local community – who are losing out to geographically distant firms. (And sometimes not even firms, but marketing agencies scumbags masquerading as law firms who sell local leads to non-local law firms).
Which brings me to an example of local spam, albeit an extreme one – Solo practitioner Andrew Calcagno who has more offices across my home state of New Jersey than toll booths. In fact…. according to his Google listings, Calcagno staffs no fewer than 66 different locations…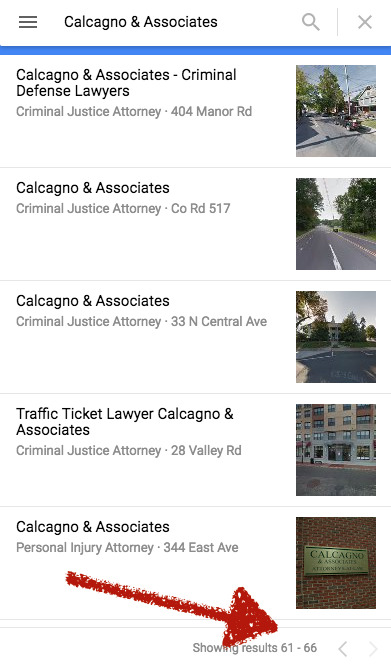 Fortunately, at the Elizabeth Office you can get your acupuncture done while waiting for your lawyer, or your acrylic nails buffed at the Bayonne office.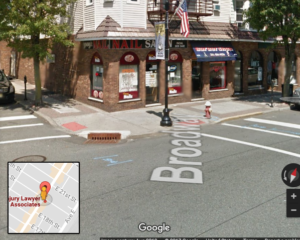 Hurt on the beach? Try Calcagano's "office" just one block from the sand, that looks suspiciously like my Aunt Doris might live there during the summer.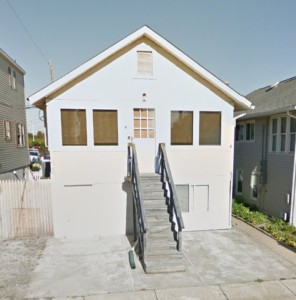 And nothing says success like swanky office space at 460 Park Avenue in the heart of New York City….  Except of course, the 17th floor of the building is entirely occupied by Dermatologist, Dr. Steven Victor.  How do I know this?  Because the very nice receptionist there told me so.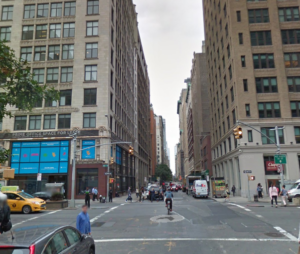 Need a McMansion Litigation Lawyer?  Try their "office" on Agress Road in Millstone, NJ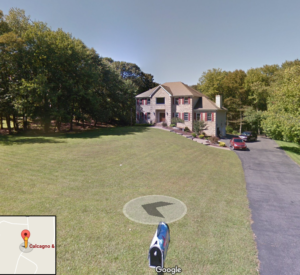 And at least Google won't get fooled by the Regus office in Hamilton Township…
And it seems that Walmart (or women's clothing chain, Joyce Leslie) has started offering DWI Legal services as well at their 100 Enterprise Drive in Dover, NJ locations.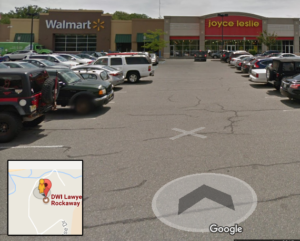 Although, double check your car door is locked at the Passaic office….
I could go on and on.  Suffice to say I think its highly unlikely an attorney could plead ignorance of an overly aggressive agency creating all of these "offices."  Besides, his website lists about 20 of them directly:
But speaking of overly aggressive agencies, I wondered who might behind all of these listings – afterall a single attorney probably doesn't have the time to create and maintain 60+ "offices" – regardless of how virtual they may be.  So digging just a little further, I uncovered…. post coming tomorrow.  🙂