Hot off the Press: Local Ranking Factors – Lawyer Edition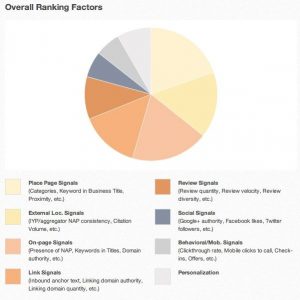 Every year, I'm honored to be among a handful of SEOs surveyed by local search expert, David Mihm to ID ranking factors that contribute to Local Rankings.  David's survey has just come out on Moz and is worth a detailed look by any attorneys competing for business at a local level attorneys.
This year, the survey was broken into two components – foundational Local Optimization and Local for competitive markets. Some highlights below:
Local is as complex and multifaceted (if not more so) as natural search.
The foundations of local optimization have stayed essentially the same – there was no game changer this year, despite the heavy push around Google Plus.
Ranking factors for mobile devices were not that divergent from those of traditional local searches.
There was a very heavy focus on the quality of both citations and links (i.e. NOT quantity).  This doesn't surprise me, but I've seen the legal market being very very slow to adapt to this.
Along the quality lines – the quality of reviewers was very important.  I saw this in my restaurant days at Urbanspoon where a single review from a Yelp elite could push a restaurant into the local results.  I'm not sure exactly how actionable this is for attorneys (i.e. soliciting business from elite reviewers seems a huge stretch) – but it does serve to focus the importance on the cringe inducing subject of online reviews.
One thing that surprised me (and perhaps because I'm desensitized o it after years in legal) was the negative impact of keyword stuffing in the business name.  The perception that overly descriptive business names results in all sorts of Google Juice (insert snarky tone) persists among many lawyers and legal-industry SEO "experts."
So read David's report – it is very hot off the press, having been published just this morning.