LawyerEdge Website Underperforming? A Cautionary Tale of Duplicate Content
Having trouble figuring out why your website isn't getting more traffic?  Its possible the content on your site has simply been cut and pasted from another site – rending your SEO impotent.
Law Firm Website Almost Invisible
Initially, I couldn't figure out why the law firm's site was performing so badly – the technology was fine, the content seemed fairly well written and there was a reasonable link profile.  Despite this, the site was averaging less than 2 visitors a day from unbranded natural search –  and very few of those visitors were landing on the practice area pages.  Digging deeper, I found that the actual content on the practice area pages was cut and pasted across other LawyerEdge clients.
In the example below – we can see that Google has identified 58 other pages with the exact same content as this law firm's page for pedestrian knock down accidents.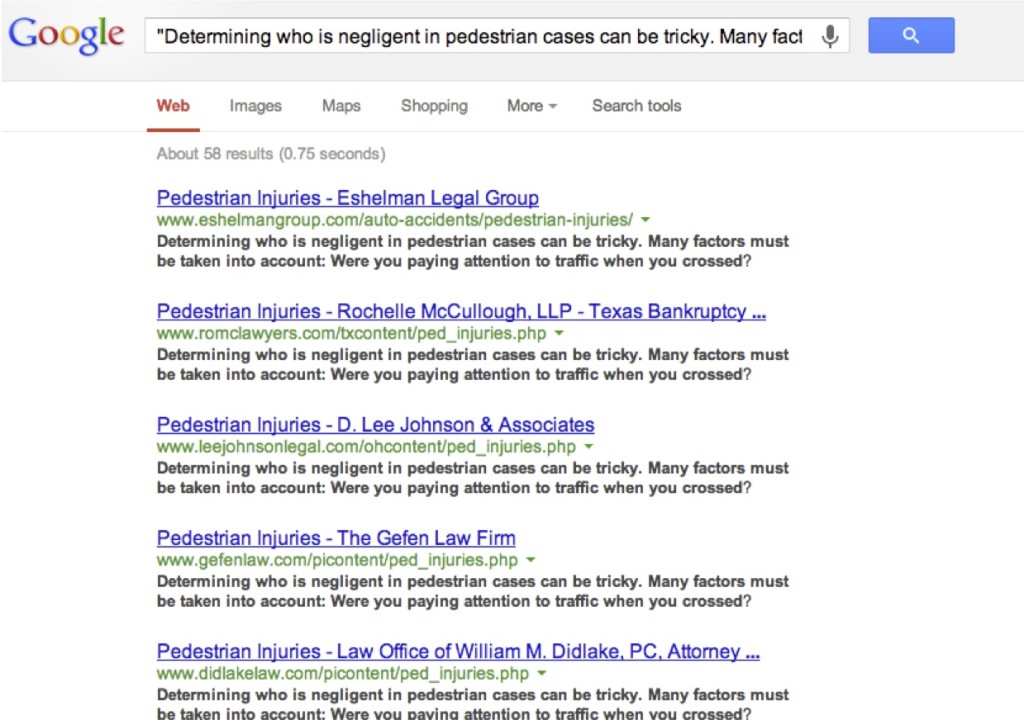 When I looked across the website's landing pages, I found that almost all of them had content that was duplicated across the web.  In the graph below, the vertical axis shows the number of pages found on the web containing the exact same content as the law firm's topic pages.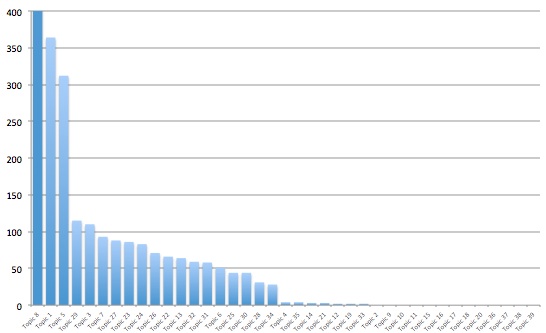 Of the 40 pages I reviewed, just 13 had unique content.
Understanding Duplicate Content
Search engines hate duplicate content because it can generate a really bad user experience.  Here's why:  Using the above example, imagine I do a Google search for "determining who is negligent in Pedestrian cases".  The first result I click to doesn't give me what I'm looking for, so I click back to the search engine and try the second result . . . . which leads me to the exact same content on another site.  Now I'm annoyed and instead of clicking back, I load up Bing to try to find something different.
The search engines minimize this poor user experience by identifying duplicate content across different pages and trying to identify the original version of the content (search geeks refer to this as the canonical).   Google and bing hide the other pages away from searchers in what is called "supplemental results" – which is of course, where I eventually found the law firm's pages.  Supplemental results are shown here:

This is compounded when a large portion of a site's content looks to be simply copied and pasted from other sites across the web.  Search engines reasonably deduce that the overall site is of pretty low quality wrt to unique, interesting content.  Google's algorithm updated to try to identify (and weed out) these sites with the Panda update.  From the Google blog:
"This update is designed to reduce rankings for low-quality sites—sites which are low-value add for users, copy content from other websites or sites that are just not very useful."
Note that Panda is a site-wide penalty – which means that duplicate content on many pages will impact performance of the entire site – even those deliciously well written unique and insightful pages.  The bar graph above, which shows the majority of the law firm's pages having duplicate content indicates they have most likely been hit by the Panda update.
In the pedestrian knockdown practice area example, all of the firms listed below are competing directly with each other with the exact same content:
Rochelle McCullough, LLP
Inkelaar Law
Eshelman Legal Group
Joshua D. Earwood
Saladino Oakes & Schaaf
Levenbaum Trachtenberg
Ellis, Ged & Bodden
Law Office of Bruce D. Schupp
Allen, Allen, Allen & Allen
Law Office of Kenneth G. Miller
The Law Firm of Kevin A. Moore, P.A.
Buchanan & Buchanan
S. Perry Penland, JR.
Ardoin Law Firm
McWard Law Office
LeBell Dobroski Morgan Meylink LLP
Cox & Associates, P.A.
The Gefen Law Firm
Echemendia Law Firm PA
McKinney Braswell Butler LLC
Law Office of Charney & Roberts
Johnson & Associates
Pistotnik Law Offices
Bledsoe Law Office
Law Offices of George A. Malliaros
Roberts, Miceli & Boileau, LLP
William E. Hymes
Law Office of Donald P. Edwards
Ferderigos & Lambe Attorneys at Law
The Law Offices of Fuentes & Berrio, L.L.P.
Robert B. French, Jr., P.C.
The Law Offices of Peck and Peck
Cherry Law Firm, P.C.
Dexter & Kilcoyne
Philip R. Cockerille
Brotman Nusbaum Fox
Stephen J. Knox Attorney at Law
Littman & Babiarz
The Law Offices of Weinstein & Scharf, P.A.
Friedman & Friedman
The Law Firm of Robert S. Windholz
Fahrendorf, Viloria, Oliphant & Oster L.L.P.
Conway Law Firm, P.L.L.C.
Head Thomas Webb & Willis
Charles B. Roberts & Associates, P.C.
Pistotnik Law Offices
Nordloh Law Office, PLLC
The Law Offices of Rosenberg, Kirby, Cahill & Stankowitz
Kerner & Kerner
McAdory Borg Law Firm P.C.
For a funny one – check out this:  The Law Offices of This is Arizona – a template, presumably available for purchase with ghost Attorneys John and Joan Smith.
(To be fair, not all of these firms are LawyerEdge clients – there is a smattering of different agencies.  This does highlight the extent to which content gets cut and pasted around the web by website developers.)
How to Tell if You Have Duplicate Content Issues
The most obvious sign of duplicate content, of course is zero to low inbound search traffic to specific pages.  You can diagnose this in Google Analtyics using the "Landing Pages" tab under content (make sure you filter for ONLY "organic search traffic").
Another more accurate approach is to take a unique looking, sentence from your page and doing a search for it with quotations around the phrase:

If your search returns a ton of results . . . its time to start writing.