Google moving (some) organic results above the map?
This is the second time I've seen this and thought it noteworthy.  For a long time now, we've had ads, then Local, then organic (sadly banished to the bottom) of SERPs.  This has heavily driven a push towards local (and the proliferation of spam in local, but I digress) and my personal love, organic SEO has suffered.  Interestingly, we're now occasionally seeing a smattering of organic showing above the map.  Below is a query for divorce lawyer – note the Avvo listing sitting squarely between the ads and the Snack Pack.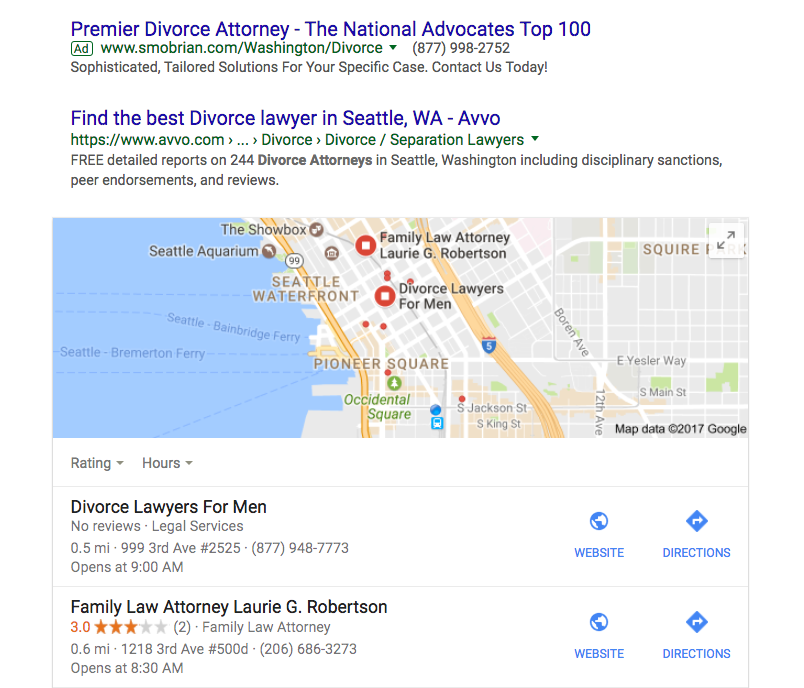 I checked in with local search nerd, Joy Hawkins who said she's seen it occasionally as well, but didn't have a good understand of what or why they were triggering. My personal (and thin, anecdotal, unverified and otherwise speculative) perspective is that Google is pushing more subjective "quality" elements into search results.  Note Avvo – which ranks lawyers by quality of their background includes the word "Best" in their title tag.  We've also seen quality elements coming up law firms being displaying in Featured Snippets – I wrote about this for Law Technology Today a few weeks ago: Significant Changes to the Search Engine Results Pages.
Or perhaps its just another test that will come and go…..