FindLaw Websites Crushed by Panda 4
On Tuesday, I posted about Google's roll-out of Panda 4 – an algorithm update targeting spammy, thin, duplicative content and postulated that this was going to really shake up the legal industry.  It turns out, that was an understatement. Early results are showing that this algo update has had the largest ever impact across the legal industry.
The algo changes start with my friends in Eagen, Minnesota at FindLaw (and unfortunately, probably many of their website clients).
FindLaw.com Decimated by Panda 4
I was curious to see what happened to FindLaw's traffic after Panada 4 rolled out, as the legal SEO industry has been vocally critical of Google for seeming to turn a blind eye to FindLaw tactics that flagrantly flaunt search engine best practices.  To date, none of the algo updates or Penguin penalties seem to have had a massive or persistent impact on either the FindLaw site or their law firm clients' websites.   The early data suggests that has changed drastically with Panda 4: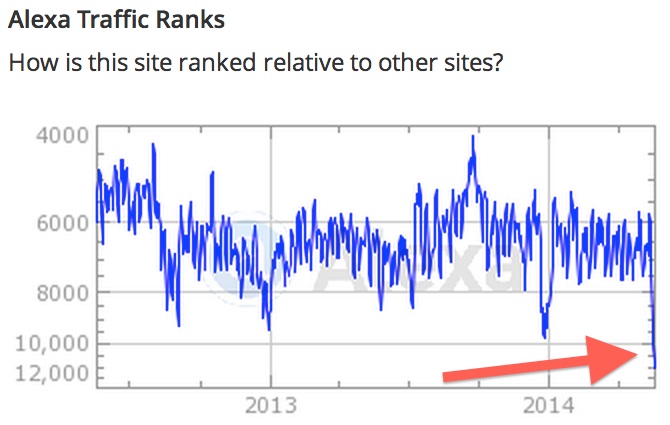 Check out the massive drop in the past few days – FindLaw plummeting to traffic levels lower than they've seen in many years. Why did this happen?  Attorney, Damon Chetson described it best (and foreshadowed this week's impact of Panda) in a post from January:  FindLaw Getting Penalized for SEO Abuse.
"FindLaw was "good" at creating a lot of content, most of it junk, that it could repackage and sell across websites and markets."
This type of pervasive, thin, low quality content across a network of sites is exactly what the Panda algo updated was designed to detect and push users away from.
What Happened to Avvo?
After I saw this massive hit FindLaw's traffic, my next stop was to check out Avvo.  (Full disclosure – I'm still a shareholder in Avvo, so I'm hardly writing from a dis-interested perspective here.)  Turns out Avvo didn't get hit.  At all.  The Alexa graph below shows business as usual for Avvo.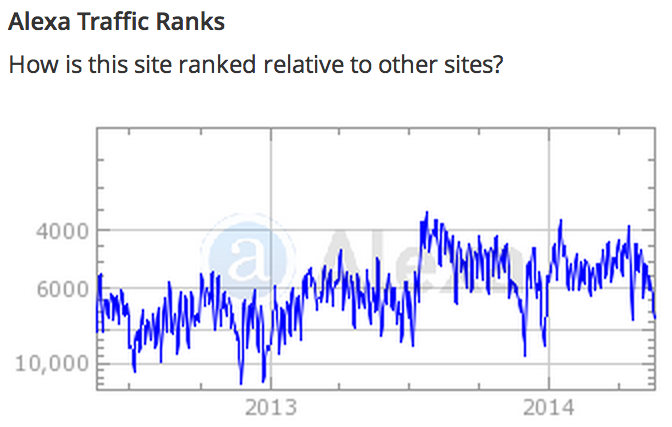 In fact, legal marketer Shelly Fagin is reporting on some impressive gains for Avvo.
I'm seeing Panda 4.0 bumped down lots of lawyers positions for Avvo which now has a top SERP in most all our major search terms.
And the data I'm tracking suggests Shelly is entirely accurate.  Below you'll see a sampling of ranking data on 1,500 different highly competitive head terms (like "Seattle Divorce Lawyer") and the changes in incidence in Top 3 ranking for both FindLaw and Avvo.  While FindLaw's appearance in the top 3 results has dropped by 44%, Avvo exploded by 210% and they are now dominating FindLaw on these highly converting (i.e. prospects making phone calls to lawyers) terms.
These changes are a big deal for the legal industry as a whole.  In 2006, I was part of a small group of people trying to use the web to bring consumers closer to the legal profession. Just eight years later – it looks like Avvo not only joined the big leagues, but is now the only major player left standing – martindale.com and lawyers.com have long been relegated to traffic irrelevance and now with Panda 4, FindLaw has joined them.
What to Expect If You are Advertising on Avvo or FindLaw
If the data above is indicative of FindLaw and Avvo's performance overall, advertisers are going to start seeing a huge change in return on investment for their marketing spend.  As both Avvo and FindLaw essentially monetize their SEO performance as ads – I'd predict inbound traffic and call volume from FindLaw is going to crater. And if the data is correct (and the trend holds) I'd anticipate Avvo advertising rates to increase in about 3 months.
FindLaw Lawyer Websites Hit by Panda 4
My bigger concern is not really with the FindLaw domain overall, but their law firm clients who may have been negatively impacted by the tactics employed by their provider.  Did FindLaw website clients get hit too?  This is a little harder to diagnose, as most attorney sites are far too small to register on traffic reporting sites like Alexa.  BUT . . . anecdotally the answer seems to be yes.  Here are two data points:
1. FindLaw's Pre-SEO'd Websites Hit
The day before the announcement of Panda 4, I wrote a post about FindLaw's pre-built, pre-SEO'd sites . . . essentially websites being sold to Lawyers that were already ranking for highly competitive terms.  Seems like many FindLaw lawyer websites have disappeared entirely.  The examples I used – longislanddwilawyer.org, and lasvegas-duilawyer.com – which ranked on the first page for their respective key terms "geo _ dwi/dui lawyer" at the beginning of the week are no longer to be found in the search results.  Hand checking in on many other FindLaw sites shows the have disappeared too.  In a post today, A to Z Lawyer Marketing reports:
Well google just unveiled Panda 4.0 and it took FindLaw's entire low quality network with it.    Hundreds of FindLaw sites have vanished from the SERP.   
2.  Forum Comments
Forum comments on the FindLaw's Pre-SEO'd Websites Post anecdotally corroborate the data above:
If you suspect your FindLaw website has been hit by Panda . . . despair.  But just for a little while.  Then think about what makes Panda tick – that thin, recycled, low quality content.  Getting out of a Panda penalty is hard (and expensive) but is achievable. Check the stipulations of your FindLaw contract and thank your lucky stars this isn't a Penguin issue where recovery is a much fuzzier, much harder, much more expensive.  If you are considering finding a new website or SEO provider, check out the FindLaw Jailbreak Guide.