FindLaw Selling Pre-SEO'd Websites
Want to rank #1 for a highly competitive search term immediately?  FindLaw has your answer.
FindLaw is now offering pre-built Websites – essentially high ranking law firm websites with no owner – being sold to the highest bidder.  And by "high ranking" I mean high ranking in the search engines.
Here's excerpts from a FindLaw email forwarded to me by a lawyer wondering how much he should pony up for a site that was already a ranking winner:
look at this link and let me know what you think once you open the first organic (under top PPC adds). This is just a sample of our pre-built DUI Sites that we recently released. We only sell 2 state wide for every state. Why not consider being # 1 organically. . ."
What the what?
What is a pre SEO'd Website?
Now its unclear from the email above exactly what "pre-built" websites actually means – but the explicit message here is that a firm can purchase a website from FindLaw that already ranks.  And ranks #1 for very competitive terms. The sales pitch is very compelling – we already rank #1 . . . see right here?
And lawyers bit.  Here's one of those pre-built, pre-SEO'd websites live and kicking and rented by attorney Erik Zentz.  Yes – just <insert handsome attorney picture here>.  DUI in Vegas – I wonder how deep Erik's pockets are?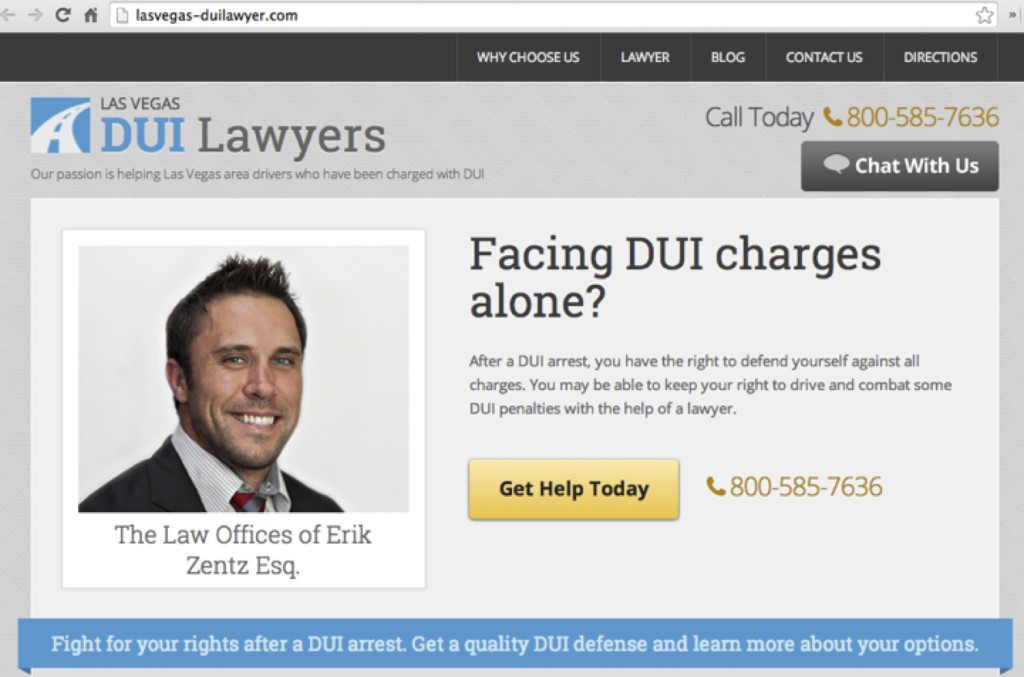 And this approach seems to be working well for FindLaw and their clients.  Here's Zentz winning the  competitive query "Las Vegas DUI Lawyer".  (And I can't tell you the rash it gives me that a FindLaw site is outranking Avvo's results – which come in at #2.)
I wanted to know exactly what a pre-built website was, so I checked out lasvegas-duilawyer.com on the wayback machine. Turns out, just last year there was an entirely different law firm on that domain:  Kajioka and Bloomfield.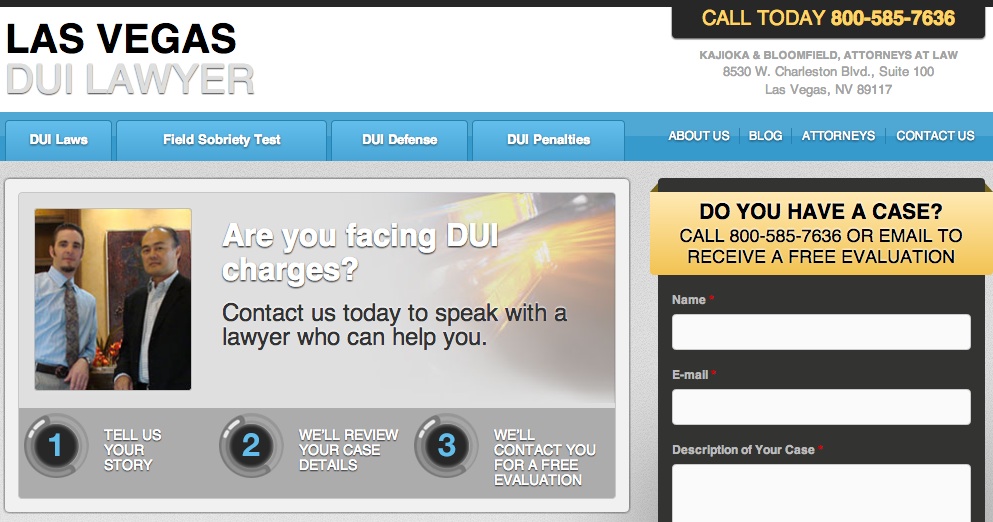 So what happened to Kajioka and when?  Here's the site on the wayback machine from January of this year – notice the firm name and contact information have been stripped.  I can't possibly imagine a worse user experience for someone in desperate need of a lawyer stumbling across a placeholder website ranking #1 in a highly targeted search result.
And now Eric Zentz owns rents the domain that Kajioka and Bloomfield presumably paid to have FindLaw build and optimize for them – including all of the legacy blog content and . . .  links.  Yup – despite the fact that Zentz started on the domain just this year, "his" blog posts stretch back well into the first quarter of last year and have the exact same content from the Kajioka era. Explains how he's been able to rank #1 for a super competitive term in less than 3 months.  And not to miss a black hat beat, FindLaw made sure to establish authorship for Eric . . . for pre-existing blog posts written long before he was their client.  Note the date below . . .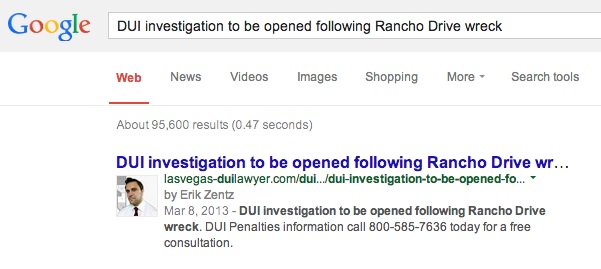 I'll leave you lawyers and bar reps to chime in on the ethics of this.
So pre-built actually means "recycled" or "rented" or "sold to the highest bidder" or "author spam" or perhaps all of the above.
What absolutely floors me is that Koijaka and Bloomfield have kept their website with FindLaw – although they don't appear anywhere in search results (at least for me) for that coveted term – "las vegas dui lawyer".
I wonder who is paying more to the piper?
More Examples
Is Zentz an isolated incidence?  Not so fast – through a little backlink analysis I stumbled into a slew of sites – ChicagoLegalAuthority.com, NewYorkLegalAuthority.com etc, PhiladelphiaLegalAuthority.com etc. The whois record for these domains comes up not as FindLaw, but rather as DNStination Inc. in San Francisco, which is, according to Domain Name Strategy, "a profile often used by corporate registrar MarkMonitor to 'mask' domain ownership on behalf of their clients." But the anchor text heavy links on these sites point almost exclusively to lawyer websites that are — you guessed it — FindLaw clients. Of the links on Chicago Legal Authority's Featured Personal Injury Attorneys (below), seven out of nine of them were to law firms paying FindLaw for their websites – and look at that anchor text whoooo!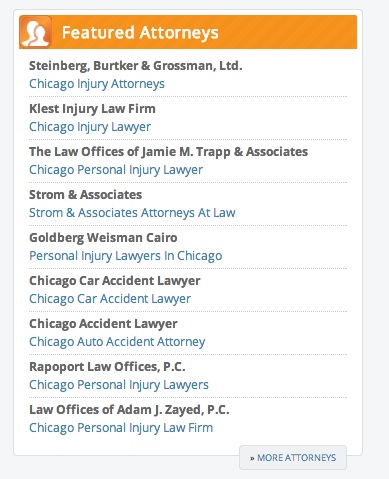 And – to close the loop – the New York Legal Authority site included an anchor text heavy link to LongIslandDwILawyer.org – which, although registered to Domains by Proxy (hidden), is built on the same exact template as our original example: Zentz.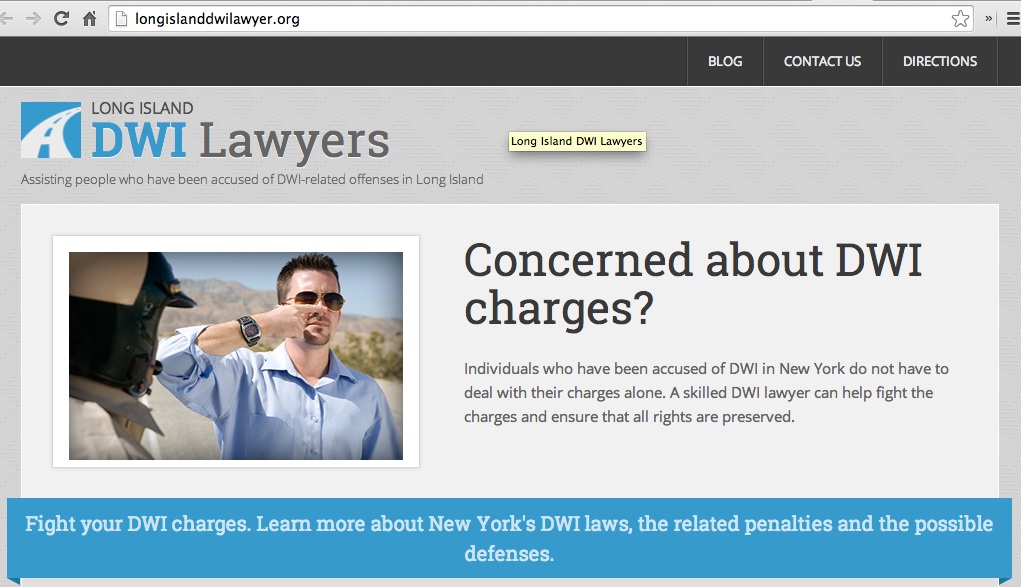 Another ownerless site – the phone number I called on the contact page of these ownerless sites went to a nondescript voicemail – no name, no law firm name, nothing – how is that for quality results?  BUT – someone is still publishing content on the domain – at least 5 blog posts so far this month.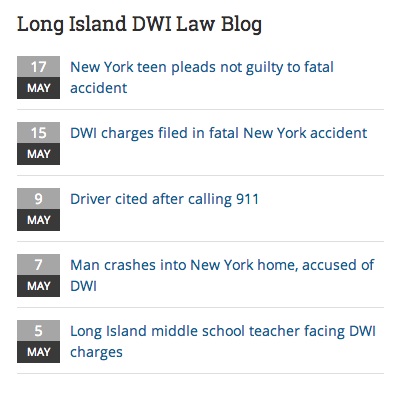 . . . . and yup, you guessed it . . . the Long Island DWI site returns on page one of Google search results for that money term . . . ."long island DWI Lawyer."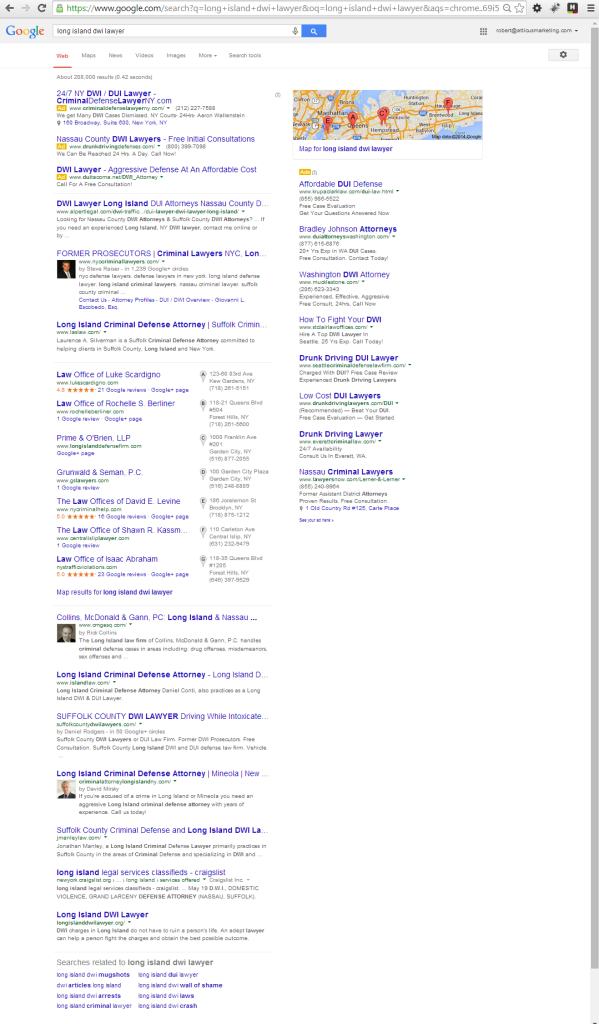 *sigh*
So if you live in Long Island and practice DWI, give your FindLaw rep a call . . .