Why You Can't (and Won't) Win Google's Local Pack
A great Local SEO study came out yesterday from Juris Digital going over a single case study for "car accident lawyers" in every zip code in Houston. While much came from the study, two things stood out for me as they pertain to lawyers and search:
Searcher proximity is a MAJOR impact on results.
The sheer volume of firms is surprisingly large.
Point #1 is pretty obvious and Google has been pushing this messaging very aggressively.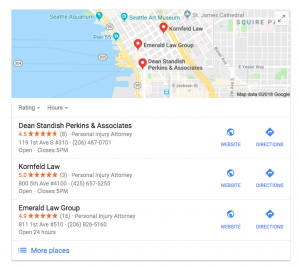 Point #2 was much more surprising. Of the 138 different searches conducted (admittedly NOT a scientific sample size) – there were a whopping 82 different firms that showed up, with 22 of them showing up only once. The largest marketshare was less than 5%.

This means there's not only massive variability in who shows up in local, but also that there aren't any "winners." Furthermore, you can't accurately assess your local performance with a self conducted ranking test.

In summary, you are not working to "win" in Local Search, your agency is working to enable you to participate in the rotation of firms – and at best, you are looking at a 5% marketshare of those queries. This is one of the greatest things Google has shifted in order to spread some of the love around. It's also a reason why there's so much spam on the mapped results. Now if only I could get Google to rotate the directory results out of organic, I'd be doing just fine…