Why Your Content Sends You Zero Traffic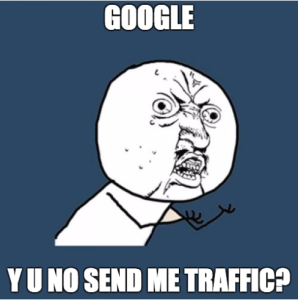 "So I've been blogging for a few months now. Why am I not getting any traffic?"
One of the most persistent myths in online marketing is that creating content will always lead to more traffic. Content is essential, yes, but with over 2 million blog posts popping up every day, the answer is likely that Google thinks one of those other 1,999,999 posts is more worthy of directing traffic to.
I know it sounds harsh, but hear me out. It doesn't mean that your content is poor. Nor does it mean that it doesn't deserve to rank. It simply means that the criteria Google uses to evaluate whether your content is relevant or valuable are not met. If you've been producing content for a while now and you haven't been seeing an improvement, your content may be suffering from one or more of the following problems:
No One is Searching for the Topics You're Writing About
One of the first things that you need to do as a content writer is to determine the kind of search volume there might be around your chosen topic. Search volume is essentially how many people are searching for the kinds of answers, information, opinions, or edification that your content aims to provide.
Use Pay Per Click data for Topic Research
One common tool that SEOs like myself use to research a topic's search volume is Google Keyword Planner. Google provides this tool free of charge to give search marketers an idea of how much they should pay for a particular keyword when doing PPC advertising.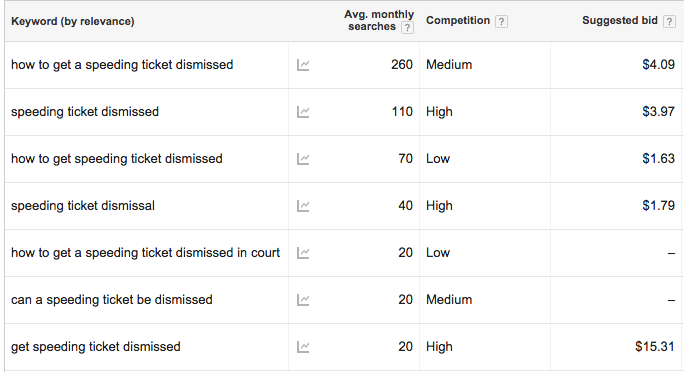 Using the keyword tool gives you a good idea of the kind of traffic you can expect should you get a piece of content to rank. It's important to note that while the average monthly searches for each keyword seems relatively low, I have often seen successful pieces of content bring in more traffic than the average monthly searches for any targeted keyword. This is because the same piece of content will often show up for several different search queries. Also, because the numbers provided by Google Ad Planner are not 100% accurate, it's important not to take them at face value; they are often best used for seeing the relative difference in search volume between keywords rather than the actual search volume for each keyword.
Try to build content around the keywords that have higher search volume and that you don't see your competition writing about. Oftentimes you can succeed in getting this content to rank quickly, and send traffic to your site faster than with the more competitive terms. This is why it's good to explore the Adwords Planner and see if there are any "out of the box" keywords to focus your content around. A quick look at the ideas for the search term "speeding ticket" shows this little gem:

Wow, a keyword with over 4,440 searches a month and low competition! This looks like an opportunity to create a post like: "Paying a Traffic Ticket Online? 10 Reasons Why You Should Reconsider." As you can see, Adwords Keyword Planner can be a very powerful tool for content idea generation. Use it for keywords in your practice area and see what you come up with!
Use Quora and Reddit for Topic Research
Another way to research what kind of content people are looking for is to go to sites like Quora or Reddit and do a quick search. The questions on these sites are user generated, so they often reflect what searchers are looking for that may not occur to you. For example: I looked up "speeding ticket" on Quora and the first question that came up was "Are traffic tickets public record?" Answering this question would be a perfect topic for a traffic attorney. Chances are that many more people out there want to know the answer to the question than just the person who asked it on Quora.
Search Volume isn't Everything
Although it's important to be conscious about keyword search volume, this may not always be important for your business. Information about how to get out of a speeding ticket (Keyword: "how to get out of a speeding ticket"), for example, is information many people will find interesting or useful at some point of their lives.  Information about how a particular law firm or attorney is good at getting people out of a speeding ticket (Keyword: "traffic attorneys in tacoma reviews," on the other hand, will target a much smaller and more specific audience. A good rule of thumb here is that the more specific (or "long tail") a search phrase is, the fewer people there will be searching for it.
Although it's good to want more traffic, don't neglect the long tail! The long tail search terms will bring in less traffic, but often the people using long tail search terms have much more specific intent. If you are a traffic lawyer, one website visit from someone interested in getting out of a speeding ticket in Tacoma will be much more valuable to your business than 100 visits from people who are just generally interested in how to get out of a speeding ticket.
Still no traffic?
So you've thoroughly researched a topic with high search volume, written about it, bravely pressed publish and…crickets. What went wrong? Well, it's possible that…
You Don't Have Enough Authority
If you have a brand new site, and happen to produce the most brilliant, engaging and informative page on on how to get out of a speeding ticket ever written, chances are that you still won't rank very high for it. Even though a topic may have high traffic volume, and you write the perfect piece of content for the audience interested in that topic, you're likely competing against many other high authority sites (Avvo, Nolo, etc) that have written similar content.
While Google uses many factors to rank content, authority is one of the most important. Google measures authority by the number of links pointing to a particular website. A brand new blog will have zero links pointing to it from other websites, and thus have little to no authority. The New York Times, however, has over  200,000,000 links from over 800,000 different websites. If the New York Times writes an article about getting out of a speeding ticket, chances are high that this article would rank in the top 10 results in Google within a day. Even though the Times article itself may have zero links to it, the authority of the site as a whole (or Domain Authority) helps boost this brand new page.
Since most web pages don't get many links from other websites, domain authority is a very important factor when it comes to ranking content. A page with a lot of links (or Page Authority), however, even from an unknown blog with low domain authority, will tend to rank higher than pages from high authority websites with no links. A common strategy I've seen for many sites is to build a page with incredible content, promote that content through social media and direct outreach to webmasters, and once that content acquires a lot of links, it will start to rank and bring a lot of traffic. This organic search traffic will begin to attract links passively from people who visit the page from search and then link to it from their blog or resource page. These pages will not only have strong page authority, but will tend to increase the domain's overall authority, which means your interesting content page will help your more "boring" link-less pages to start ranking.
How To Get Links to Your Content
In order to get people to share and link to your content, it has to provide some value to your target audience. Here are some reasons why people might share or link to your content:
It's useful and informative
It mentions or talks about people (And the people you mention link to it)
It provides an unusual or unique perspective
It's entertaining
It's controversial
It's timely
It's funny
It has compelling data or data visualizations
When you have content that satisfies 1 or more of the above criteria, the next step is to make sure that this content gets in front of as many of the right people as possible. Ideally, you want to expose your content to as many people as possible within the first day of it being published. While discussing the tactics involved with content promotion could take up a whole book, here are my three favorites:
Research the names of social media influencers in your niche such as popular bloggers and create an outreach list. Email each influencer a personalized email, sharing your content and ask for their opinion or feedback on the content. Don't ask for the share. If they like the content, they will share it. Ideally it's best to establish rapport with these influencers by commenting on their blogs or sharing their posts on social media first.
Explore forums, Subreddits, Quora, and Google Plus Communities (yes, some people do use Google Plus very actively) and post your link if you feel the audience might appreciate what you have to share. Be careful not to just "leave" your link on a forum without thoroughly researching the forum and knowing the forum rules. Spamming forums will get you banned.
Advertise your content. Facebook advertising is one of the cheapest ways to get your content viewed by thousands of people in your niche. You may also want to experiment with advertising on Reddit and StumbleUpon.
While many of these tactics don't lead to links directly. Oftentimes this will help your content get noticed by bloggers and webmasters who do have the ability to link to your content. Make sure that you concentrate all your outreach and promotion efforts in one day if you can. The more people that view and share your content within a limited window of time, the more likely that content is  going to gain momentum, leading to even more views and shares.
Having trouble getting links? It's quite possible that…
Your Content is Thin or Lacks Originality
What if you have content for a topic you know has high search volume on a website that has high authority and you're still not ranking? What's missing?
Answer: Your content could be thin or unoriginal.
What is thin content?
Thin content barely qualifies as content. Many websites are stuffed with pages that only contain a short paragraph that reads like a summary of a topic rather than an in-depth exploration of the topic. In my experience, you're better off having 10 pages of great content than thousands of pages of thin content.
What is unoriginal content?
I've seen sites with innumerable pages optimized for every conceivable keyword. Although the content itself may pass a plagiarism check, it's often virtually indistinguishable from all the other content on the site. While churning out content for the sake of search engine traffic used to be an effective tactic, the increasingly sophisticated Google Panda Algorithm has learned to weed out this cookie cutter content. Indeed, while there are plenty of law blogs out there with hundreds of posts, these posts have zero comments, zero links, and little to no kind of social media engagement. On average, most of these blog posts only get 1 to 2 visits per year from organic search, often with a high bounce rate. Instead of paying a blogger to crank out posts every other day, you're probably better off spending that money taking your team out to lunch.
What can you do to improve your content so that it gets noticed by humans and search engines alike? You can:
Personalize it: How might your personal experiences give the content some color and humanize it?
Localize it: Is there something peculiar or unique about your city or region which would be useful or interesting to local readers? The legal field in particular has plenty opportunities to talk about state and municipal laws.
Deepen it: Is there some background you could add to the content if you did just a little bit of research?
If you don't do at least one of these three things, don't expect your content to rank. But if you have and you're still not ranking, my guess is that…
You Have Non-Content Related Issues
While search volume, authority, and content quality are the main elements for getting your content to rank, oftentimes there are non-content related issues that can throttle your traffic. If you have great content, you're promoting it well and the content targets the right audience, you probably have these issues:
Technical SEO Issues
Do you have a misplaced line of code in your robots.txt file that is telling Google to ignore all your web pages? Perhaps your site's download speed is so sluggish that Google is deciding to rank pages from faster websites over yours. Or maybe you have a lot of pages from an old website that are improperly redirecting to your new one.
Although Google is getting smarter about looking past technical issues, there are still many technical issues that can cause problems with SEO. A solid technical audit is essential to ensure that your website properly set up to be crawled and indexed. Before you start running the race, make sure your shoes are tied.
Black Hat SEO
Another non-content related issue is black hat SEO. It's possible you've hired someone to work on your site who has used black hat SEO tactics to help improve your rankings. Google is constantly on the lookout for evidence of these tactics. Once caught, your site could be slapped with a penalty that can take a lot of work to recover from. While diagnosing whether or not your site has been penalized is out of the scope of this article, usually if you see a huge drop in traffic (especially after an unusual surge in traffic) the possibility is high that you've received some sort of penalty from Google.
Be sure you know what you're getting into before hiring an SEO agency. If you can, get recommendations from colleagues and friends that have been happy working with the same agency for more than a year. If an agency is doing black hat work for you, a penalty will likely surface within a years time. Also, be sure that you are aware of some of the warning signs that you could be working with a less than legitimate agency.
Go Forth and Create Great Content!
If someone in the past has told you that they tried getting traffic through content creation and it didn't work, they probably didn't know about or follow the above guidelines. You need content with great quality, a site (or pages) with good authority, and content that is relevant to what people are actually looking for. Satisfying these three criteria isn't easy, but if you do, you'll start seeing more traffic than you know what to do with.