When SEO Wins Create Fewer Clients
We recently reviewed two law firm's reports showcasing Traffic and Leads that showcased two diametrically opposed Traffic/Lead patterns – one of which showcases a counter to the predictable (and excusable) assumption that more traffic = more business.
Law Firm A
This is a long standing client – showing long standing SEO growth and a corresponding growth in leads over time.  This is a volume, personal injury shop in an aggressive growth mode; our SEO strategy has successfully supported their office expansion over the past 3 years, both in Organic and Local SEO. This is very much what you would typically expect to see.. growing traffic, growing leads, growing firm.  Note the conversion rate (Leads:Traffic) stays roughly constantly at slightly above 1%.
But it doesn't always work out that way….
Law Firm B
This firm is the exact opposite… organic traffic growth is actually leading to a decline overall in inbound Leads.  This firm is much less typical – they operate within a very very specific niche and their traffic:lead ratio is off-the-charts low (and trending lower). Put simply – due to their niche, their SEO strategy operates very very high up in the funnel – from a business perspective it takes tons of traffic to generate a small number of highly valuable leads.  This site has historically converted traffic into leads at a rate of 0.25% – much lower than Law Firm A's more typical 1%.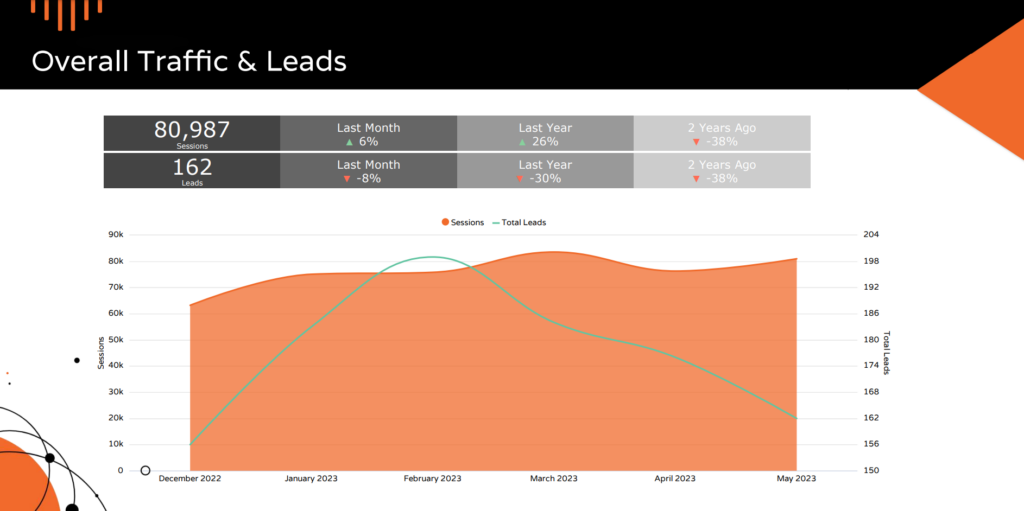 So what's going on here? This is a firm that wins at the highest level of the sales funnel – primarily informational site for research based searches that sometimes, eventually, perhaps, maybe a convert a small portion turn into actual customers. And we've been successfully optimizing the site for these high funnel research queries for years now. And then things changed…
The reversal in the total number of leads… that happened in conjunction with a Google Core Algo Update of March '23.  While we've continued to improve the site's overall traffic, absolute volume of leads has declined meaning their already low conversion rate has dropped by an additional 22% down to 0.20%.  We've now got three consecutive months of increased traffic corresponding to decreased Leads. If we were measuring our success on traffic, we'd be golden, but traffic doesn't pay the bills. Time to readjust the site's overall strategy – specifically it's content strategy to realign with conversions.