Tools We Love: CallRail
Call tracking has become a standard for anyone who's focused on measuring the success of their website. There are plenty of tools out there that offer call tracking, but we've fallen in love with CallRail, and have stayed in love for many years now.
Over time, CallRail has added features and improved how effectively it tracks an individual's call history.
What does it do?
Instead of showing your real business phone number, you can use a tracking number in places that a potential customer or client will see. If you choose to add tracking numbers to your website, CallRail will dynamically swap your real number with your chosen tracking number(s).
How does it work?
Within CallRail, you can either port (move) numbers you already own or create new numbers to use as your tracking numbers. These numbers can be displayed on your website, within ad copy, on billboards, or anywhere else you might want your number displayed.
When someone calls one of these tracking numbers, the information from that call is stored in your CallRail dashboard. The caller won't notice that they've called a tracking number, and neither will the person answering your main line.
Implementation
For number swapping on your site, you'll want to install CallRail's script directly onto your website (we suggest using Google Tag Manager to do this).
You'll also want to connect Google Analytics and Google Ads to CallRail in order to link your data together.

Setting up Tracking Numbers
If you're running Google Ads, you should have at least two tracking numbers, one for mobile, the other for desktop. You'll use both of these as extensions for your ads.
A good rule of thumb is to place a tracking number on any marketing or advertising you're paying for. If you have a TV commercial, make a tracking number specific to that. If you still advertise in a phonebook, have a tracking number for that as well.
This is the best way to figure out which campaigns are driving leads, and from those, clients.
Keyword Pools are the best way to track calls that happen on your website. A keyword pool is essentially a bunch of numbers that are available to show on your website at any given time. If you have 5 people viewing your site at the same time, each will see a different number and their visit will be tracked individually. It doesn't matter where the user came from (Organic, Direct, etc.); each person will be tracked accordingly in your CallRail dashboard. This eliminates the need for individual tracking numbers by channel source.

Form Captures
CallRail can also track the form submissions on your site. This is great for calculating ROI on forms, all in one easy place. You can easily search for a signed clients name, see their form submission, and see how they got to the site in that visit.
Call Recording
CallRail has an opt in feature to record calls on the tracking number level. If you wanted to only record calls from one of your numbers, you can do that. You can also customize the message that plays to the caller that alerts them they are being recorded.
If you suspect there's an issue with your intake process, call recording is the best way to pinpoint the problem. It's also a great way to track the quality of your leads. You might find that one of your advertising channels is only bringing in callers who can't afford your services, who are outside of your service area, or the wrong kind of practice type.
Call Log
In the call log, you'll be able to see all of the calls that have happened on all of your tracking numbers. You can switch to specific time periods, look at only specific tracking number, sources, and a number of other things.
You can also mark-up calls with notes about the call, or whether it was a good lead or a bad lead.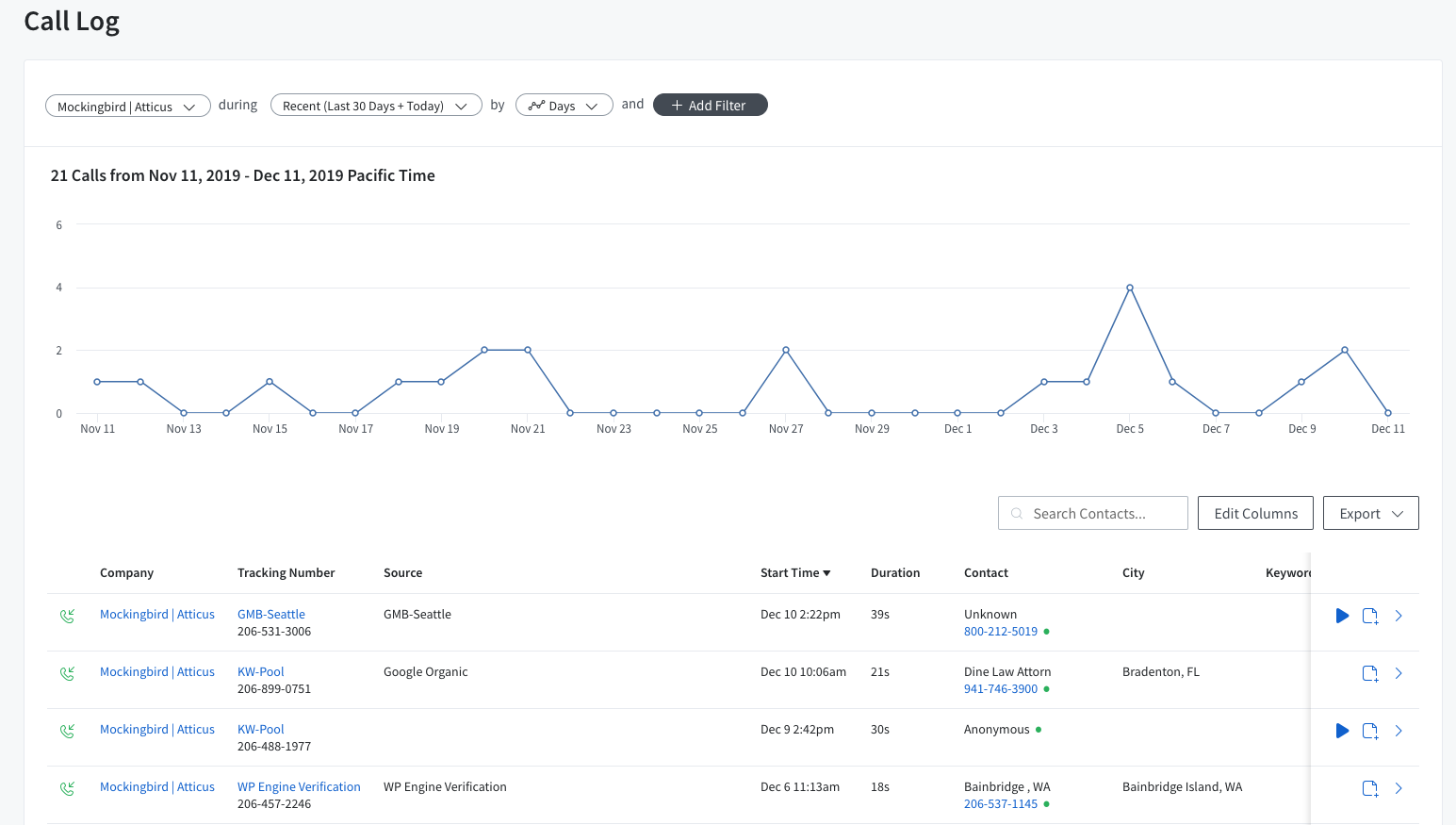 Call Attribution
The call attribution tab has the best breakdown of how many calls you had by channel for a given time period, as well as how many were first-time calls. It's important to know how many first-time calls you've had in comparison to your total call volume. At Mockingbird, we only report on first-time calls because we're trying to track new business, not current clients or people who have contacted you previously.
CallRail has a ton of amazing features that haven't been covered here, and they're constantly improving the tools they offer. As an official CallRail partner, feel free to contact Mockingbird if you have any questions. We'd love to help get you started with CallRail and improve your current tracking setup.