[Mockingbird Survey Results] – Online Reviews for Law Firms
About Our Law Firm Review Study
It's widely accepted that reviews account for a significant portion of Google's local search ranking factors (Moz Local Search Ranking Factors). Google My Business reviews are, and have been a vital piece of Local SEO. Once you've acquired at least 5 Google reviews for your business, you may start seeing the star indication in the coveted "local pack" of the search results page.
We recently sent out a simple 8 question survey to various law firms around the country with two goals in mind: 1) Gather insight on the review process for law firms and 2) Determine which outreach methods are most common and effective.
Here are the results…
Does your law firm actively request client reviews or testimonials?


Note: links to review on the website, in email footers, etc. do not count as actively requesting.
How do you request reviews?

Who solicits reviews for your firm?

On average, how many times do you ask for a review before giving up?

Which platform(s) do you ask clients to review you on?

Do you use review management software?

How many reviews do you currently have on Google?
Note: for primary location only (if multiple offices). 
How many reviews do you currently have on Yelp?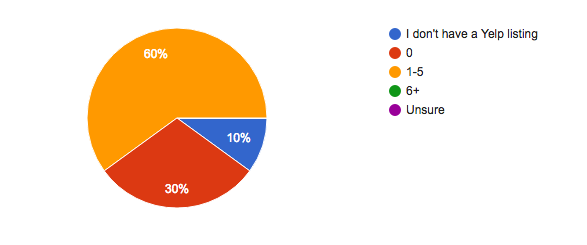 Note: for primary location only (if multiple offices).
Mockingbird's Takeaways From Our Law Firm Review Survey Research
9/10 law firms actively request reviews from past clients, but only 4/10 will reach out more than once. Persistence is key in obtaining online reviews — we suggest you send at least 2 review requests before giving up on that lead.
6/10 law firms will request reviews on Avvo, Yelp, and Google. We recommend this approach as well to give the client options, however, we emphasize Google reviews as they have the most direct impact on local SEO results. (Don't sleep on Facebook either!)
5/10 law firms surveyed have 6+ Google reviews. In the hyper-competitive legal market, it's increasingly important to obtain a high number of quality reviews.
9/10 law firms do 

not

use review outreach software. We've tried our hand with automated software before (shout out to Get Five Stars), but have had better luck doing it the old fashioned way. Requesting reviews manually requires much more leg work, but yields a better conversion rate in the end. Here's a cool free tool from Whitespark that will actually create a print out template for you: whitespark.ca/review-handout-generator/
5/10 law firms have the primary attorney who handled the case make the review request. We advise our clients to adopt this strategy as well since the personal relationship is already established and the client is more likely to take action.
A good bonus from our survey's comment section…
"…I'd be interested in hearing about the fake reviews it looks like a few firms are getting (60+ five star reviews)" – Anonymous Attorney
My two cents: Google is not perfect. Unfortunately we still see an egregious amount of spam in Google Maps and the local 3-pack. However, I believe the big G will catch up with spammy reviews in the same way they eventually caught up with spammy backlinks (thank you Penguin). Keep your white hat on and don't give up the good fight yet my friend.
If you are interested in the specifics of the study, want help generating reviews for your firm, or just want to say hi please feel free to drop me an email: dustin[at]mockingbirdmarketing.com