Shaming State Farm: A Social Media Experiment
Two weeks ago, my wife and I woke up at 2:30 in the morning to a loud crash.  Tow trucks and police cars followed and in the morning, we found this in the backyard (minus the 2013 Lexus the formerly filled said hole.):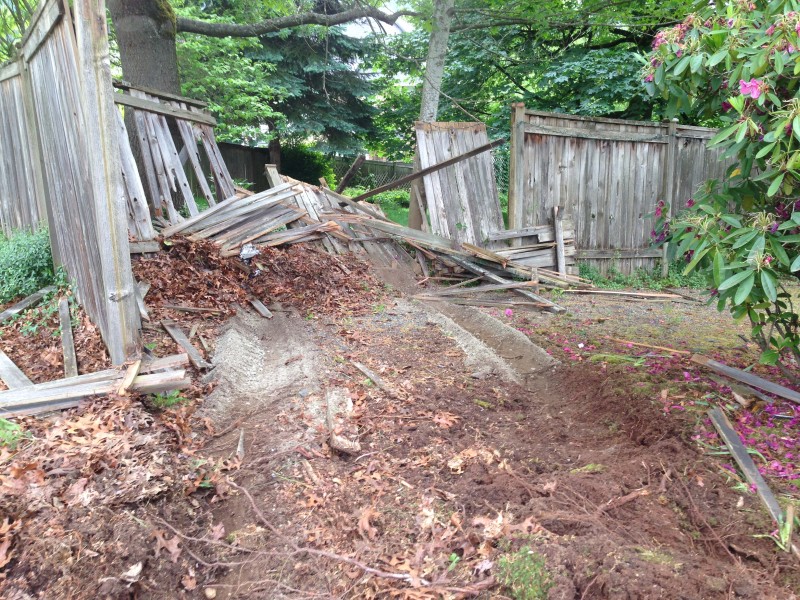 Unfortunately, the following day no one knocked on the door to offer either apologies or insurance information, a few days of my sleuthing through police reports finally brought me to . . . State Farm.  Now as far as I am concerned, the insurance as a whole lives at the very bottom of the ethical business barrel – and while there are some exceptions (I'm an ardent fan of Farmers), my experience with both Allstate and now State Farm suggests value to their shareholders is delivered through screwing their own customers.  Frankly this is one of the reasons I love working with lawyers – at Mockingbird we've codified this into the way we think.  The first of our 10 Commandments is "We Love Lawyers" – this is explained in greater detail in our new employee training manual:
We Love Lawyers – Attorneys who represent individuals are the primary counterbalance to corporate greed, the widespread abuse of police and political power and the abusive Insurance industry. We are honored to play a small role in this system.
Now, back to State Farm and our little fence problem . . .
Two weeks have gone by – I've called state farm once, twice, three times a day during the interim.  I've spent roughly four hours on hold and been transferred between departments and managers.  I've been hung up on.  I've left innumerable identical messages.  I've been polite.  I've been a jerk.  I've been patient and I've been irate.  And yet – the fence looks just like it that first day.  I'm still waiting on State Farm to take step 1A.
So, I decided to create a billboard for State Farm.  They do lots of advertising, so why not inject a little truth into their advertising . . .
In all fairness, I "may" have casually arranged some Lexus parts carefully on top of the fence for dramatic effect.  Unfortunately the remaining fence wasn't big enough for my new tagline:  "Like a Good Neighbor, State Farm is . . . .Where?
(And the "2" looks like a "1", because it used to be a "1" – not sure what happens once we get to "3".)