How to Properly Add URL Parameters to Facebook Ads
Tracking the efficacy of your law firm's marketing and advertising is vital to understanding how well your investments are paying off. Proper UTM codes, a type of URL parameter for Google Analytics, is the first step to accurately tracking campaigns.
How and where you implement these URL parameters varies based on what platform you're running ads from.
Facebook ads has a "Tracking" section where you can add custom parameters for each of your ads. If configured properly, you can categorize traffic and conversions in the proper marketing channel.
The important thing to remember when implementing these in Facebook is you should NOT include the '?' before these parameters in this section. Facebook automatically amends the destination URL to include the '?' before the parameter you entered.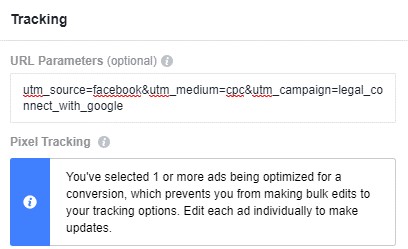 You can find the official Facebook help article here.
URL Building Resources
There are a variety of URL parameter tools that can help you make the UTM codes that interface into Google Analytics.