Local Gets a Makeover: Google Knowledge Carousel
Yesterday, Google announced the most significant change to the user experience in Local search with the official launch of the "Knowledge Carousel".  From Google:
Click on one of the places in the carousel to get more details on it, including its overall review-based score, address and photos. If you want to see more places, click the arrow at the right of the carousel. And you can zoom in on the map that appears below the carousel to restrict your search to only places in a specific area.
This new feature dominates the top of the search results for localized searches with a huge black bar and highly visual interface: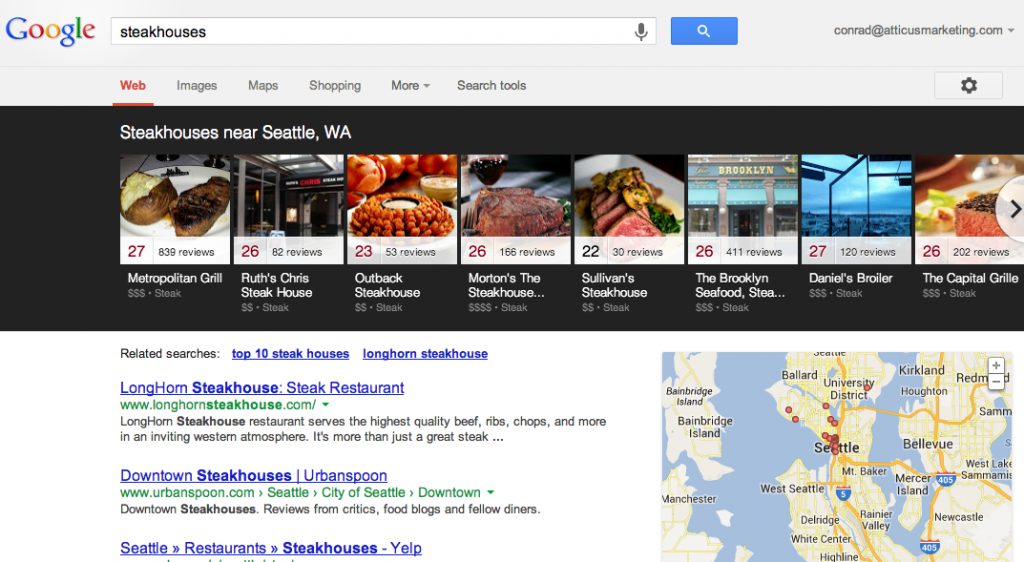 Upon clicking on one of the carousel items, two very interesting things happen:
The search engine automatically executes a brand search for that item – in our examples see how "steakhouse" has been replaced by "Daniel's Broiler Seattle" in the search bar.  (Interesting inclusion of the city here.)   

The map is replaced by a section dedicated to even more data specific to the business.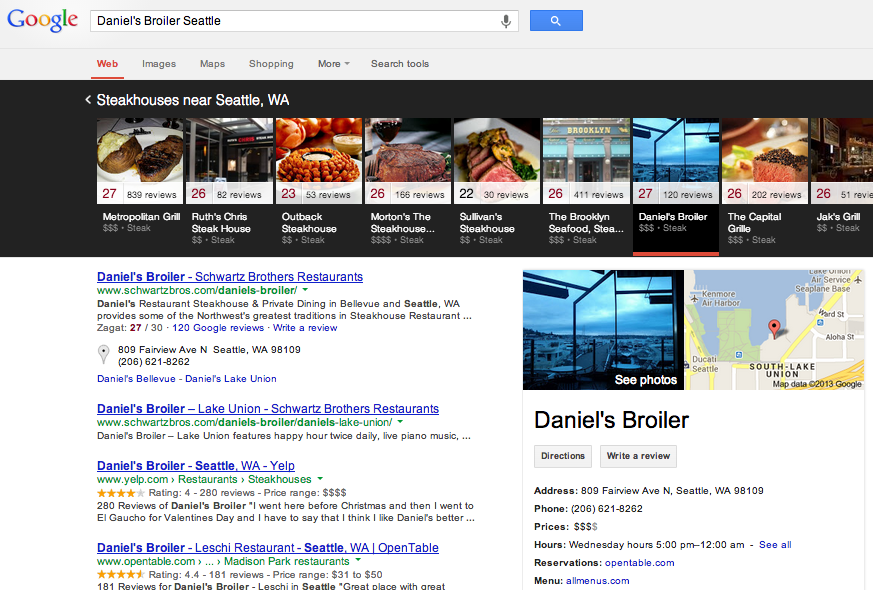 What This Means for Lawyers
So far . . . nothing.  I have yet to see the Knowledge Carousel with any legal searches.  (If you find one . . . . please send me a screenshot.)  However, I suspect it is only a matter of time.  Restaurants are a great example where there are a lot of reviews and vibrant imagery – making the carousel experience appealing.  I suspect the relative paucity of this type of content is the reason we aren't seeing this in legal.  Yet.  When the carousel comes to legal, those attorneys who will win will have the following common aspects to their online profile:
Vibrant imagery – of either their office, or more likely their portrait.  

Lots of structured data in their Google Places Page.  (hours, languages, practice area, pricing etc.)
A heavy volume of reviews across the web, but especially within the Google ecosystem.