The Effects of Google Search Console's Speed Reports
Google just announced the rollout of a new report in their Search Console, a report six months in the making. Designed to let webmasters quickly identify problems and areas for improvement, the new reports will show which pages have fast speeds and which are slow, as well as which pages have identifiable issues. The speed reports will have a ripple effect on page quality and views.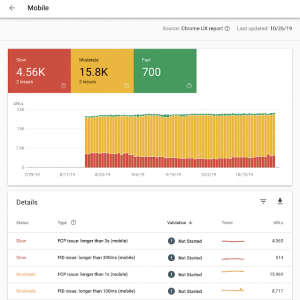 Bounce Rate
One of the main causes of a high bounce rate is slow loading speeds. With the technology to identify which pages are slow, webmasters can improve bounce rates. This will help to increase conversions and site visits in general.
Identifying Updates
Knowing when to upgrade plugins can be difficult for novice webmasters, at no fault of their own. Running a website means keeping track of many moving parts, often while also running a business. Having speed reports can help webmasters identify which pages need their plugins updated.
Improving Site Design
Many slow sites can find the culprit for their speed in the design of their site. This could mean that they're using too many fancy features, their images are too large, or they're using embedded videos. If a page is being marked as slow without having an issue, it could be an indicator that it should be optimized.
Running a website is tough work and can require a level of expertise and commitment that not everyone is willing to devote. That's a role that Mockingbird Marketing is ready to fill. We build and manage websites for law firms, including doing routine maintenance and technical audits. If you want to know more about how Google's new speed reports can help your business, call us!