Google "Refreshes" Mobile Search Results Page
In May 2019, Google announced a visual refresh of the mobile search results page. The new design is meant to help push a brand's image front and center, while allowing users to scan the SERPs more easily. This change affects both organic and paid search results on mobile.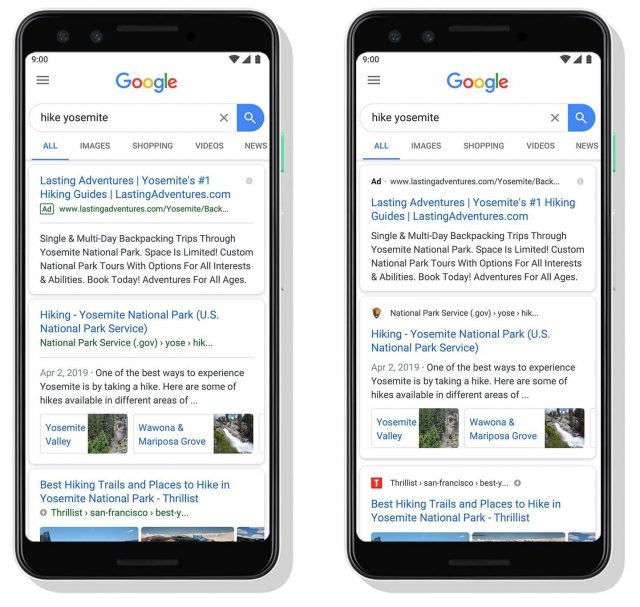 New Google Ads Labels and Organic Favicons
The labels for Google Ads are now simple, bold and black. The green border around green text has been replaced. The URL has been switched from green to black as well, and both have been moved to the top of the "results card." They have even gotten rid of the thin grey divider line between the headline and the description.
Organic results have undergone similar changes. Rather than an "Ad" label, Google is now displaying favicons. Your favicon, website name (NOT your domain name), and the page structure (breadcrumbs) are now above the page title exactly like the ads.
Why This is Important
This update might seem like a simple design change, but it has potentially massive impact for both SEO and PPC. Using identical design layouts further blurs the line between paid and organic results. Personally, I think it's still pretty obvious when something says "Ad" but it's not hard to see how the public could miss the difference between a label and a favicon. I expect this change to help click-through-rates for advertising campaigns (especially within Google Maps).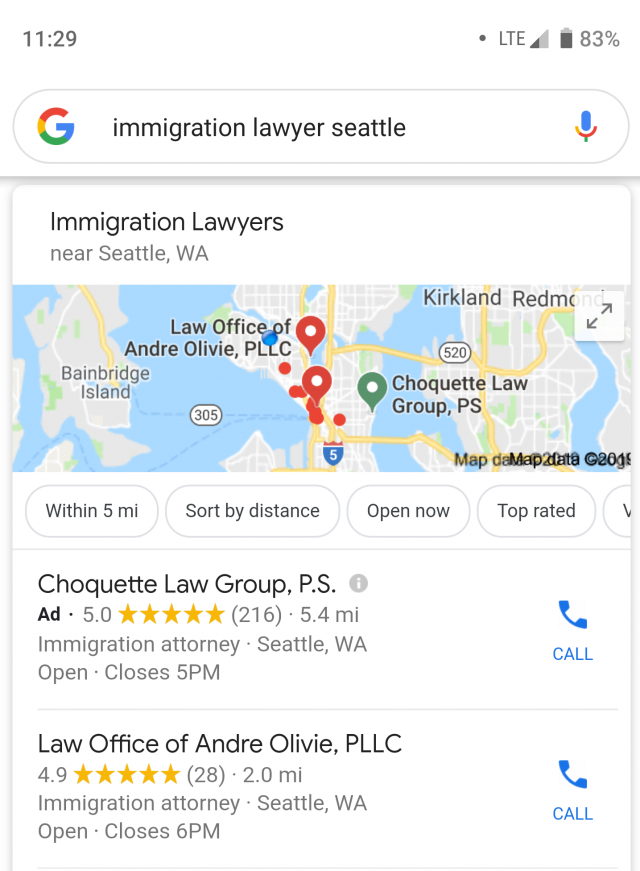 The update to organic results is interesting, and something you need to speak with your SEO agency about. Please don't buy a "favicon optimization" package, unless of course you find it listed in our Legal SEO Store. It's not something you need to optimize, but it is something you need to set up correctly.
If you're not already, pay attention to your website name and your site structure. Some think Google is slowing killing the URL, and when I see search results without URLs like these examples above, I have to agree.
What to Do About the Mobile SERP Refresh
First, start advertising. Whether you like it or not, ads are taking up more and more real estate on SERPs. They are also getting harder to spot, which means fewer people will be ignoring the ads.
Second, optimize your headlines. For both paid and organic results, Headlines have taken center stage of these results cards. It's more important than ever to make sure you have a clear, catchy, click baity optimized headline that captures attention and generates clicks.
Third, update your favicon. You don't want your website to show your host's favicon instead of your brand's logo.
Lastly, stay tuned for even more updates. These changes are live on mobile, and we can only assume the desktop results will soon follow. Google's announcement said "this new design allows us to add more action buttons and helpful previews to search results cards" so pay attention to when those features become available.