See Your Competition's Backlinks
Whenever you set out to get more organic calls to your website, one of the first things you do is get links. As you can imagine, there are a LOT of ways to go about doing this, some tedious, some creative, some misguided, some lucrative. So before you get started training to set a world record for most knives juggled while blindfolded on a tightrope for a link from Guinness, make sure any easy, high-value opportunities have been identified.
What Easy Links Does Your Competition Have?
One of the first things to do for linkbuilding is to run a competitive audit. This is one of the best ways to make sure your bases are covered when it comes to easy backlinks, as well as a way to pinpoint creative strategies for down the road. In a nutshell, this article will help you identify which competitors to emulate, dig up their backlink profile, and recognize and acquire good opportunity links.
1. Identify Competitors.
To do this, simply run a search in Google for whatever keywords you want to show up for. If you're a personal injury lawyer, these might be "personal injury lawyer", "car accident lawyer", "medical malpractice", etc. Note the top organic search results for the range of terms you're targeting. Skip the ads, the map, "People also ask…", we're looking for the first true organic landing pages. I recommend getting a list of 5 or so domains from these results (the highest in search results). What we now have is a list of competitors that are doing well at what you want to do well at. As a starting point, why reinvent the wheel when it's possible to see what's making their sites tick?
2. Competitor Backlink Scan
Now that you have a big list of competitors, it's time to narrow that number down. For this part you'll some sort of backlink analysis tool. I like to use Ahrefs.com, but Majestic and Moz Open Site Explorer do the same thing (note: only one of these, Moz, is free, and unfortunately you get what you pay for). All of these tools have some variety of a bulk domain upload. If you're using Ahrefs, yours will look something like this: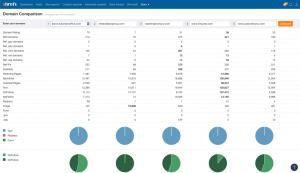 From this list, depending on how involved you want to get, you can take a closer look at one or all of these domains, starting with the highest. I'll typically take three.
3. Identify Opportunity
Once you've chosen your domains to zoom in on, plug that domain into the domain analysis tool you're using (no longer on the bulk tool, but using the  individual domain tool) and navigate to the backlink list. in Ahrefs you'll see this: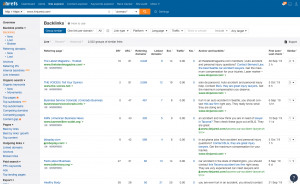 Where do we go from here? This is the more labor-intensive part. It's now your job to comb through all the websites pointing to competitor's sites and identify links that can be recreated. Particularly easy opportunities are directories. On the list above I see a "http://www.bdirectory.org/". Now that we have a linking domain picked out, we have a few questions that need answering:
Is this a website that you want a link from? Check out the article I wrote on this here. Basically, is this a legitimate website that has users and a caring webmaster, or is it spam? If spam, opt out.
What's involved in getting a link? Some of the time this can be as simple as building a profile and hitting submit. Sometimes this requires a bit more legwork. After assessing the site (by means of the article linked to above) determine how much time and energy is appropriate for what links. This takes some trial and error to get a sense of, but really boils down to reaching out to webmasters in creative and persistent ways asking them to feature content that already exists on your site.
Remember, linkbuilding is only limited by your creativity and persistence. Competitive auditing is one way among many of finding links and finding inspiration. As you go through competitor link lists approach each of them from a creative standpoint on how you might be able find an in and get a link, this can vary wildly from site to site. Remember that you will get frustrated. Of the webmasters that you reach out to, less than 10% will respond. That's just part of the game.