9 Keyword Research Tips and Tricks
Simply put, you should be writing content that your customers need. The goal is for a potential client to stumble across a page on your site and think, "these people know what they're talking about, I'll give them a call". Given that basic premise of content writing, there are a lot of ways to go about getting inspiration for what your customers need to find. Here are 9 quick and easy ways to figure out what you should be writing about, drawing on personal experience and two great articles by localvisibilitysystem and Moz.
1. Google Ads Keyword Planner
This is the default source for most SEOs. Log into Google Ads, "Tools and Settings", "Keyword Planner", "Discover New Keywords", and start firing away. This tool will give search volume for any term you type in by location, which can guide you as you build out content addressing high search volume phrases to start competing in search results. It's worth a look to check search results for content quality on a given search term to see you if might outperform it with better content of your own. At the same time, this tool is helpful for identifying content opportunities for lower traffic, more specific topics.
2. Google Trends
This tool is helpful for identifying popular search terms. I've found this to be more helpful on a larger scale, helpful at the beginning of your keyword research to get a general sense for where things are heading. This tool has location settings in addition to timeframe settings. A helpful tip for using this tool is the "Related Topics" section. Whatever keywords you add will be followed by similar but different suggested terms, very helpful when piecing together what you need on your site. Below I typed in "Family Law" and Google Trends came back with a number of specific related terms.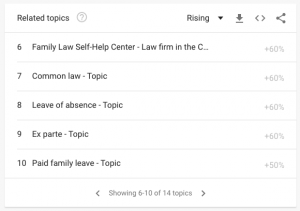 3. "Google Suggests"
It sounds simple because it is. Just type in the beginning of a search term and see what Google recommends you finish it with. These are popular searches that Google thinks you might be going for. Below are a few opportunities for content based on typing in "Family Law"
4. Competitor Analysis
Check out what your competitors are writing about. This will not only give you ideas of where you need to build out content on your site to start competing directly with those pages you find, but can also lead to inspiration for spin-offs and similar-but-different pages for you to start working on.
5. Moz Keyword Explorer
Similar to to Google Ads Keyword Planner, Moz's tool will give you related terms for inspiration as well as SERP analysis and other functionalities for a new perspective. Unless you're paying for Moz Pro, this has a monthly quota.
6. Your Own Reviews
Moving on to a few more creative ways to gather keyword research, try checking out your own review. After running down the reviews you've been collecting over time in Google My Business, Yelp, Facebook, Avvo, or anywhere else, see if you can pick apart any trends. Reviews will tend to mention the things that are important to them in reviews, wether that be a particular type of case, product, or service. It's often the case that at least a few of the things mentioned in reviews are being sought after by other people and warrant a page of content.
7. Competitor Reviews
Just like your own reviews, competitor reviews can unearth valuable trends. See what your competitors clients liked/didn't like, and write about that.
8. Competitor's QAs in Google My Business
The QA section of your own and competitor's Google My Business listings can bring valuable insights into what people want to know. This is basically a tiny version of a search engine with some users putting exactly what they're wondering straight to your listing. Trends in what customers are wondering can often be valuable as pages.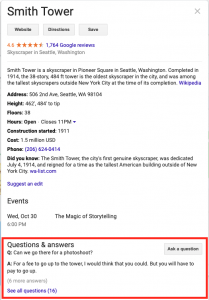 9. Directory Categories
Run through some online directories like Avvo, Lawyers.com, or Superlawyers to see what categories they are using to segment out a given practice area. More often than not, these categories are heavily researched by the directories, doing some of the work for you. This can be used as a baseline to make sure any category showing up popular directories is showing up on your website as well.