What Does "Trust" Mean for the Legal Industry
Google can and will provide answers for just about any question you might have, but just because it provides the answer doesn't mean you need to accept it. From queries regarding laws to questions about health, a lot of user searches impact the legal industry. Because of this, it's important to understand how and where users trust their search results. 
A recent survey by Path Interactive looked into this very question, focusing specifically on medical and political queries, but touching on legal advice. These graphs show some of their findings from a sample size of 1,100 respondents: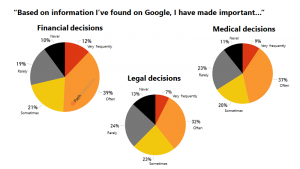 What Can We Read Into Here?
The first thing we can take away is that fewer people make important legal decisions than medical or financial decisions based on information from Google. Only 32% of respondents often make legal decisions based on Google results, compared to the 39% who often make financial decisions and 37% that often make medical decisions.
So what does this mean? Well, for one let's take a few things into account here. We learn to take care of our health and finances from a pretty young age, without professional help. Most of us learn how to handle a common cold, injuries, and basic savings and spending. We don't all learn how to appeal a criminal charge from our parents. 
This means that more people may feel comfortable handling their own financial and medical issues based on advice from Google, but will seek professional advice for legal questions.
The fact that fewer people make legal decisions based on Google results is probably actually good business, since that means consumers are less likely to take things into their own hands and will instead hire a professional. User's distrust of Google might be to your benefit. 
Using the Data 
Beyond making major life decisions, the survey looked into whether users find featured snippets and knowledge panels trustworthy. For the most part, they do. Of the respondents between the ages of 26-35, 44% find knowledge panels very trustworthy and 25% find featured snippets very trustworthy.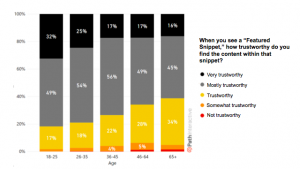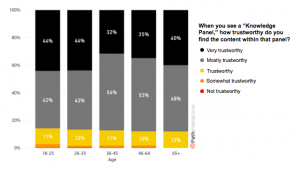 This provides a good opportunity for visibility. If users are looking for trustworthy information but are less likely to make legal decisions based on search results, they are likely looking for professional help. You are that professional help. If you can grow your image through trustworthy content, you can grow your client base.
Why None of This Is New
E-A-T has been a part of Google's best practices for a long time now, with the "T" in E-A-T standing for trustworthiness. In an ideal world, you would have been producing trustworthy content for years now. Maybe you already have been. Good for you!
But if you haven't been producing trustworthy content, you really should start. You don't need a lot of it (content for content's sake isn't worth it), but proving your firm to be a helpful resource usually pays off in the long run.
In Conclusion
Expect your incoming clients to have done some research on their case prior to hiring you. People are becoming more proactive online, and the legal industry is one of the industries where consumers are less likely to try and take problems into their own hands. This is to the benefit of law firms. It means that users are not only searching for reliable information, which you can provide, but are also looking for someone to hire, which you can also provide. 
If you want to learn more about how your content can improve your business, you might want to look into our content development plans. Mockingbird has years of experience helping law firms audit their content and develop ongoing plans. Contact us to learn more.