Choosing the Right Images for Your Article
When creating a blog post, article, or informational page it's important to respond to the visual elements of web design and add a relevant image. According to a study done by Skyword, pages with relevant photos get 94% more visits than their counterparts without images. 
What Images Work
"Images" is being used as an umbrella term here and refers to pictures, graphs, infographics, illustrations, and anything other than straight text. The image should add to the message of the text, helping the reader reach a further understanding. Graphs should make data digestible, infographics should make broader concepts fun and interesting, and photos or illustrations should make the reader empathize with the message.
Beyond being relevant, images should be of high quality. They should have a reasonable pixel count; nothing dates a web page like low-quality images. If you're using stock photos, make sure they're not too generic. If you're taking your own photos, make sure they're intelligently composed and well lit. It's worth it to bring in a professional photographer or invest in photography lessons. 
How Photos Improve Practice Pages and Resources
As a law firm, you might already know the importance of images for your resources and practice pages. The number of divorce practice pages featuring photos of sad couples turned away from each other are countless. It can be hard to tell where the line is between overly generic/safe and overly relevant yet distasteful. The number of personal injury blogs with images of people on stretchers after car accidents is much lower than the sad divorce blog couples. These pages might be served better with statistical images: graphs and infographics. 
What Does "Relevant" Even Mean
As previously touched on, relevant refers to the image's ability to add to the text. For example, the below photo is relevant because it shows how one might begin a photo search: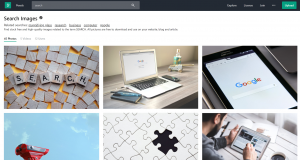 As seen in the photo, most of the images available on the stock image sites are more generic than constructive. 
Sometimes images are completely irrelevant but provoke an emotional reaction that can't be ignored, as shown below:
I have doubts that this example will help this page's pageviews in any way, but it can still be considered relevant due to it being an example of irrelevance.
Getting Help Finding/Creating Images
A good graphic designer should be able to find or create images that are relevant and tasteful to your website and page, but not every firm has the resources for an in-house graphic designer. Luckily, there are services available for businesses that need help with web design and site-building. 
If you need assistance building or designing your website, contact Mockingbird Marketing and we can help you find relevant images for every page.