Recent Google Update Winding Down
The still as-of-yet unannounced Google update seems to be coming to a slow close for the legal industry. 
The update has been largely affecting search engine results page (SERP) positioning, leading to general unrest among the SEO community. Based on metrics from SEMrush, the instability caused by the recent update has been greater than that of the past two official updates, peaking at a 9.4/10 in SEMrush's SERP volatility metric. 
The volatility has lasted longer than expected and is largely recognized as having begun on February 7th and continuing through the present moment (February 13th). As far as the legal industry goes, SERP volatility has since dropped to 6.8/10; still high, but trending downwards.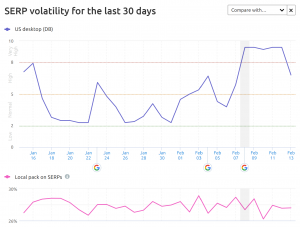 What does this update mean for my site?
Google ranks SERPs on a variety of factors, from domain authority to site organization to links and affect organic traffic. It is unclear whether this update has been a net positive or negative for the legal industry. Either way, expect changes. Adding an annotation to your Google Analytics account is probably a good idea to keep track of which trends might be due to this update.
How can I protect my SERPs?
There is no way to prepare for Google updates other than by following Google's best practices and ensuring your content is high quality and up to par with your competitors. If it's any consolation, your competitors are probably getting hit just as hard.