Monitoring Your Internal Linking on Ahrefs
Internal linking is a key aspect of on-page SEO, but can sometimes be hard to keep track of or remember to do. When you're writing content it's likely that creating anchor text is the last thing on your mind. If you want to learn more about why internal linking is important, visit one of our old blog posts. TL: DR; internal links help users navigate the site and search engines understand which pages are more important.
Using Ahrefs
Here at Mockingbird, we use a tool called Ahrefs to keep track of our and our clients' top-performing pages and linking. One of the datasets it provides is the number of referring internal links for each page. 
Finding the Dataset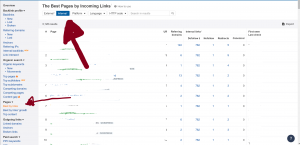 The information you're looking for can be found under the Pages → Best by links section, then select the Internal tab on top. 
When you sort by Dofollow links you'll probably notice that the pages with the highest URL ratings tend to have the most links. This isn't entirely coincidental, as you've probably guessed. 
Why Internal Linking Matters (to Ahrefs and beyond)
When a site has thorough internal linking the user is able to navigate the site easier and is more likely to visit the pages that are being linked to. The more unique visitors a page has, the higher it's URL rating. This is why homepages often have high URL ratings: the homepage is usually the most visited page.
One of the major benefits of internal linking is that it's a free way to improve your URL Rating. Unlike link building campaigns, you don't need to call anyone. It's a simple way to improve your site.
How to do Internal Linking
Just in case you made it to the end of this blog post without knowing how to do internal linking, this is for you. 
Internal linking simply refers to when one page on your site links to another page on your site. Two pages within a domain, linking to each other. The pages should be relevant, see the links above to previous blog posts on this subject. For law firms, this can be as simple as linking to your car accidents page in your blog post about a local car accident.  
In Conclusion
Now that you know what internal links are, how to create them, why they're important, and where to check in on them, go out and build your internal linking networks.