Linkwheel Spam, The Truth Network and Judith Swift
The purpose of this post is to demonstrate just how far the search engines have to go in combating spam.  (Alternatively, its a callout to force the issue for law firms to make a very careful decision about where you want to stand on the black hat vs. white hat tactical spectrum.)
Mockingbird sees a lot of legacy spam tactics; in fact a large portion of our engagements start with what we internally call Janitorial SEO – cleaning up the messes generated by previous agencies to regain lost business. Every now and then we see one of those ancient tactics that still seems to work. What follows is a Link Wheel case study – a tactic that could have generated manual penalties back in the 2010-2012 era and should have been obliterated during the multiple Penguin updates, starting in 2013.  (And no, I don't have a Dallas bankruptcy lawyer looking to burn this firm.)
First, let's start with what looks to be a rudimentary implementation of a linkwheel.  Check out the Copyright notice in Judith Swift's footer:
Or should I call it the C o p y r i g h t (complete with spaces)?   Roll over each of those letters individually and whoo hoo…. its links to some new content on Judith's page.  [And let's ignore the geo spam while we're at it, although I have to call out the spectacular brazenness of the "SEO by TheTruthNetworks.com" sitting right next to this.]

Wonder what happens when I click through….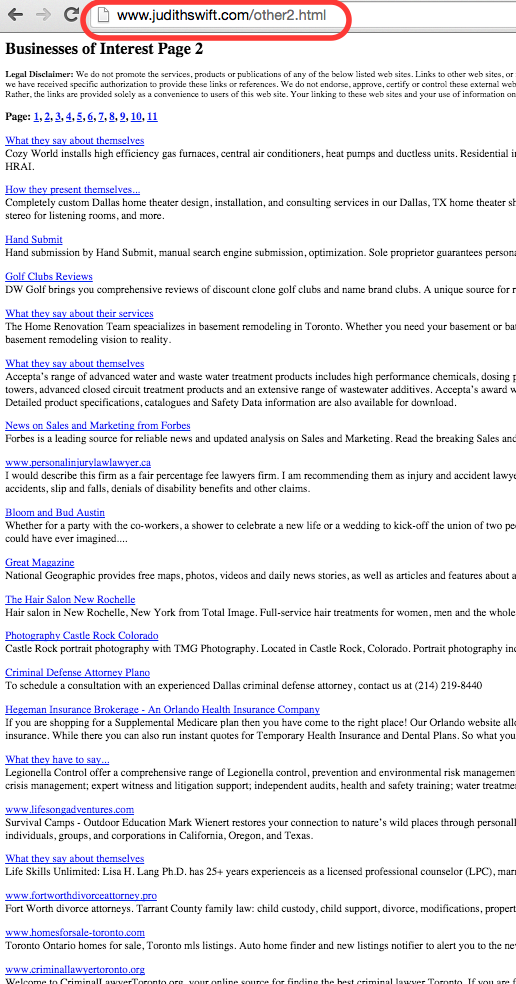 That, my friends, is an old school linkwheel – a series of sites literally linked together in order to drive search engine traffic. Enjoy the disclaimer which includes "the links are provided solely as a convenience to users of this web site."  Right, because someone looking for a bankruptcy attorney in Texas, might simultaneously be looking for a new home in Toronto, or a photographer in Colorado, or an English bookshop in Tokyo, or "premium virgin hair extensions", which makes me wonder what non-premium, non-virgin hair is.  But I digress.
Of course, none of this matters – perhaps we're really just looking at a dated legacy site – if the site doesn't perform.  But we find that not only does it perform, it performs really well….
.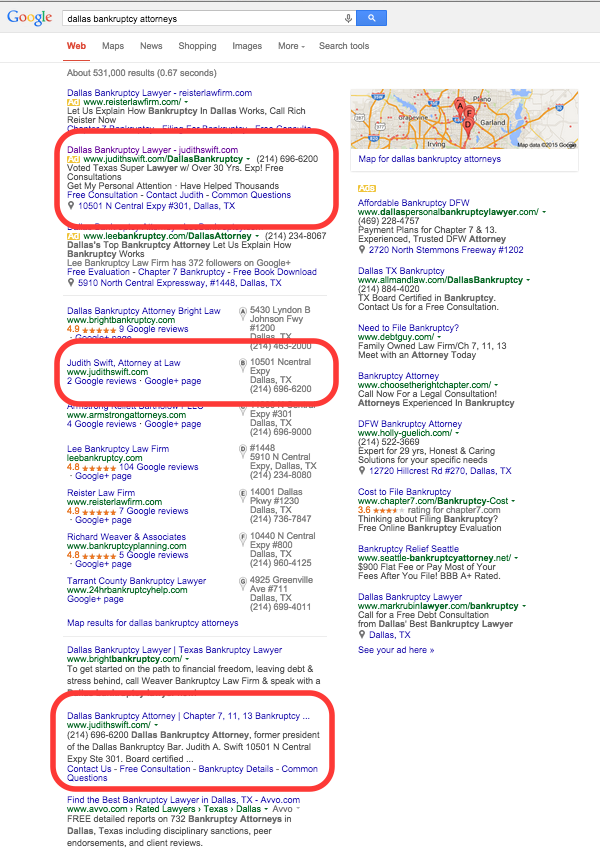 That's a pretty strong showing for Judith Swift – 2nd ad, 2nd local result and 2nd natural result.  So… is this really an active, functional linkwheel?  Are there unrelated sites propping up judithswift.com?  Let's see….
Here's one from a Canadian bridal boutique…

And a retirement home directory…
A Floridian patio furniture retailer…

My favorite is the UK based eyeglass retailer who includes the following disclaimer on their page:
The following links are not recommended or approved by us.  They are simply members of the same programme to help encourage visitors to each others sites…
All in all, hundreds and hundreds of domains with these links – and you could suggest that perhaps they've gone through a disavow process BUT – the linkwheel is still alive and kicking on judithswift.com.
Summary
I don't know Judith and I don't have any clients in Dallas – for all I know, she knows nothing of her marketing tactics. I'm simply trying to demonstrate a) how very far the search engines have to go and b) that black hat tactics really do work – even tactics that should have been burnt years ago. This is why by-the-book SEO can be extremely expensive.