LinkedIn Publishing Won't Eat Up Your SEO Traffic (and you won't get Google penalized either)
Three weeks ago, Kevin O'Keefe posted a question on Facebook – the corresponding answers, of which there were 21, dug deep into SEO theories concerning duplicate content, canonicalization, rewritten summaries, excerpts, site authority and Google Panda penalties.
First, Kevin's Question:
Anyone else looking at re-posting blog posts from your blog on LinkedIn's publishing platform?

I could see lawyers and other professionals wanting to re-post a blog post from their blog to "LinkedIn Publishing" and — and vice versa. I see some people even advising to auto-post content from your blog to LinkedIn — though I am not certain how that is even possible, unless they are just referencing sharing versus publishing.

LinkedIn publishing content appears to be indexed by Google. That would seem to create problems with duplicate content for the lawyer's blog, the risk being that LinkedIn's version would outrank the blog post on a search for the matter covered in the piece.
According to some commenters, the duplicate problem was  so severe that it would likely invoke a Google penalty on a lawyer's website. I wondered if this was true (spoiler alert – it wasn't – but more on that later.)
First, some background on LinkedIn publishing and the dreaded duplicate penalties:
LinkedIn Publishing Background
LinkedIn's describes their publishing platform as The Definitive Professional Publishing Platform (their words not mine) by showcasing content from influencers in the LinkedIn network. During 2014, LinkinedIn opened up publishing from a select few thought leaders  to more and more of its network.
Duplicate Content Background
As LinkedIn publishing rolled out, many SEOs raised concerns around duplicate content – simply put, would putting my blog content verbatim onto LinkedIn cause one of the following:
LinkedIn, with its very strong authority, is stealing SEO traffic from my blog by utilizing my own content.
The Google might see my content copied onto LinkedIn, believe the original version (known as canonical) was the LinkedIn version, further deduce my site is full of nothing but syndicated content and whack my website traffic with a duplicate content Penalty (aka Panda).
Concerns about duplicate content are exacerbated by the use (or misuse?) of canonical tags by LinkedIn. Canonical tags were specifically created to identify the original (or canonical) version of content – specifically syndicated content. LinkedIn self-servingly automatically generates those canonical tags on content in their publisher platform.  You can see the rel="canonical" tag  highlighted below in the code for the article I published on LinkedIn, despite the fact I had just cut and pasted the content verbatim.
 Kevin's Question
So we come back full circle to Kevin's Question.
What does The Google do when I copy my blog posts to LinkedIn Publisher?
Let's see what actually happens in the real world. I tested the theory that LinkedIn is stealing  SEO traffic by copying two of my recent blog posts verbatim to LinkedIn immediately after I published them.  Waited 24 hours to ensure the search engines had time to see both my blog and LinkedIn.  Then did a Google query for a phrase specific to that article and see what happens: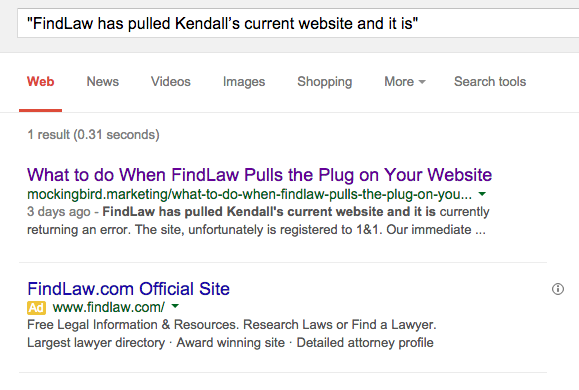 What the what?  Oh LinkedIn . . . . ?  Where are you LinkedIn . . . . ?   Nothing. No mention of LinkedIn at all.  (Sidebar – the FindLaw ad is a little funny; I couldn't help myself.) And apologies for getting a little geeky but you'll note there's nothing showing as suppressed results – which means that The Google hasn't even indexed the LinkedIn page. I got the exact same results for both posts. I then rechecked the results 2 weeks later.  Same exact thing – no LinkedIn.  But perhaps, this is unique to Conrad's specific situation.  So I ran 3 more legal blog postings from different firms.  Same results (or lack thereof).  Here's an example of the results for content on a Chine Law Blog that appear verbatim on LinkedIn.  Note the two results at the bottom are syndicated and originally showed up as supplemental results.  But again.  No LinkedIn.  Not even in supplemental results.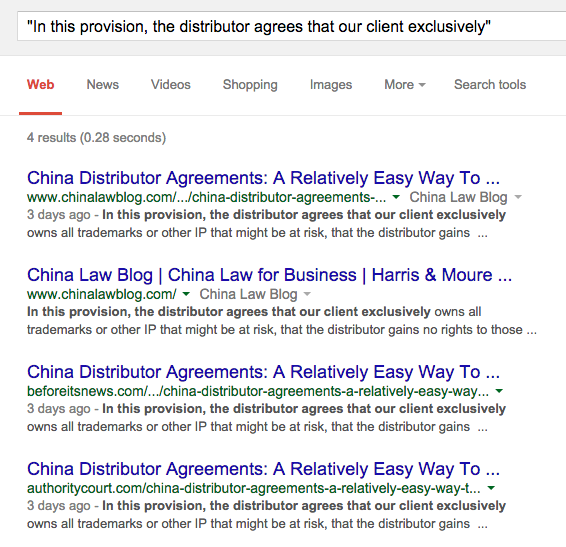 Interestingly, when I ran the test for two of Kevin's posts he syndicated on LinkedIn, I did see LinkedIn, albeit below the original, canonical content (his blog), lumped in with all the other domains on which his content is syndicated.  (Note here that this isn't a verbatim copy, as Kevin has changed the heading and therefore the H1 of the article.)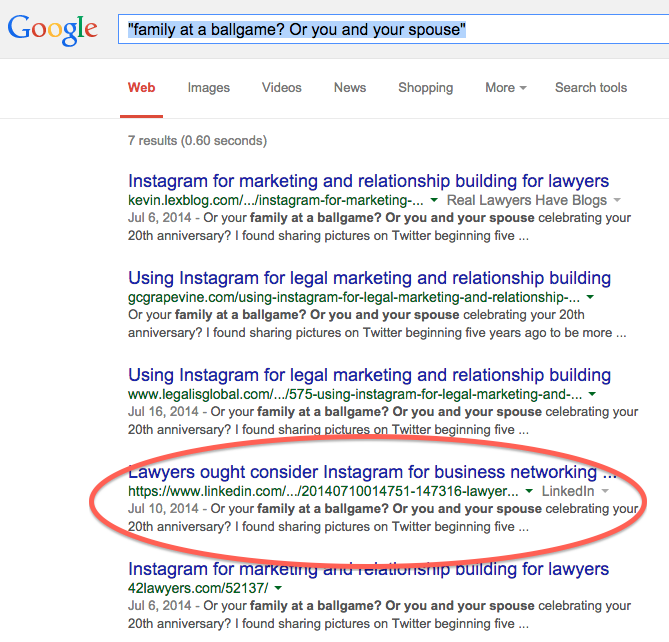 Now, I haven't done a comprehensive study, but so far 5 out of 5 data points tell the same story:  publishing on LinkedIn won't cause LinkedIn to steal your traffic nor will it incur the wrath of Mountain View based Pandas. This of course, makes a ton of sense to me – – – I can't imagine that the brainpower at The Google hasn't figured out how to handle this very common widespread issue. Its not like syndicated content is an entirely new concept. Note that LinkedIn does aggressively push content in front of your LinkedIn network – so republishing does have real value even if that value doesn't originate from SEO (gasp – did Conrad really just say that?). If you are still paranoid – just duplicate the experiment above for your own stuff; but as far as I'm concerned – ignore the SEO ballyhoo.
The only thing publishing on LinkedIn will do is to get your established network to read your content – which doesn't seem like a bad idea after all.