Just How Much Does Yelp Cost?
I got an urgent phone call from a client yesterday:
I have an advertising opportunity that I want to run by you, but I need to get back to them today or it is no longer available.

OK.

So I was contacted by Yelp and they are offering me 500 highly targeted ads – they can show up on competitor pages and highly targeted searches in my city.  Also, they'll clear my profile of any ads and I get an account manager and reporting.

How much?

It's only $350 – but I wasn't sure if it was a good deal, so I wanted your input first.
Uggg – let me pour a fine glass of single malt scotch before I continue . . .
Key Metrics to Evaluate any Advertising Opportunity
When evaluating any advertising opportunity it is important to do some back of the napkin math and calculate some key metrics to establish an apples to apples comparison and estimate a likelihood that this investment will line your pockets instead of drain them.  I'll work through this Yelp advertising opportunity to explain:
Most (non-PPC) advertising is  priced on a CPM basis – essentially the cost per thousand impressions. In this case, $350 for 500 impressions yields to a $700 CPM.  Now lets compare that to some other CPM rates: retargeting campaigns (which are highly targeted as they hit people who are already on my site) cost me roughly $2.40 CPMs.  That makes Yelp's advertising more than 29,000% more expensive. You can also try to compare these rates to PPC campaigns.

Using the data above, we can back out a CPM from PPC data – there are 10,893 impressions costing $150.  Simply remember your 8th grade math and solve for Cost per Thousand (or if you've blocked out 8th grade use the CPM calculator at ClickZ . . .)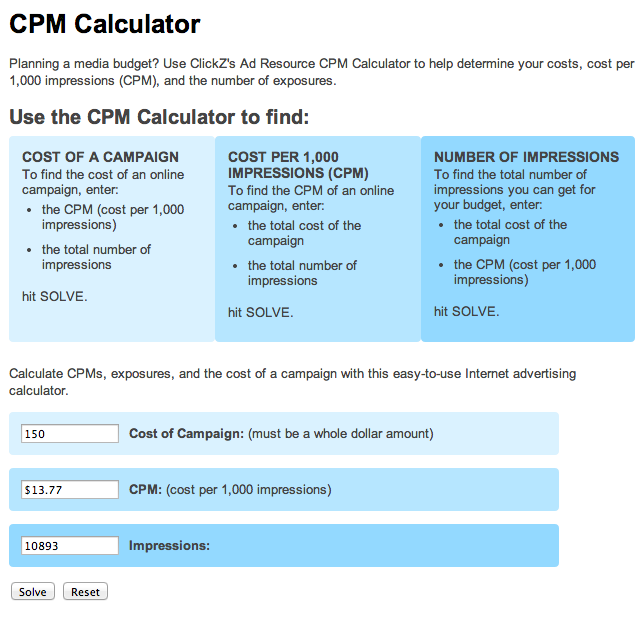 So no we are up to $13.77 CPMs – still a far cry from the $700 AND much more targeted.  (Granted my CPC rates here are relatively low, because I target a 5 to 10 times return on investment for PPC campaigns, but you understand the math and can compare with your own data.)
How to Estimate Expected Cost Per Client
Alternatively, we can try to back out expected cost per client.  At $350 for 500 impressions, let's assume a very optimistic click through rate of 1% – which gives us 5 clicks (at $70 CPC).  Now assume those clicks turn into phone calls at a very optimistic rate of 5% – which gives us 0.25 phone calls (now at $1,400 per phone call).  Of those phone calls, 20% of them are prospects you actually want – thats now 0.05 qualified prospects ($7,000 per qualified prospect).  And of those prospects – you can close half of them – we're now down to 0.025 clients for $350 – or stated in a slightly more understandable fashion – it will take 40 months at $350 a month (an overall spend of $14,000) to get one client.
Sign me up baby!
One last side note: if you hear the salesperson's refrain "just one client will pay for itself", hang up the phone and run screaming.  Your job is NOT to fund your advertiser's stock price, but to pay yourself.  Target a minimum of 300% return on investment for your marketing activities.