How to Handle Spam Links in Google Search Console
There are countless ways to check your website's backlink network, from ahrefs.com to Google Search console. Not surprisingly, there tend to be inconsistencies between reporting platforms. It's a good idea to check in regularly in multiple places to make sure you know what's going on from all angles. 
That's what we did recently. Here's what we found on a site we keep an eye on.
Google Search Console
Now, if you don't see anything suspicious here then you must be extremely new to the business. We're no stranger to spam attacks, and we're pretty sure that loveyichangcity.xyz isn't actually driving any conversions or helping our authority. Neither are any of the three sites below it.
I decided to check it out and see if I could fix it. Google has made it pretty clear that the disavow tool is largely useless at this point, considering the search engine has become advanced enough to be able to recognize whether or not links are spam, i.e Google probably isn't taking loveyichangcity.xyz very seriously. 
I went to Google's "Disavow Support" page, in search of support. I noticed one thing first:

Well, since the site neither has a manual action against it, nor a huge influx of spam referrals, I probably don't need to disavow. Then I noticed the second thing:
Even if I did disavow the links, they would still show up on Google Search Console. They aren't actively causing any damage, and even if I did take action, they would still show up on the report. 
But are they causing an impact?
Ahrefs.com
I decided to hop over to ahrefs.com, just to make sure. And sure enough: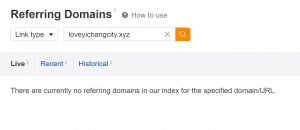 It was the same case for the other two spam sites. Not even a trace. 
I even went on Google Analytics and checked where referred traffic was coming from. With a time frame of over 5 years and 1,600 referring URLs, not a single user came from any of those sites. My journey had come to an anticlimactic end. 
What To Do If Your Links Are A Problem
Just because these links weren't a problem doesn't mean that negative SEO attacks aren't a thing. Floods of spam referrals have been the downfall of many a site. So how should you handle an influx of spam?
Follow Google's Disavow Support page. Disavow as many of those bad links as you can and start rebuilding your authority with reputable sites. It takes time and effort and frustration, but your site is probably salvageable. 
If your law firm has been hit with a negative SEO attack, contact Mockingbird. We have experience helping firms out similar binds.