Getting the Most Out of Ahrefs
We recently subscribed to an SEO toolkit called Ahrefs at Mockingbird. We did this because the overwhelming majority of voices weighing in across the web seem to agree that while Ahrefs is a little more expensive than, say Majestic or Moz, it's more accurate. We like accuracy.
After playing around with Ahrefs, investigating features, and watching many of their help videos, I put together this guide that can serve as a how-to-get-the-most-out-of-Ahrefs manual, complete with basics, some cons, as well as some advanced features offered by Ahrefs.
What Ahrefs does:
Ahrefs brands themselves as:
"A toolset for SEO and marketing. We have tools for backlink research, organic traffic research, keyword research, content marketing & more."
Basically, Ahrefs crawls the web and reports on what it finds. Its key functionality is its backlink checking capabilities. According to a study we found, Ahrefs reports on a higher ratio of live, accurate links than any other similar service. Based on our own experience with other tools, so far this seems to be the case.
Pricing:
The costs of different Ahref plans run as follows:

How to Use it:
Dashboard:
The first step towards using Ahrefs to the fullest is adding important sites to your dashboard (adding a "campaign"). This allows you to quickly and easily keep tabs on the websites you are most interested in. This is helpful insofar as you wont need to enter a url each time you want to check on a certain site, but adding a site to your dashboard also allows you to setup automated email reports. These reports give you your site's vitals as they pertain to backlinks (new/lost/broken), keywords (are you still ranking for important keywords?), and online mentions (who's talking about your website?) on a weekly or monthly basis, depending on your preference.
Backlinks:
Ahref's backlink checker is its meat and potatoes. They have an easy-to-use interface that makes checking in on your sites' backlink profile relatively intuitive.
To illustrate some of Ahref's backlink checker tool's capabilities, here's an example that came up the other day; A co-worker noticed an unusual amount of dofollow links pointed at a client's website in the past two months. She wondered if there was a way to quickly check in on backlinks that had been added in the last two months that were dofollow, and whether any of these links were related to each other. Let's review:
New links within last two months
Dofollow
Related to one another?
To figure this out, I used Ahref's "New Backlinks" tool. Once inside, I adjusted the settings as follows: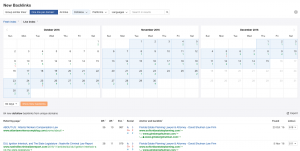 As you can see, the date is set to include the last 60 days, the link type is set to "Dofollow", and, perhaps most importantly for what my coworker was trying to accomplish, the links are set to show up as "One link per domain". This last feature allows you to condense all links from the same (generally spammy) domain into something more easily digestible.
Once here, use the toolbar above the backlinks to further hone in on the information you're interesting in seeing. Here you can prioritize how your backlinks are presented to you based on highest/lowest: Domain Ranking, URL Ranking, # of external links on page, social, date found by Ahrefs, or the number of times a domain links to your site.
Disavow tool:
This feature impressed me. Once you've added a site to your dashboard, the "Disavow Links" tool becomes available. This tool allows you to stockpile and organize links that you don't want linking to your site. As you go through new backlinks, or all backlinks, you'll see a small box waiting to be checked:
Once you click this box, you can choose to either disavow only that URL, or the entire domain. Once you've done this, the backlink is saved to your disavow list.
Once you've compiled a list worth disavowing, Ahrefs makes it easy to export the list as a txt. file, so you can send it straight to Google's disavow tool (with the addition of some annotation on your part).