Problem:
Coronavirus is seriously impacting businesses and people's lives. Economists are predicting a recession, although there's disagreement about how serious this will be.
Theory:
Since so many people are staying home, most law firm website traffic and leads will be negatively impacted since the start of the pandemic. This will hit different practice areas and locations differently. Personal injury should be down, as less people are driving/getting injured. Family law may see an increase as divorce rates go up due to social distancing. Criminal defense should go down as courts close and people assume everything is on hold.
Conclusion:
The following is a spot check of 9 different law firms across three different practice areas. Paying special attention to percent change in total website sessions, as well as percent change to all leads from the site. Time periods are looking at the last two months hit hardest by coronavirus (February and March) compared to the two months prior. To summarize, things are not looking as bleak as one might have anticipated. There seems to be a relationship between firm size and impact on leads coming in. Bigger firms are even seeing improvement, while smaller firms are suffering loss of leads.
Personal Injury:
Client #1 Summary
Firm Size: Two locations, 3 attorneys
Location: Louisville, KY
All Traffic % Change (2.1.2020 – 3.31.2020 vs 12.3.2020 – 1.31.2020): +1%
Total % Change in all Leads: -12%
Client #2 Summary
Firm Size: Single location, 14 attorneys
Location: Las Vegas, NV
All Traffic % Change (2.1.2020 – 3.31.2020 vs 12.3.2020 – 1.31.2020): -18%
Total % Change in all Leads: -3%

Client #3 Summary
Firm Size: Five locations, 12 attorneys
Location: Texas
All Traffic % Change (2.1.2020 – 3.31.2020 vs 12.3.2020 – 1.31.2020): +17%
Total % Change in all Leads: +37%

Family Law:
Client #4 Summary
Firm Size: Four locations, 18 attorneys
Location: Florida
All Traffic % Change (2.1.2020 – 3.31.2020 vs 12.3.2020 – 1.31.2020): -39%
Total % Change in all Leads: +12%

Client #5 Summary
Firm Size: Single location, 2 attorneys
Location: Oakland, CA
All Traffic % Change (2.1.2020 – 3.31.2020 vs 12.3.2020 – 1.31.2020): -13%
Total % Change in all Leads: -12%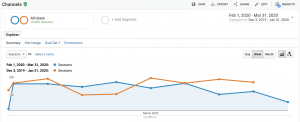 Client #6 Summary
Firm Size: Single location, 2 attorneys
Location: Cary, NC
All Traffic % Change (2.1.2020 – 3.31.2020 vs 12.3.2020 – 1.31.2020): +1%
Total % Change in all Leads: -20%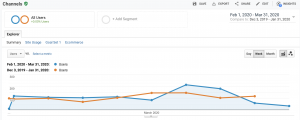 Criminal Defense:
Client #7 Summary
Firm Size: Single location, 2 attorneys
Location: Seattle, WA
All Traffic % Change (2.1.2020 – 3.31.2020 vs 12.3.2020 – 1.31.2020): -4%
Total % Change in all Leads: +20%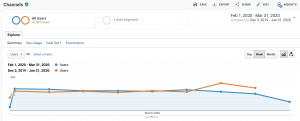 Client #8 Summary
Firm Size: Single location, 1 attorney
Location: Chicago, IL
All Traffic % Change (2.1.2020 – 3.31.2020 vs 12.3.2020 – 1.31.2020): -17%
Total % Change in all Leads: -4%

Client #9 Summary
Firm Size: Single location, 1 attorney
Location: Downtown Modesto (Population: 214k)
All Traffic % Change (2.1.2020 – 3.31.2020 vs 12.3.2020 – 1.31.2020): -2%
Total % Change in all Leads: -23%