CallRail Integration to Clio Manage (Coming Soon)
Soon, Clio Manage users will be able to natively integrate CallRail into Clio Manage. I'll cheers to that!
Currently, you can connect these two systems via Zapier and their APIs. This is certainly better than no connection at all. However, this levels up this integration with a more seamless connecting between these two popular technologies for law firms.
We are a CallRail partner because CallRail is the industry leading call tracking tool. It allows sophisticated law firms and attorneys to make smart business decisions with their marketing investments.
I would be remiss if I didn't mention the fact that CallRail has grown into much more than just call tracking. It now offers conversation intelligence to help you gain insights into your calls to improve intake and targeting, third-party form attribution tracking, VOIP services, and even a constantly improving CRM.
Clio Manage, of course, is one of the most popular matter management systems. It was previously known simply as Clio before they purchased Lexicata at the end of 2018.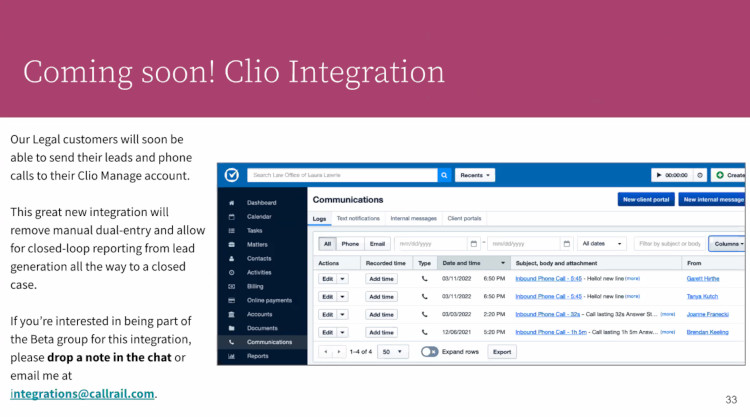 FYI – In the image above you may have noticed you can become part of the beta group for this integration by emailing integrations@callrail.com!
Does CallRail Integrate With Clio Grow?
The short answer is… sort of. You can connect CallRail to Clio Grow's Lead Inbox using a tool like Zapier.
Are you wondering if CallRail will eventually offer a native integration with Clio Grow? Well, you're in good company. Unfortunately, this isn't really up to CallRail…
Those of you who have attended any of our Clio Grow webinars may recall that Clio Grow doesn't have an open API. This is the limiting factor when it comes to connecting third-party software to this popular legal intake management software.
It even limits the level of "integration" possible between Clio Grow and Clio Manage. Weird, right?
For those interested in learning how to integrate forms with source information into Clio Grow, we've got your back.
Find the right IMS for Your Firm